Slow Cooker Hawaiian Pork Chops
This Slow Cooker Hawaiian Pork Chops recipe is both a time-saver, with just 20 minutes of prep, and a delicious way to work pork chops and Asian-inspired fare into your regular dinner routine.
Don't be fooled by the simplicity of its preparation: The garlic, rice vinegar, and soy sauce trio up the umami factor big-time, creating a slightly sweet, rich, savory glaze for these Hawaiian-style pork chops to steep in.
A little fresh cilantro serves as both a garnish and a bright finishing note to these tasty chops.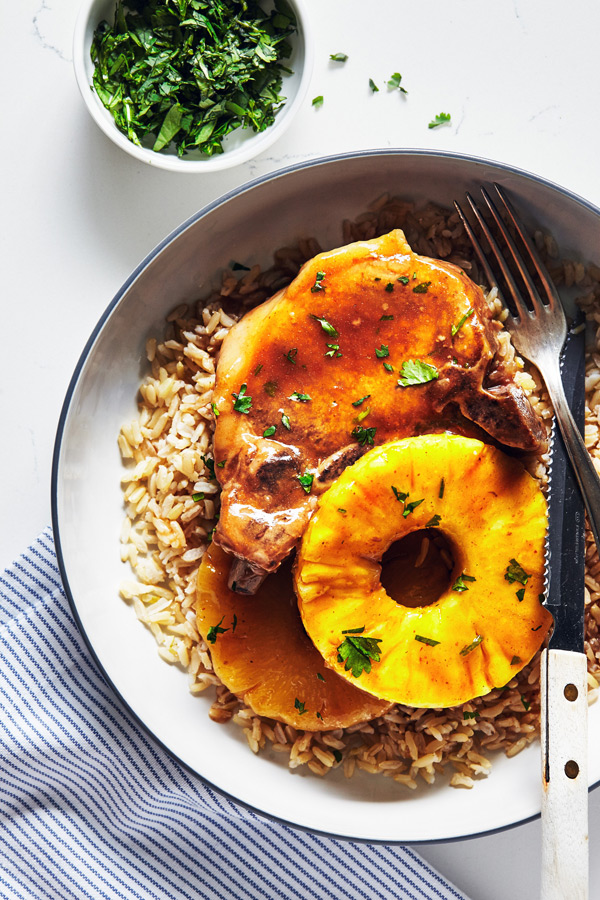 Slow Cooker Hawaiian Pork Chops
These Asian-inspired Hawaiian pork chops are with pineapple and steeped in a slightly sweet and boldly savory glaze you'll love!

Prep Time 20 mins
Cook Time 3 hrs 30 mins
Total Time 3 hrs 50 mins
Servings 4 servings
Calories 401 kcal
Ingredients
½ cup cold water
3 Tbsp. corn starch preferably GMO-free
¼ cup reduced-sodium soy sauce
1 Tbsp. raw honey
2 Tbsp. all-natural ketchup, no sugar added
2 8-oz. cans pineapple slices in juice, reserve liquid divided use
3 Tbsp. rice vinegar
2 cloves garlic finely chopped
nonstick cooking spray
1 lb. raw lean, center-cut pork chops
2 cups cooked brown rice
1 Tbsp + 1 tsp. finely chopped fresh cilantro
Instructions
Combine water and cornstarch in a small bowl; whisk to blend. Set aside.

Combine soy sauce, honey, ketchup, pineapple juice, vinegar, and garlic in a medium bowl; whisk to blend.


Add cornstarch mixture to soy sauce mixture; whisk to blend. Set aside.


Lightly coat inside of a 3-quart slow cooker with spray.


Add half of soy sauce mixture, pork chops, pineapple, and remaining soy sauce mixture; cover. Cook on high for 3 to 3½ hours (or low for 5 to 6 hours), or until pork chops are tender and cooked through.


Serve each pork chop with ½ cup rice. Evenly divide sauce and pineapple between pork chops. Sprinkle each with 1 tsp. cilantro.

Recipe Notes
You can substitute 1½ cups sliced fresh pineapple for canned. Use ½ cup of unsweetened pineapple juice for liquid.
Nutrition Facts
Slow Cooker Hawaiian Pork Chops
Amount Per Serving
Calories 401 Calories from Fat 54
% Daily Value*
Fat 6g9%
Saturated Fat 2g13%
Cholesterol 64mg21%
Sodium 646mg28%
Carbohydrates 54g18%
Fiber 3g13%
Sugar 20g22%
Protein 27g54%
* Percent Daily Values are based on a 2000 calorie diet.
Container Equivalents
1 Purple
1 Red
1½ Yellow
2B Mindset Plate It!
Add a side salad or veggies to make this a great lunch option.
If you have questions about the portions, please click here to post a question in our forums so our experts can help. Please include a link to the recipe.

Photographs by Anguel Dimov