CIZE: Have Fun Losing Weight With Shaun T!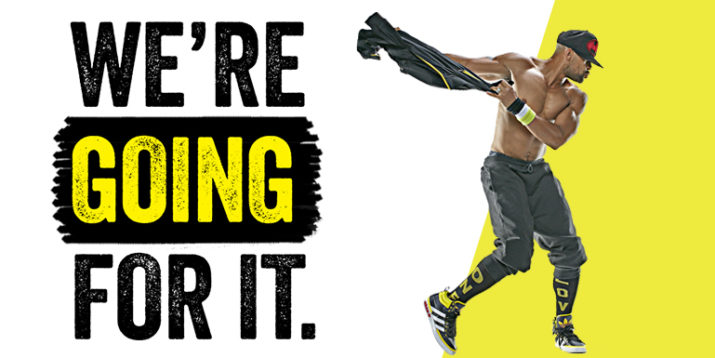 Get ready to learn how to dance and have fun moving to the beat with Shaun T's dance workout: CIZE!
Whether you were a fan of Shaun T's previous cardio dance workouts Rockin' Body and Hip Hop Abs or if you're new to Shaun T or dance workouts entirely, you're sure to love CIZE.
Even if you think you can't dance, don't worry. In the dance workout videos for CIZE, Shaun T breaks down the routines step-by-step so you'll feel confident as you go through the moves.
If you're looking for a fun dance workout to lose weight, this is it. CIZE isn't about doing push-ups or jumping. It's about moving to the beat, and you can do it!
What's Included in the CIZE Dance Workout?
CIZE is a 30-day dance program that features six dance workouts and two bonus workouts.
The two bonus workouts include 8-Count Abs, an ab workout that will help you strengthen your core and "Work Your Body" a dance workout written just for CIZE by Chilli of TLC.
The cardio dance workout videos are between 30 and 40 minutes long, with the exception of 8 Count Abs, which is eight minutes.
The workout program also includes the Eat Up! Meal Plan, a Get Started Guide, a 30-Day beginner calendar and 30-day advanced calendar, a weekend survival guide, and a 7-Day CIZE Down plan to help make losing weight easier.
What Are the CIZE Workouts?
These are the six dance workouts and two bonus workouts included in CIZE. Begin with Crazy 8s workout, which will help you get a sense of your skill level.
Then progress through the beginner or advanced calendar. And,if you really want to step it up a notch once you've completed those 30 days, try CIZE: The Next Level, available exclusively on Beachbody On Demand, now BODi.
| | |
| --- | --- |
| Crazy 8s | 35 minutes of dancing and sweating. At the end you'll perform the routine to "Hands in the Air," originally recorded by Timbaland. |
| You Got This | Pick up the pace with all-new moves and experience a whole new vibe. You'll put it all together to the song "Treasure," originally recorded by Bruno Mars. |
| Full Out | Before long, you'll be front and center dancing to "Lose My Breath," originally recorded by Destiny's Child. |
| In the Pocket | As you gain confidence, we keep challenging your dance skills. This round, the choreography is set to the song "Problem," originally recorded by Ariana Grande. |
| Go For It | Get ready for your music video when you perform "Pass That Dutch," originally recorded by Missy Elliott. |
| Livin' in the 8s | This final routine is a completely different dance experience, with "Chandelier," originally recorded by Sia. |
| 8 Count Abs Workout | Strong abs and core are key for every great dancer. Work them on the floor and then perform the ab sequence to "Headsprung," originally recorded by LL Cool J. |
| Work Your Body | Chilli from TLC loves CIZE so much, she wrote the music just for this routine, and is throwing it down alongside Shaun T in this high-energy, all-out dance challenge. |
| | |
| --- | --- |
| Own Every Move | Shaun T knows you can work your body, now he wants to challenge you with new choreography that pushes you to own each move as you preform to "Nobody Love," originally recorded by Tori Kelly. |
| Whilin' Out | In this high-energy routine Shaun T combines signature CIZE moves with all new steps that will have you Whilin' Out as you CIZE IT UP to "Shut Up," originally recorded by the Black Eyed Peas. |
| Sync It Up | Get ready to take your dance skills even further as Shaun T teaches you how to sync up moves your body already knows to the unique rhythm of "Brokenhearted," originally recorded by Karmin. |
| Turn Up The Mix | Turn up your confidence with these feel-good dance moves as you perform to the hit song "One Last Time,"originally recorded by Ariana Grande. |
| Speed It Up | Shaun T challenges you with this routine of intricate moves and then speeds it up from 160 BPM to 231 BPM! At the end, you will perform to one of his favorite songs, "Circus," originally recorded by Britney Spears. |
What Is the CIZE Meal Plan?
The CIZE dance workout program includes the Eat Up! Meal Plan. This guide features easy recipes and includes some of your favorite foods (yes, including chocolate).
The plan follows the color-coded Portion Fix Container Plan that you might be familiar with from 21 Day Fix.
There's also a Weekend Survival Guide so you don't let weekends undo all your hard work.
It'll help you learn the Dos and DON'Ts of what to do when you're dining out so you can have fun without sabotaging your results.
And finally, make sure to check out 7-Day CIZE Down, a low-calorie, flexible, delicious menu that takes all the guesswork out of how to eat to lose weight.
The meal plan includes a shopping list as well as food lists of what to eat for breakfast, lunch, snacks, and dinner every day.
Shaun T's Tips on How to Get the Most Out of CIZE
Push Yourself
Your cardio will skyrocket if you actually really work it out and push yourself. In some of the hip-hop routines, your quads start to burn and you're on the balls of your feet, so you'll gain more definition in your calves, and you will definitely lose inches around your waist."
Don't Give Up
"Don't say you can't dance, because anyone can dance. The minute you feel like you mastered that dance, that's when you move on," says Shaun T. "You don't just move on because the calendar tells you to move on. You can do that workout, or routine, as much you want until you feel like you mastered it."
Try It On Your Own
"You know you've mastered a routine if you don't need to listen to me. If you can just listen to the music and do the routine. If you can do the routine just by listening to the music and watching the TV, or if you can put on your favorite song on and do the routine, then you know you've mastered it."
Where Can I See CIZE Results?
If you're skeptical that you could use a fun dance workout to lose weight, believe it! Check out the CIZE before and after results we've received from people like you!
Ready to get moving? If you're looking for more of the best dance workout videos for weight loss, join Beachbody On Demand to try CIZE.