10 Fantastic Snacks to Celebrate Shark Week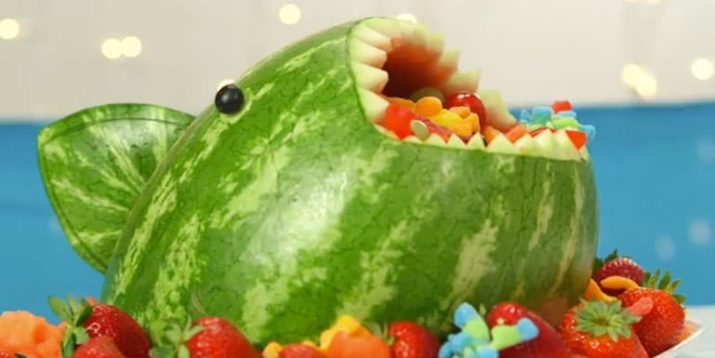 Watch out! Sea creatures are taking over this month, Finding Dory hit the big screen on June 17, Shark Week begins on June 26, and the not so kid-friendly film, The Shallows, comes out on June 29. All this ocean-themed entertainment is the perfect oppor-tuna-ty (sorry) to make some fishy treats your friends and family will enjoy. No need to feel awkward about your love of sea life. Embrace it! From adorable fish-shaped sandwiches to frighteningly cute shark-melons, these creative ideas will be the catch of day.
Blueberry Brew Shakeology
As dark as the deep blue sea, this Shakeology recipe is a subtle way to celebrate the aquatic month of June. While your kids are munching on their treats, you can savor this grown-up snack made with Café Latte Shakeology.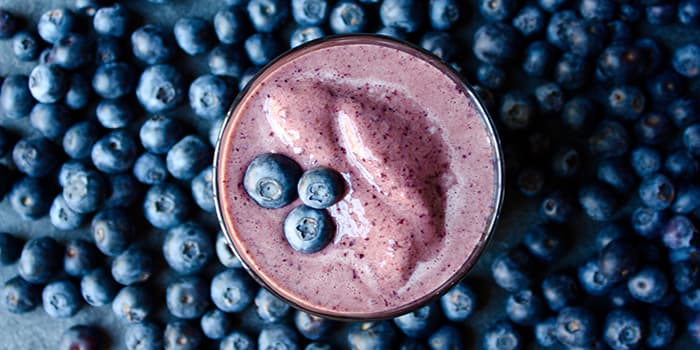 Watermelon Shark
This devious creation is scary, lovable, delectable, and healthy. All you need is a watermelon, your favorite fruit, and some basic carving skills! Bring this creative fruit platter to your next cookout, or use it as a sneaky way to entice your kids into eating more fruit.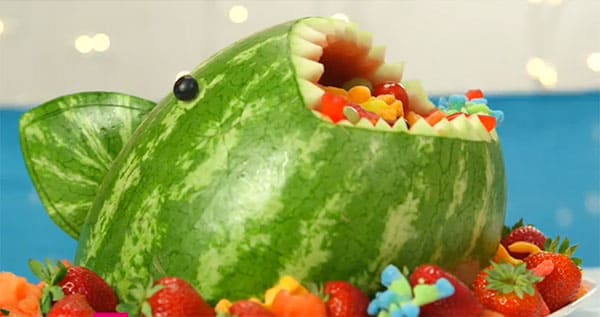 Watermelon Turtle
Once you've mastered the shark, try this slightly more intricate sea turtle watermelon. It also serves as an impressive bowl for a fruit salad, and it's sure to have people coming back for a second look (and helping of fruit).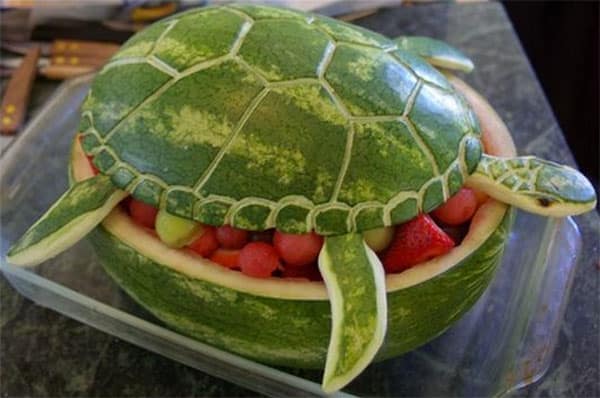 Flip Flop Sandwiches
If you're more of a land shark, these flip flop sandwiches are for you. Customize them with your favorite fillings between whole grain bread, and use a cookie cutter or a knife to shape them. Top the shoes off with a cherry tomato and cucumber slices, and you've yourself a stylish centerpiece for a beach-themed spread.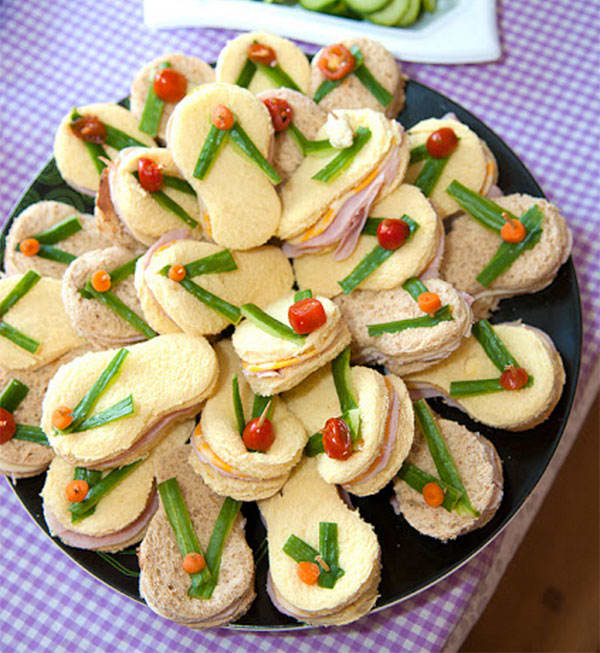 Palm Trees
Don't have a trip planned to a tropical paradise this summer? No worries! Bring the islands to your table with these fruit palm trees. This version is made with kiwi, banana, and clementine, but you can experiment with your favorite fruits and veggies to make your very own private getaway.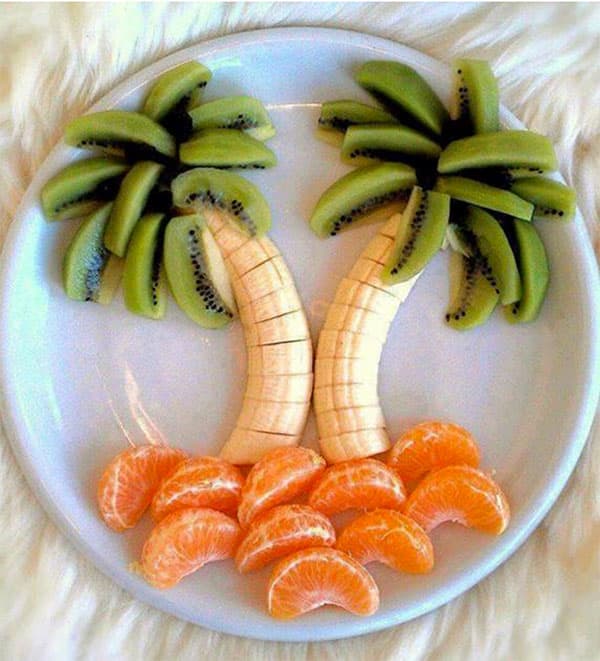 Banana Dolphins
It's impossible not to fall in love with these little guys! Serve them up at a party or use them to bring fun to an everyday meal. This version uses grapes, but other small fruits, like blueberries or raspberries, can work too.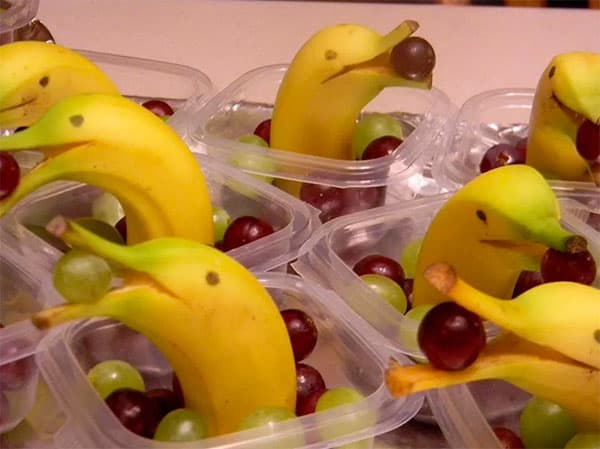 Carrot Pails
If you're hosting a beach-themed party, you can't pass up the opportunity to make these miniature carrot pails. Filled with hummus and slices of carrot, celery, or bell pepper, they're a creative way to hand out individual servings of veggies.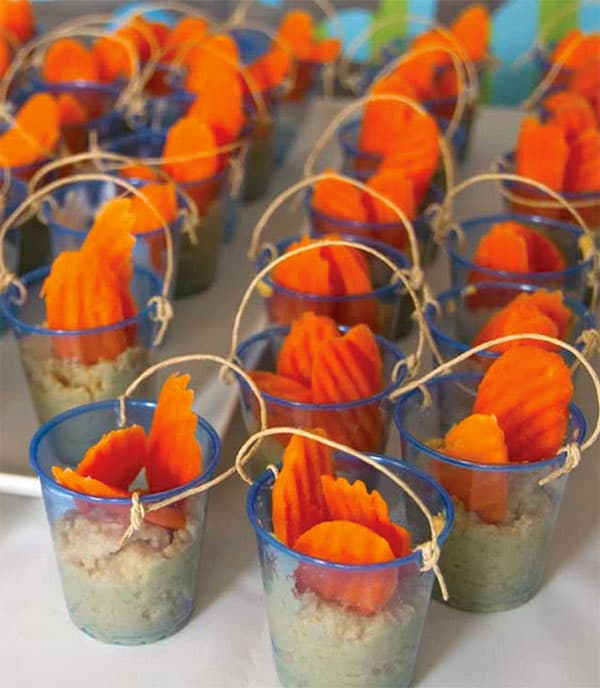 Crab Apples
No, we're not suggesting you serve up those tiny, tart apples. We're suggesting something much tastier and cuter. By artfully slicing an apple, and using sunflower seeds for the eyes, you can transform apples into crabby snacks! Get the full tutorial here.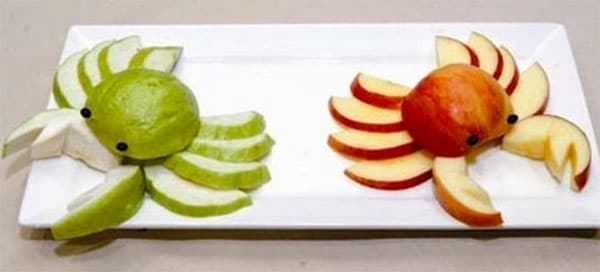 Finding Nemo
If your little one can't get enough of Finding Nemo and Finding Dory, then they'll love if this sandwich appears on their plate for lunch. Cut a sandwich into a diamond shape and decorate the fish using fruit and veggies.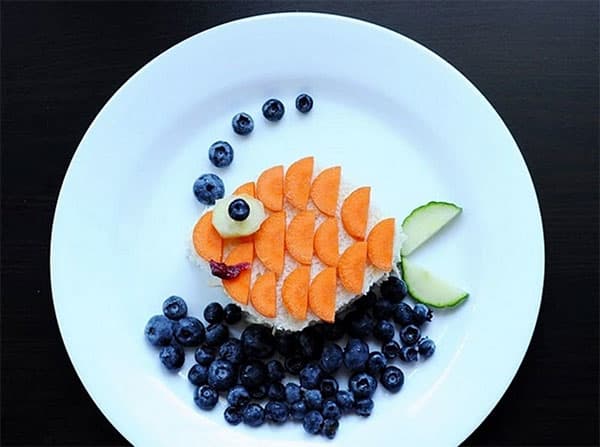 Jelly Fish
Getting stung by one of this suckers is no fun, but it's hard to resist this precious creation. Use a grapefruit or orange as the body, then make they eyes with banana slices and blueberries. And don't about the tentacles! Use a peeler to slice strands of beets, carrots, or any other veggies.