Sharbel Got Ripped and Won $500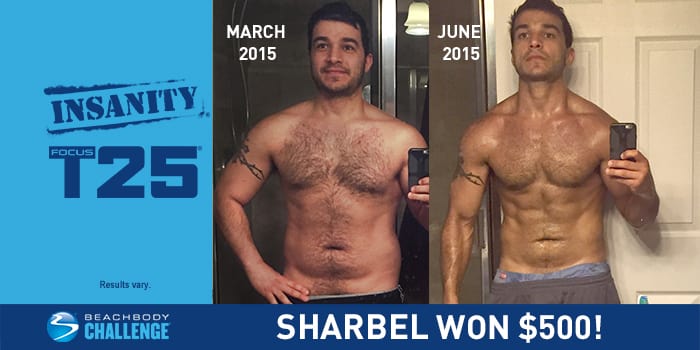 Sharbel D lost 50 lbs with INSANITY. He entered his results into The Beachbody Challenge, and won the $500 Daily Prize for August 6th!
Tell us about your life before you started the program. How did you feel about yourself and your body?
I've always been in a somewhat decent shape my entire life averaging around 185lbs which at the time thought was good on me. I was pretty satisfied with my weight and my lifestyle. My wife and I finally got pregnant (took over 3 yrs.) which motivated me even more to get in shape. I was doing so good until my wife was forced to go into labor and delivered our child at 25 weeks which is 15 weeks too early! She was born July 17th 2014 at 1:29 am at 1lb 6oz. We were very scared. I my self stopped working out and staring eating like s?$!@. I was not happy with my self or my life. I weighed in at over 219lbs the worst shape in my life. My daughter was in the NICU for almost 165 days. But like all good stories she finally came home towards the end of the year. I finally decided that I had to make a life change for my self and my daughter. So I started busting ass in mid March doing INSANITY, taking my Shakeology, and eating better and now my weight is 169lbs. I owe it all to Beachbody!
What inspired you to change your life and begin your transformation journey?
To live for my daughter!
What is the greatest challenge you faced before beginning the program? How did the program and Beachbody® help you overcome that challenge?
Tying to have kids and surviving the NICU with my daughter. Beachbody has helped me by there motto "Decide. Commit. Succeed."! That's all I needed!
What in particular did you like about the program you chose?
It was hard and worked for me.
Describe the results you achieved with your Beachbody program. Which achievements are you proud of?
My six pack.
How has your life changed since completing your Beachbody program?
It has changed for the best!
You can change your life, too. Take the Beachbody Challenge for the tools you need to Decide, Commit, and Succeed! Complete any Beachbody program, and enter your results for a free gift and a chance to win cash and prizes.