One Pot Bean and Sausage Stew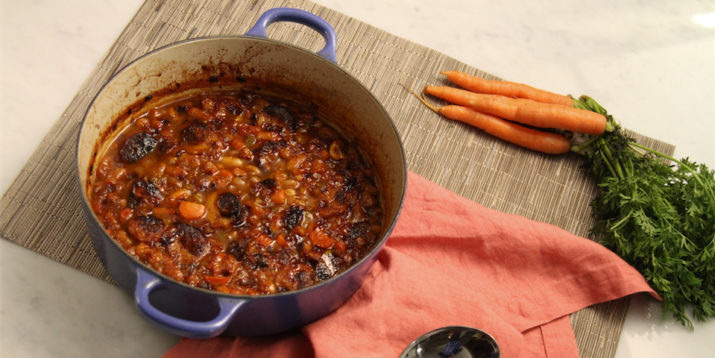 This hearty One-Pot Bean and Sausage Stew is based on the iconic white bean stews served in France and Spain.
Unfortunately, the classic sausage and bean stew recipe is less than healthy.
Most feature fatty pork sausage, gobs of butter, and a hearty bone broth. The only good-for-you ingredient in that mix would be the bone broth, but everything else in it won't really help you meet your clean-eating goals.
That's why Ultimate Portion Fix creator Autumn Calabrese and her chef brother, Bobby, put together this One-Pot Bean and Sausage Stew that maintains all of the flavors of a classic sausage and bean stew without all of the heft.
Drawing from his deep knowledge of French cuisine, Bobby took the base recipe and made some very important adjustments.
He's preserved the techniques and flavor profile that make the original, and swapped the less-than-healthy ingredients in favor of more wholesome options.
Reduced-fat chicken sausage is one of the stars of this stew. It has 20 percent less fat and 30 percent less sodium than pork sausage.
If that alone isn't a huge improvement over the original recipe, Bobby also uses a touch of olive oil instead of all that butter.
This recipe mirrors the original with a mirepoix of fresh veggies (onion, carrot, celery), lots of freshly chopped garlic, and a bouquet garni of fresh bay leaves and whole sprigs of parsley, which are removed prior to serving.
If you've tried some of our other FIXATE recipes, you'll know that adding a little gelatin to your chicken stock makes it more like a broth.
This delicious stew is ideal for those nights when the weather has shifted and the whole family could use a belly-warming meal.
This recipe makes four servings and leftovers will be even yummier on Day Two!
To get the recipe and find out the Container Equivalents and nutritional information, watch the FIXATE episode on BODi!