Salmon Poke With Macadamia Nuts
Poke (pronounced "poe-kay") is a popular Hawaiian dish that has taken the mainland by storm.
You can find poke shops and food trucks everywhere, but you can easily make it at home.
Since poke is made with raw fish, buy your fish the day you plan to eat it and keep it chilled at all times.
Make sure to ask the fish counter at your grocery store for the freshest sushi-grade fish they have that day.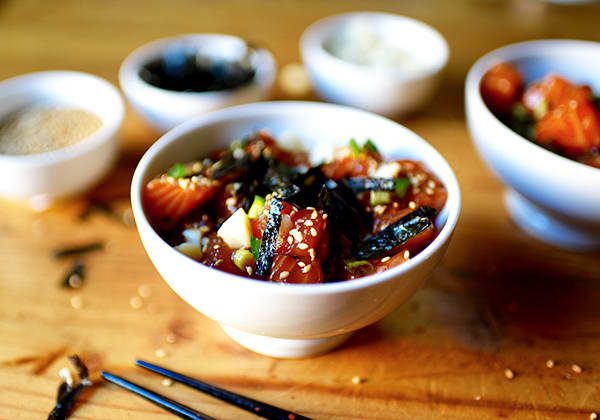 To make this salmon poke, start by whisking together the dressing made from soy sauce, sesame oil, green onions, and crushed red pepper.
The pepper flakes can be adjusted or omitted if you're not a fan of spicy food, but they really balance the umami flavors of the sauce and the healthy omega-3s in the salmon.
Use a sharp knife to slice the fish into uniform, bite-sized cubes, then toss them with the sauce.
Poke can be eaten right away, but it'll taste best if you let it marinate in the refrigerator for about an hour.
When you're ready to eat, sprinkle the salmon poke with chopped macadamia nuts, sesame seeds, and chopped nori (the dried sheets of seaweed that are used to make sushi rolls).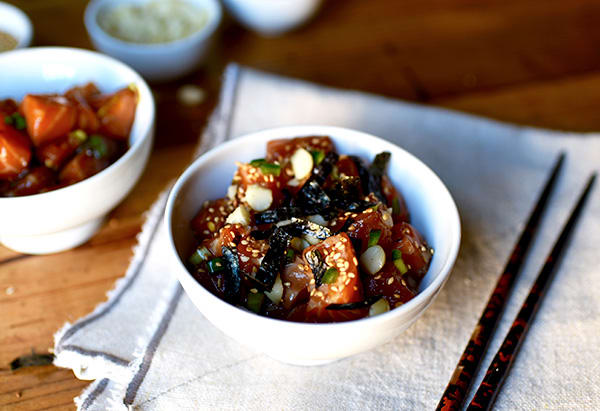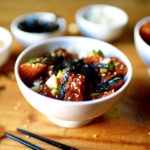 Salmon Poke With Macadamia Nuts
Poke is a popular raw fish Hawaiian dish that has taken the mainland by storm. Here's how to make delicious salmon poke in your own kitchen.
Prep Time 1 hr 15 mins
Cook Time 0 mins
Total Time 1 hr 15 mins
Servings 4 bowls
Calories 274 kcal
Ingredients
¼ cup reduced-sodium soy sauce
4 tsp. toasted sesame oil
4 green onions, thinly sliced
½ tsp. crushed red pepper flakes
1 lb. sashimi grade salmon, cut into 1-inch cubes
1 Tbsp. toasted sesame seeds
3 Tbsp. macadamia nuts, chopped
1 sheet nori (seaweed), finely chopped
Instructions
Combine soy sauce, oil, green onions, and crushed red pepper in a medium bowl; whisk to blend.

Add salmon to soy sauce mixture; blend until well coated. Refrigerate, covered, for at least one hour.

Divide salmon mixture between four bowls. Top evenly with sesame seeds, macadamia nuts, and nori.
Nutrition Facts
Salmon Poke With Macadamia Nuts
Amount Per Serving (1 serving)
Calories 274 Calories from Fat 162
% Daily Value*
Fat 18g28%
Saturated Fat 3g19%
Cholesterol 62mg21%
Sodium 486mg21%
Carbohydrates 4g1%
Fiber 1g4%
Sugar 1g1%
Protein 25g50%
* Percent Daily Values are based on a 2000 calorie diet.
Portion Fix Containers
1 Red
½ Blue
2 tsp.
2B Mindset Plate It!
A protein and accessory as part of lunch or dinner.