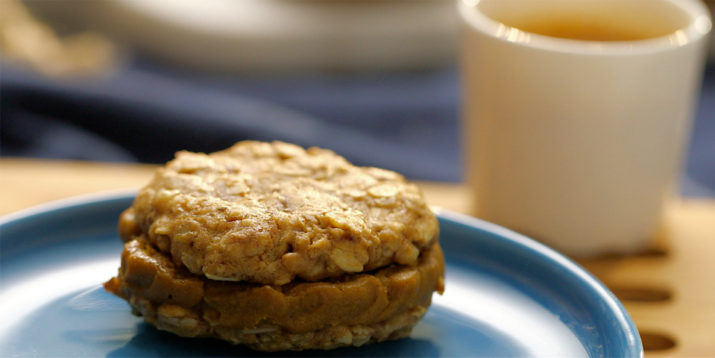 Remember whoopie pies? Two soft cookies with an indescribable sweet substance nestled in between. A whoopie pie can take on almost any theme. There are birthday cake whoopie pies, chocolate and vanilla varieties, and of course Pumpkin Whoopie Pies. As children, we never paid any attention to what our food was made of. As long as it tasted amazing we just sank out little teeth into whatever artificially colored nonsense was being presented and basked in its sugary glow. Now, we know better.
Whoopie pies aren't just for kids. They aren't just for the subset of the population that throws caution to the wind either. In fact, 21 Day Fix creator Autumn Calabrese loves them! Autumn asked her brother, chef Bobby Calabrese to replicate a classic whoopie pie, but make it Fix-approved. Bobby has really outdone himself with this pumpkin whoopie pie recipe.
If you've ever watched their healthy cooking show FIXATE, you'll know that Autumn and Bobby are good at finding wholesome replacements for questionable ingredients.Usually, a whoopee pie would require the use of shortening and loads of refined sugar. For these Pumpkin Whoopie Pies, Autumn and Bobby use ingredients like coconut sugar, coconut oil – a preferred fat – and all-natural pumpkin puree. Bobby has bucked convention and created a healthier rich pumpkin pie-spiced filling that takes these pumpkin whoopie pies over the top.
While the notion of healthier treats seems new-ish, it's really how things we're done when people had the time to cook with whole, fresh ingredients. This highly innovative recipe takes a back-to-basics approach to making homemade delicious treats for the family.
To get the recipe and find out the Container Equivalents and nutritional information, watch the FIXATE episode on BODi!