Is Excess Protein Making You Gain Weight?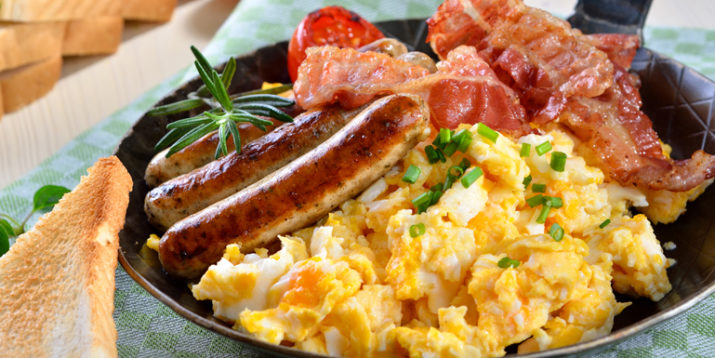 A new study says so. But, here's why you shouldn't base your diet on certain headlines.
It used to be that fat made you fat. Then the culprit was carbs. Now, a team of researchers from the University of Adelaide in Australia suggests that obesity could be caused by protein — specifically, meat.
For the study, titled, "Meat consumption providing a surplus energy in modern diet contributes to obesity prevalence: an ecological analysis," anthropologists compared rates of meat availability with rates of obesity among 170 countries to determine that meat intake is responsible for 13 percent of the development of obesity in the countries examined.
"Our findings are likely to be controversial because they suggest that meat contributes to obesity prevalence worldwide at the same extent as sugar," Maciej Henneberg, Ph.D., head of the Biological Anthropology and Comparative Anatomy Research Unit at the University of Adelaide, said in a press release. (He did not respond to our request for an interview.)
The findings certainly are sparking, with others in the scientific community calling them everything from "ignorant" to "irresponsible."

What the Study Actually Found
"This study never actually looked at meat consumption and, in that sense, even the title of the study is misleading," explains D. Lee Hamilton, Ph.D., a health and exercise sciences expert at the University of Stirling in Scotland. "What the researchers assessed was the availability of meat in various countries and then they correlated this measure with the estimated rates of obesity in those countries. Not a single measure of consumption was made.
"However, they found a positive correlation suggesting that in countries where meat availability is high, so too is obesity. The assumption that if meat availability is high, then so too is consumption, is quite a big leap to make without actual assessments of meat intake," says Hamilton.
Meanwhile, it's important to note that there is a big difference between correlation and causation. "Every country that becomes developed increases its rates of obesity as well as its rates of meat consumption. But that doesn't mean that meat is the reason," says Donald K. Layman, Ph.D., professor emeritus of food science and human nutrition at the University of Illinois, and one of the world's foremost protein researchers.
The study's assertion that a correlation between meat availability and obesity means that one causes the other is not that different than saying that greater access to schools or lower levels of unemployment are responsible for obesity. After all, those are both consequences of development, too.
"If you set the bar low enough in your statistics, you can see any correlation you want," says Layman. "The study authors say that they controlled for other weight-related factors like caloric intake and physical activity, but you can't factor out total calories from the equation and then say that calories from meat cause obesity."
Why Protein May Be a Type of Food That Can Help You Lose Weight
So how do the study researchers explain their assertion that eating meat makes you fat?
"Whether we like it or not, fats and carbohydrates in modern diets are supplying enough energy to meet our daily needs," Wenpeng You, a Ph.D. student and the study's lead author, said in the university's press release. "Because meat protein is digested later than fats and carbohydrates, this makes the energy we receive from protein a surplus, which is then converted and stored as fat in the human body."
Riiiight. "This frankly is one of the most irresponsible pieces of nutrition advice I've ever read. It is an absolutely stupid and irresponsible statement," Layman says. "If I had a freshman in a nutrition class who said that, I would fail them on the spot."
While it's true that protein is slow to digest, that's a good thing; it helps stabilize blood sugar levels, reduce insulin spikes, aid in satiety, and encourage weight loss, not gain. It's a type of food that can help you lose weight if eaten in the right portions.
A review of several studies published in the Journal of the American College of Nutrition revealed that it may be beneficial to partially replace refined carbohydrate with protein sources that are low in saturated fat because there's convincing evidence that high-protein meals lead to reduced consumption, and increase thermogenesis (process of burning calories to generate body heat) and satiety. The Beachbody Portion Fix Eating Plan is a higher-protein diet that includes lean animal protein, such as 93–95 percent lean ground beef or turkey, reduced-fat turkey bacon, and 2-percent cottage cheese, as well as plant-based sources of protein as part of a healthy diet — and particularly for those who want to lose weight.
"The notion that because protein takes time to be digested [and] is therefore more likely to be converted to fat is completely unfounded and indicates the author's ignorance on protein metabolism," Lee says. "If anything, protein in the diet is less likely to be converted to fat. It has a greater stimulatory effect on your metabolism than do carbohydrates, and it has to go through a more convoluted pathway to get converted to fat than do carbohydrates."
That's why, as Layman notes, meat consumption has been inversely related to obesity in the U.S. The consumption of red meat has been on the decline since the mid-'70s. What's more, data from the Netherlands Cohort study, which assessed meat consumption in about 4,000 men and women over the course of 14 years, found that those who consumed the most beef had the lowest increases in age-related weight gain.

But… Excess Calories = Excess Weight
"Any time you over-consume calories relative to your need, you are going to gain weight," Layman says. "Protein can be a part of that."
Interestingly, though, protein may be a very small part of that weight or, rather, fat gain. "Overeating a diet high in protein is more likely to lead to gains in muscle mass as well as fat mass, while an equivalent diet low in protein leads to weight gain purely in the form of body fat," Lee says.
Case in point: In a 2012 Pennington Biomedical Research Center study of people consuming high-calorie diets for eight weeks, those who got 25 percent of their calories from protein stored 45 percent of the excess calories as muscle, while those who got only 5 percent of their calories from protein stored 95 percent of the excess calories as fat.
Still, over-consuming protein to begin with is probably harder than you might think — largely because protein is so slow to digest and satiating, Layman says.
After all, while current guidelines recommend that people consume between 10 and 35 percent of their daily calories from protein, research published in The American Journal of Clinical Nutrition shows that most Americans get between 13 and 16 percent of their calories from protein. Plus, even the top five percent of people who eat the most protein barely approach the 35-percent mark.
Meanwhile, although other national recommendations advise people to consume between 0.8 grams per kilogram of body mass per day, Lee notes that recent research consistently shows that double that (and therefore eating much closer to that 35-percent protein total) results in healthier muscle mass and more favorable body composition changes. A 2015 Applied Physiology, Nutrition, and Metabolism review similarly suggests that consuming around 25–35 grams of protein during each meal promotes muscle health and plays a role in maintaining lean body mass with increasing age. A single 3.5-ounce skinless chicken breast will get you there — and help you hit your weight-loss goals.