See the Portion-Control Container Results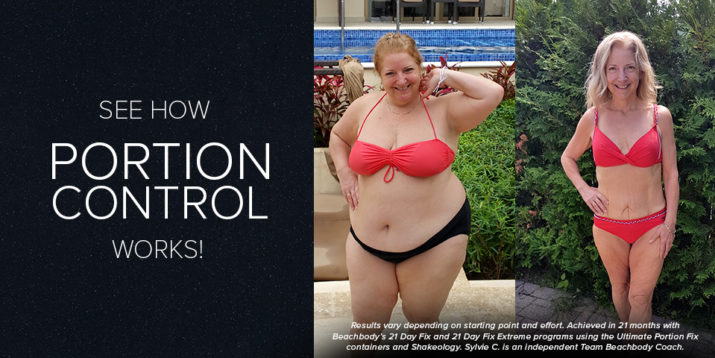 In 2014, Autumn Calabrese and Beachbody's nutrition experts introduced color-coded portion-control food containers to help people manage their nutrition while doing 21 Day Fix.
With Ultimate Portion Fix, they've fine-tuned the container system so that it's easier to follow, more effective, and easily customized to work with any fitness program and any goal.
Learn more about the Ultimate Portion Fix nutrition program here.
Read on to see how people used portion-control containers and a variety of Beachbody On Demand programs to transform their lives:
Charles H. Lost 27 Pounds in 80 Days†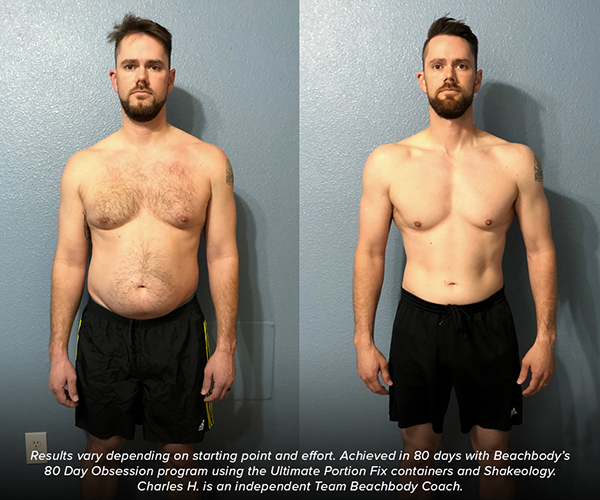 "I had recently completed the Ironman Texas and decided to take a break from working out. I finished well and thought I was in pretty good shape. Within a few months, though, I had gained 30 pounds and felt terrible.
I ate any and everything and started to pay the price once I stopped my intense training. Even with some running still, I continued to gain weight and feel bad.
I didn't know how to get my meal planning and nutrition under control. I read lots of information and put different things together, but in the end, I was an unhealthy athlete.
I believe portioning my meals was one of my biggest eye-openers. I was eating way too much, and also too much of the wrong foods. This is a simple system that I can take with me anywhere.
80 Day Obsession helped me to understand when and how to eat and proper portions. I have my nutrition under control, which has made a much bigger difference than I thought possible."
Sylvia C. Lost 153 Pounds in 21 Months†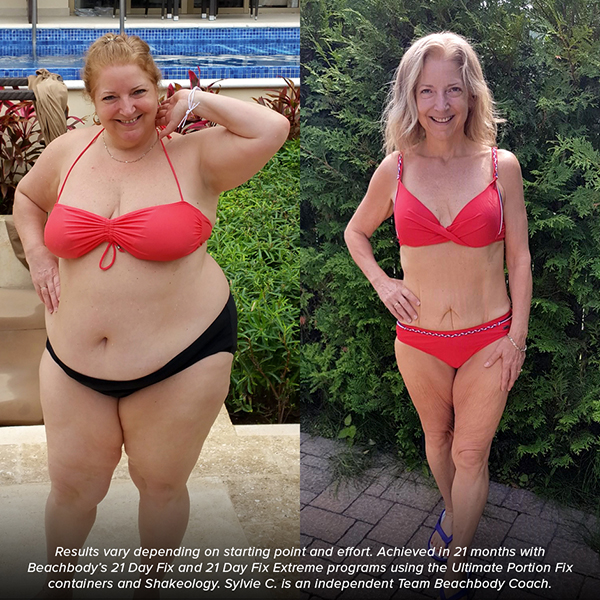 "Before, I had difficulty walking, getting dressed, and bending to tie my shoes! Now, I can do activities with my family and friends.
My favorite program is 21 Day Fix Extreme. I love it because it is simple and I can do it wherever I want. I like the containers — they're easy to use and I can calculate what I need very fast."
Ray C. Lost 11 Pounds in 80 Days†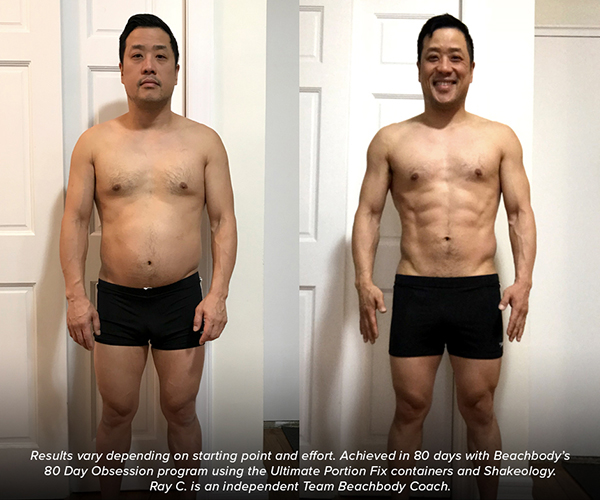 "I had fallen out of shape and gained weight; I was sluggish and lacked energy. Mentally, I started to feel hopeless and lacked the drive to push for what I wanted.
Then while doing 80 Day Obsession, I began to experience shifts that I never expected. I started becoming more focused and more driven.
I grew up in a restaurant and got used to eating huge portions. The portion-control containers helped a lot in the size of my meals and in how much to eat."
Michaela Lost 70 Pounds in 7 Months†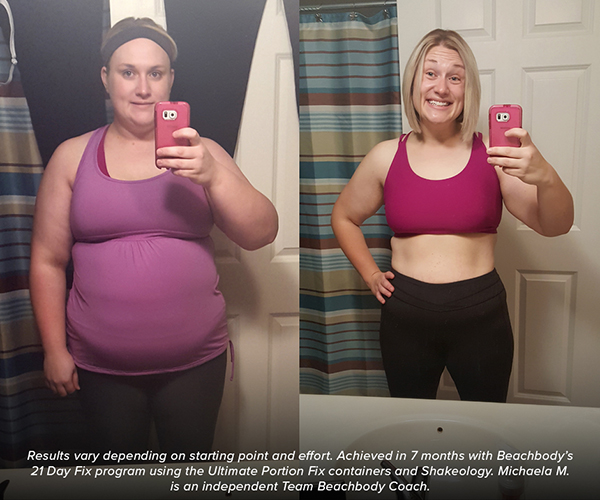 "I have been overweight for as long as I can remember. Before I started 21 Day Fix, I was at the highest weight of my life. I went out to eat for almost every meal and ordered whatever I wanted. I never worked out. 
I never had any energy despite sleeping all the time. I felt so ashamed of my weight. I dreaded getting dressed in the morning because none of my clothes fit right, but I was in such denial about the weight I had gained.
I ate lots of processed foods and fast food and my portion sizes were out of control. The 21 Day Fix meal plan made eating healthy SO simple. It's such an easy meal plan to follow and has really helped me make healthier food choices. 
My life has completed changed. I use my colored containers to help me put the right portions of the right foods in my body. It's taught me the importance of eating clean, whole foods in the proper portions. I never feel deprived or hungry.
I FEEL AMAZING! It's really hard for me to put it into words. I have never felt like this in my entire life. I have so much energy. I am WAY more confident.
I can do SO many things that I never could do before. Physically, I can keep up with my 3-year-old godson and I can do push-ups and burpees.
At first, my inspiration was my family, my friends, my future husband, and my future kids. But now, I'm my own inspiration. I've proven to myself that I can do anything I set my mind to."
Lindsay Lost 53.6 Pounds in 7 Months†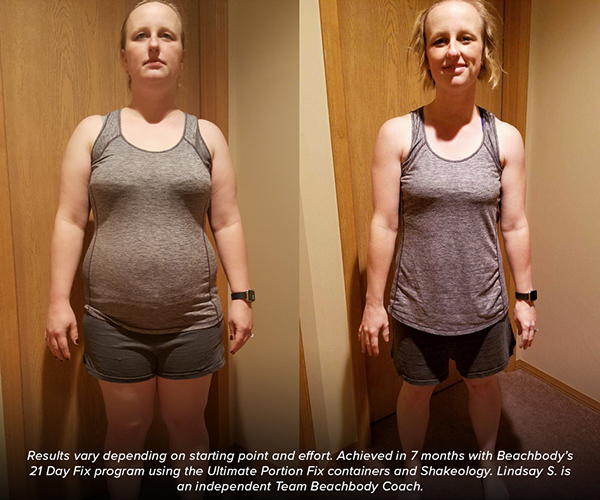 "I felt completely exhausted. I didn't have enough energy to make it through my day and felt like I was just spinning my wheels. I hated clothes shopping and was frustrated and depressed. I felt like I would never be fit again.
The greatest challenge for me before beginning 21 Day Fix was finding the time to work out. When I started the program, I was working an hour away from home, so time was important to me. I was able to knock my workout in half an hour and move on with my day.
I believe the containers were the key to my weight loss. It completely took the guesswork out of what I should be putting in my body. No counting calories or carbs or any complicated system.
Shakeology helped me curb my junk food (especially chocolate) cravings.* It became the treat I looked forward to after every workout.
I have lost over 50 pounds, have shaved almost 40 inches off, and have gone down five dress sizes! I have learned that it is okay to invest in myself and have realized the importance of this very thing.
More than anything, I feel so proud of myself that I put my mind to something and worked hard to achieve it. I feel so much more like my authentic self."
*These statements have not been evaluated by the Food and Drug Administration. This product is not intended to diagnose, treat, cure, or prevent any disease.
†Results vary depending on starting point and effort. Exercise and proper diet are necessary to achieve and maintain weight loss and muscle definition. The testimonial featured may have used more than one Beachbody product or extended the program to achieve their maximum results.