PiYo Results: This 52-Year-Old Lost 23 Pounds!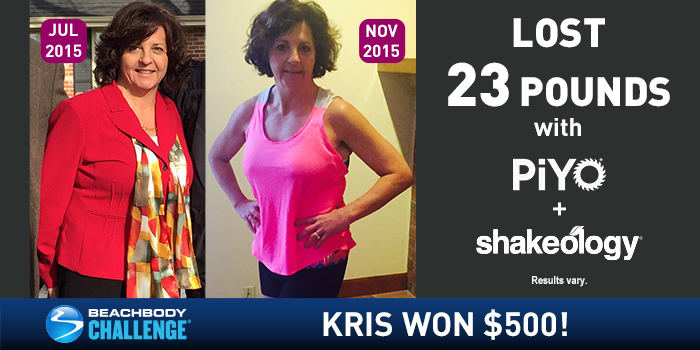 Kris Williams lost 23 lbs. in four months with PiYo. She entered her results into the Beachbody Challenge , and won the $500 Daily Prize for June 27th!
Tell us about your life before you started the program. How did you feel about yourself and your body?
I always worked out but could never get the weight off. My eating habits were up and down. I also didn't have a lot of energy.
What inspired you to change your life and begin your transformation journey?
My friend and Coach, Mindy Saia. She lost a lot of weight, was getting fit, and had lots of energy.
What is the greatest challenge you faced before beginning the program? How did the program and Beachbody help you overcome that challenge?
Changing my eating habits and portion sizes were the greatest challenges. Also, planning meals.
What in particular did you like about the program you chose?
I love the workout programs and the shakes! The program is very easy to follow. I've been on many diets before and always gave up.
Describe the results you achieved with your Beachbody program. Which achievements are you proud of?
OMG! I have muscles I never had, energy levels I never had, and I now love to run. My strength and endurance are unbelievable.
How has your life changed since completing your Beachbody program?
I feel like I'm in my 20s, and I'm 52! I now run 3–4 times a week and will do 5k and 10k marathons. I still love the shakes and still plan my meals. I have the self-esteem that I had lost years ago. I love PiYo!
How did participating in a Challenge Group help you reach your goals? How did your group support you and keep you accountable?
The support group was amazing. I felt encouraged and that all my questions were answered. The Group pushed me beyond what I thought I could do. I am so pleased with how I look and feel, and I owe it all to Mindy Saia, the Challenge Group, and Beachbody!
How did your Team Beachbody Coach support you on your journey?
She was only a text or phone call away. We started working out together and discussing the good and bad days, and how to overcome them. She is now one of my close friends and definitely my workout buddy.
How did a Beachbody supplement, nutritional product, or program (such as Shakeology or Beachbody Ultimate Reset) support your transformation? What are the greatest benefits you gained? Did you see benefits to your energy, sleep, mood/mental clarity, or digestion/regularity?
I love Shakeology. It keeps me full and well-balanced. I don't crave anything when I drink a shake each day. I like to drink it in the morning. I feel full of energy and healthy. It sets the rest of my day for success.
You can change your life, too. Take the Beachbody Challenge for the tools you need to Decide, Commit, and Succeed! Complete any Beachbody program, and enter your results for a free gift and a chance to win cash and prizes.

Results vary depending on starting point, goals, and effort.