PiYo Helped Me Get My Pre-Pregnancy Body Back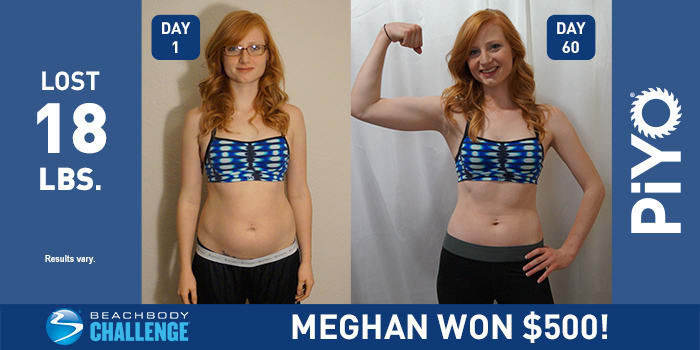 Meghan N. lost 18 lbs. in 60 days with PiYo. She entered her results into The Beachbody Challenge, and won the $500 Daily Prize for September 27th!
Tell us about your life before you started the program. How did you feel about yourself and your body?
When I found Beachbody, I was nine months pregnant and freaking out about how I was going to get my body back! I contacted my now Coach and said I needed help getting back to my pre-pregnancy body. She suggested PiYo and I loved it!
What inspired you to change your life and begin your transformation journey?
I just wanted to get back to my pre-pregnancy body and the healthy lifestyle I knew before my baby.
What is the greatest challenge you faced before beginning the program? How did the program and Beachbody help you overcome that challenge?
I couldn't just go into this workout program at full force. I had to take it slow until I had the go-ahead from my doctor to just go all out. That was why PiYo was so great! I was able to work out at a slower pace and still get great results. Then, when I was ready, I added P90X3 to mix up my routine.
What in particular did you like about the program you chose?
I love Chalene Johnson! I also loved that I was able to modify at the beginning. As I got stronger, I could do more advanced moves.
Describe the results you achieved with your Beachbody program. Which achievements are you proud of?
I was so worried it would take me ages to get back to my pre-pregnancy body, but with the daily workouts and Shakeology, it only took a few months! I couldn't ask for a better experience!
How has your life changed since completing your Beachbody program?
I am now a Beachbody Coach! Without going through the program, I wouldn't have found this amazing working opportunity! And, of course, I am back to having the self-confidence I knew before my beautiful daughter. Now I can be a great role model for her.
How did participating in a Challenge Group help you reach your goals? How did your group support you and keep you accountable?
I actually did not join a Challenge Group run by anyone else. I jumped right into Coaching, so the first Challenge Group I joined was the one I ran myself. The support and accountability I felt in the group was awesome! I definitely think the groups play a huge role in my success.
How did your Team Beachbody Coach support you on your journey?
Megan Ewoldsen is just an inspiration. Her kind, supportive words are always appreciated.
How did a Beachbody supplement, nutritional product, or program (such as Shakeology or Beachbody Ultimate Reset) support your transformation? What are the greatest benefits you gained? Did you see benefits to your energy, sleep, mood/mental clarity, digestion/regularity?
I feel amazing when I drink Shakeology! Because I am nursing, it takes so much more energy to get through my day. With Shakeology, I have more energy and an easy meal to whip up!
How did a Beachbody supplement, nutritional product, or program affect any existing health conditions you have? 
I've always struggled with anxiety. After starting Shakeology, I noticed a difference in how calm I felt.
You can change your life, too. Take the Beachbody Challenge for the tools you need to Decide, Commit, and Succeed! Complete any Beachbody program, and enter your results for a free gift and a chance to win cash and prizes.