Piña Colada Fruit and Yogurt Salad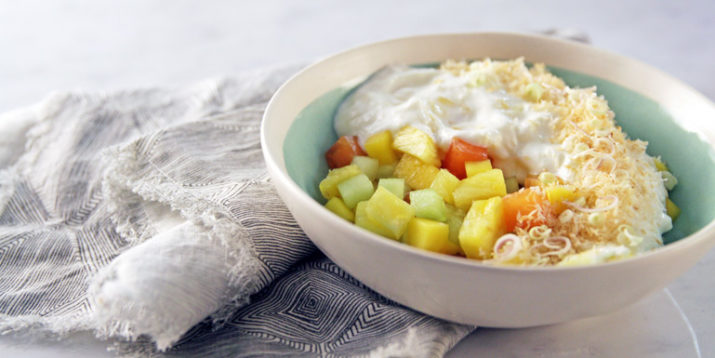 It can be difficult to get creative with something as simple as fruit salad, so when a recipe for a Piña Colada Fruit and Yogurt Salad comes along it deserves attention. Often when we make fruit salad at home it is pretty much just that…fruit. This recipe from the healthy cooking show FIXATE, is so much more than just sliced fruit, and it gets bonus points for riffing on the classic cocktail.
The culinary duo of 21 Day Fix creator Autumn Calabrese and her brother, chef Bobby Calabrese, created a recipe that will feel right at home on the potluck table at your annual summer luau. Your neighbors will demand to know the secret ingredients that make your fruit salad pop with tropical flavor.
We'll give you a few hints, but to get the full details you have to watch this episode of FIXATE. This dish gets its bold flavor from coconut extract and diced pineapple, which are incorporated right into the yogurt, ensuring a burst of piña colada in every bite. A sprinkling of lemongrass acts as a garnish but also adds significant flavor. If you have never used lemongrass before there are a few things you'll need to know. Like how to clean it and which parts you can eat and which ones taste like eating a rattan chair. Lucky for us, Bobby gives a complete rundown of how to cook with this citrusy ingredient that imparts a slightly floral, lemony finish to this sweet salad and nicely rounds out the dish.
To get the recipe and find out the Portion Fix Containers and nutritional information, FIXATE episode on BODi!