The Nuts and Bolts of P90X LIVE
"When is that bell going to ring?" I was mid push-up, my whole body was shaking, and I was a sweaty mess. But I wasn't the only one. It was 10 a.m. on a bright Southern California morning, and I was in the Beachbody gym surrounded by tons of future P90X LIVE Instructors. Up at the front of the class, Will Brereton, the UK Director of Beachbody LIVE, was leading us through the Upper Strength Block.
In this round, the upper sequence followed a ladder protocol. There were two ladders, with two moves each. In the round I was struggling in, we had to do one push-up, then one lateral raise, then two push-ups, then two lateral raises…and so on. We were given two-and-a-half minutes to complete the first round, and then two minutes to complete the second and beat your number. In other words, you had to move faster in the second round. Awesome. Finally, the bell went off to let me know the two minutes were up.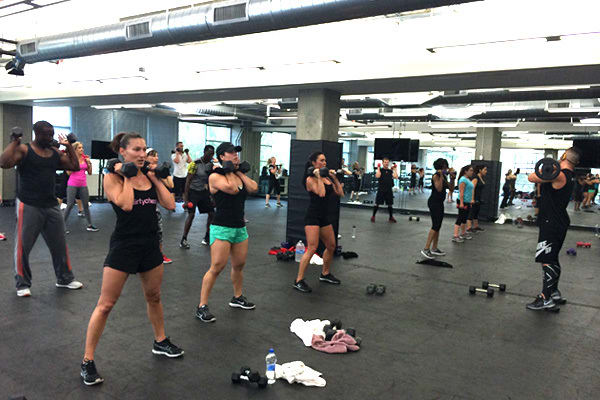 I've done P90X before, but this was different. I love that program, but sometimes I wanted to do something P90X-esque with other people in a fun class environment. Sometimes, having other people around can help you push yourself further. That's where P90X LIVE comes in.
Last year, the Beachbody LIVE team, including Brereton, a former intellectual property lawyer, started designing what would become P90X LIVE. Using elements from P90X, P90X2, and P90X3, they created a flexible program that allows trainers to teach the class in the way they want. The team created four blocks so trainers could create 30-, 45-, or 60-minute classes using the blocks they desired, with popular music specifically designed with cues (those bells, for instance) to help them guide their classes through the sequences. There are upper and lower resistance-training blocks, a block that focuses on the core, and a cardio block. "P90X is not just about strength," says Brereton. "It's about being fit."
And, part of being fit means having a strong, stable core and being able to move functionally in a variety of planes of motion. The team has worked hard to make sure that all of these aspects have been integrated into P90X LIVE. I experienced the full 60-minute class and the round I did featured a warm-up, Cardio X, Lower Strength, Upper Strength, X Core, and a cooldown. The music (and my classmates) helped me keep moving through the workout, so even when it was hard, it was fun. So that the classes don't get stale, a new round is released every 2 months and it contains new music and new protocols (ladders vs super sets vs giant sets, etc.). It's up to the instructor how they're put together.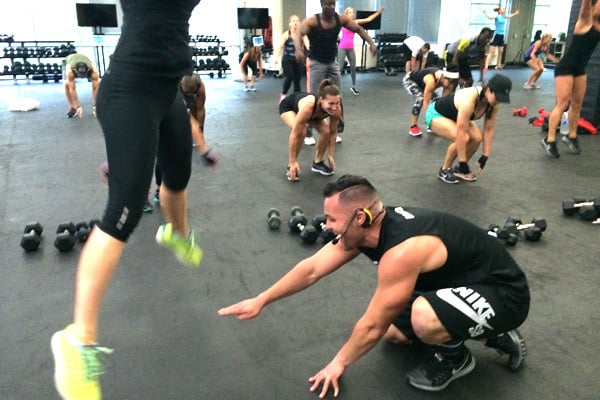 So, who is P90X LIVE for? "It's for everybody." He's serious. Despite my own difficulty getting through round two of the upper ladder, the program itself isn't extreme. "The extremeness comes from how hard you are pushing. You can do the entire workout with body weight only or with resistance bands or you do it with weights. You can do the cardio section without jumping. It's designed to be a hard workout for P90X graduates, but it's also designed to be a program that will allow new people to come in and build up their fitness and feel successful."
If you want to start taking P90X LIVE classes, Beachbody aims to have 1,500 instructors trained by the end of May and another 3,500 by the end of the year, so you should see P90X LIVE classes popping up shortly.
If you're interested in becoming a P90X LIVE Instructor, click here to find out about the Instructor Workshops. At the end of the one-day course, you'll receive a full P90X LIVE workout, including a music CD, a cueing sheet, and a DVD that shows you how to put it all together. After you're trained, you can teach the class in your gym, community center, a park, or wherever else you want to bring P90X LIVE.