"Here I Am Now at The End of 90 Days with Real Results!"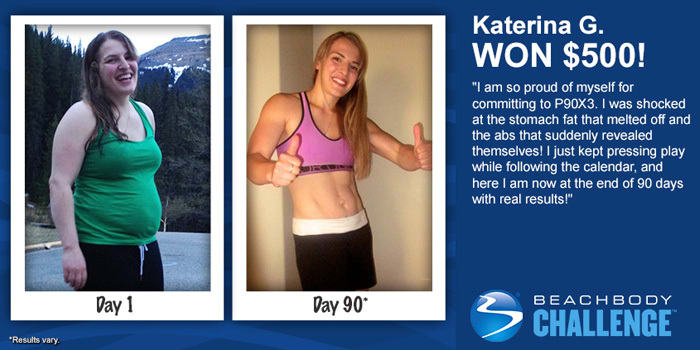 Meet Katerina G.! She participated in The Beachbody Challenge and won the $500 Daily Prize for September 15th!
Tell us about your life before you started the program. How did you feel about yourself and your body?
Before I started P90X3, I was mildly overweight for my height. I have always been with a few extra pounds, but even more so after having a baby. A Beachbody exercise program was just the right thing to get me motivated with an end goal in sight!
What inspired you to change your life and begin your transformation journey?
Excess stomach fat build up and not being able to stretch like I used to. Seeing my reflection and knowing I needed to get my body moving and start shedding fat while building the right muscle groups.
What is the greatest challenge you faced before beginning the program? How did the program and Beachbody® help you overcome that challenge?
Completion. I didn't have any expectation of myself in finishing the program. Being only 30 minutes in length, the workouts were a breeze and very doable! I just kept pressing play while following the calendar, and here I am now at the end of 90 days with real results!
What in particular did you like about the program you chose?
I loved the efficiency. I was really skeptical that I would see any changes with only 30 minute workouts. This program is crafted to be extremely efficient while maintaining a medium intensity. Plus, I love Tony Horton's character. He is a fun workout buddy. 🙂
Describe the results you achieved with your Beachbody program. Which achievements are you proud of?
I am so proud of myself for committing to the program. I was shocked at the stomach fat that melted off and the abs that suddenly revealed themselves! I was not expecting toned arms and legs with an increase in flexibility. I have never been this fit ever, and I am proud to say this even after becoming a mother.
How has your life changed since completing your Beachbody program?
I feel the freedom to say I have reached my goals. Goals that I had been striving for for what seems a lifetime. New goals are now being made, and what seemed next to impossible is now within reach. I feel happiness in being able to share my story with others and possibly inspire them to reach for their goals, fitness or other, and strive towards their success! 
You can change your life, too. Take the Beachbody Challenge, for the ultimate motivation to get fit! Select any Beachbody program and once you complete it, share your results for your chance to win cash and prizes.