No-Bake Cinnamon Sugar Donut Holes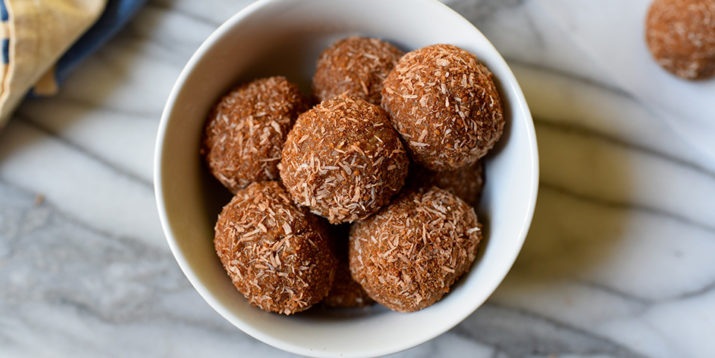 We know what you're thinking: It's a trick. These can't taste like "real" donut holes.
You're probably thinking that what we're calling No-Bake Cinnamon Sugar Donut Holes are nothing more than energy balls with a fanciful, misleading name.
Wrong! These little treats really do taste like donut holes. Now you're thinking: How'd they do it?
Lots of testing – and sampling – to get the right cakey texture and spiced donut flavor (sometimes our jobs are really hard).
We blended Vanilla Shakeology with almonds, coconut, dates, honey, and spices to get a flavor and texture that is authentically donut.
The mixture is a bit crumbly after a trip through the food processor, but when it's squeezed into shape, it holds together nicely.
Once formed into balls, roll your No-Bake Cinnamon Sugar Donut Holes in a mixture of cinnamon, sugar, and coconut for the finishing touch.
They're not too sweet and have just the right amount of spice.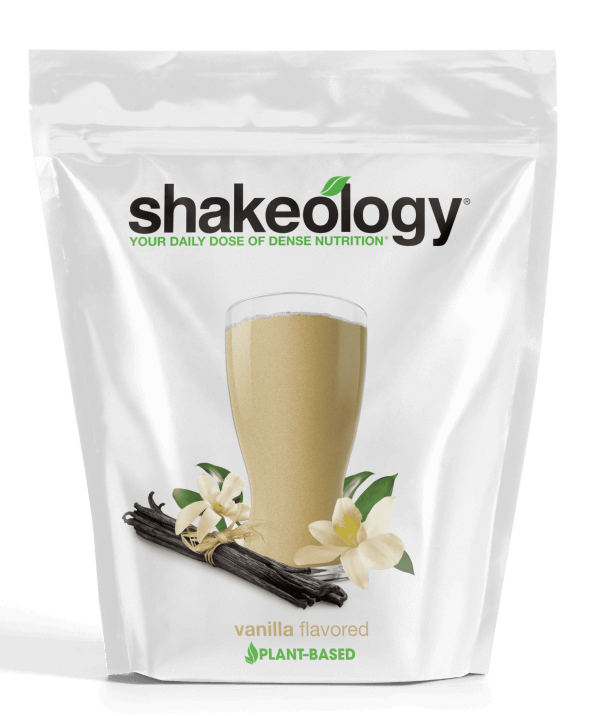 Vanilla Shakeology
Experience the sweet, creamy flavor of robust vanilla as your daily superfood dessert.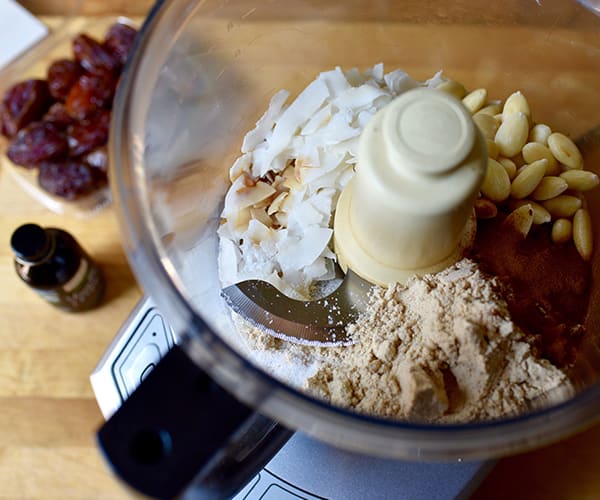 Why do you need to soak the almonds? Almond skins have a bitter element, and almonds by themselves make the donut holes too dry.
Soaking the almonds in a bowl of water in the refrigerator overnight loosens the skins, and plumps up the nuts to add moisture to this recipe. In the morning, you can easily pinch the almonds out of their skins.
Even though these little delights are a wholesome alternative to actual fried and sugar-coated donut holes, they are still a treat with a fair amount of sugar and calories.
That means: Don't eat them all at once!
If you want to reduce the sugar, you can swap one tablespoon of honey for almond butter or unsweetened applesauce.
If you don't have time to soak almonds overnight, you can cover them in water and microwave them for 1 minute. Cool before using.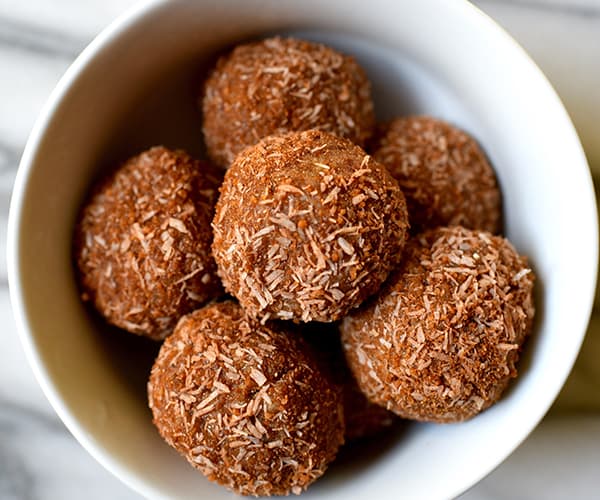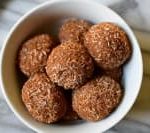 No-Bake Cinnamon Sugar Donut Holes
These cinnamon sugar donut holes are healthier than regular donut holes, but they're still super tasty!
Prep Time 20 mins
Cook Time 0 mins
Total Time 8 hrs 20 mins
Servings 14 servings, 1 ball each
Calories 88 kcal
Ingredients
⅓ cup / 40 g whole unsalted almonds
water
½ cup + 1½ tsp. / 50 g unsweetened shredded coconut, divided use
1 tsp. ground cinnamon
½ tsp. ground nutmeg
1½ tsp. coconut (or palm) sugar
2 scoops Vanilla Shakeology
½ tsp. pure vanilla extract
¼ tsp. sea salt (or Himalayan salt)
7 pitted dates, coarsely chopped
2 Tbsp. + 1½ tsp. honey
Instructions
Soak almonds in water overnight to remove skins; drain. Set aside.

Place 1½ tsp. (5 g) coconut, cinnamon, nutmeg, and sugar in food processor; process for 20 seconds. Set aside.

Place remaining ½ cup coconut in food processor; process for 1 minute to release oils.

Add almonds, Shakeology, extract, and salt; pulse until well blended.

Add dates; process until well blended.

Add honey; process until well blended.

Roll into 14 balls, about 1-inch (2½ cm) in diameter each. Roll balls in cinnamon mixture.

Refrigerate in an airtight container for up to 3 days, or freeze for up to 1 month.
Recipe Notes
Gluten Free (GF), No Dairy (ND), Vegetarian (VG)
The Nutrition Facts box below provides estimated nutritional information for this recipe.*
* Total Sugar 10 g, Added Sugar 4 g
Nutrition Facts
No-Bake Cinnamon Sugar Donut Holes
Amount Per Serving (1 serving)
Calories 88 Calories from Fat 27
% Daily Value*
Fat 3g5%
Saturated Fat 1g6%
Cholesterol 1mg0%
Sodium 72mg3%
Carbohydrates 13g4%
Fiber 2g8%
Sugar 10g11%
Protein 3g6%
* Percent Daily Values are based on a 2000 calorie diet.
Container Equivalents
½ Purple
½ Yellow
½ tsp.
2B Mindset Plate It!
Enjoy as an occasional treat. Be sure to track it.
Photographs by Kirsten Morningstar