35 Uplifting Compliments That Aren't About Looks
Sure, a thumbs-up or a string of fire emojis will get the point across when you're proud of someone.
But a well-chosen compliment can be even more uplifting.
Like high-fives, compliments are an easy way to cheer someone on when they've hit a new goal or overcome a challenge.
But compliments often focus on physical appearance, which may make someone feel like there's more value in their looks than their inner qualities — so consider what else you can praise besides size or appearance.
"Compliments show another person that we really value and appreciate them as a person," says Robin Wald, ERYT200. "It's very validating to feel seen and understood for who you are — heart, mind, and soul — not just for your physical attributes or appearance."
Here's how to pay a compliment that's not all about looks.
What to Compliment Besides Appearance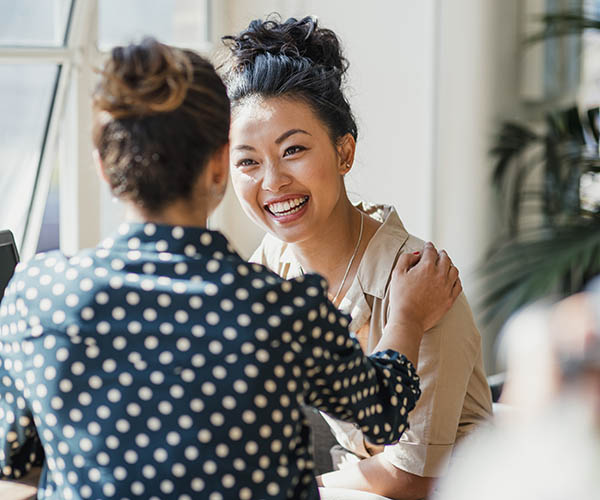 Expressing gratitude, acknowledging achievement, and sharing good sentiments from your heart can lift someone up when they're feeling discouraged or not good enough.
"Compliments can be given for many more areas of life other than looks, ranging from how someone acts as a human being to things they do for other people, creatures, or mankind," says Margaret K. Durbas, AHC, ERYT500.
Here are some traits you can compliment instead of physical appearance:
Inner strength and resilience
Selfless acts and kindness
Knowledge and insight
Leadership skills
Friendship and compassion
Dedication
Crushing a specific goal
Non-scale victories like strength, stamina, or a more positive mindset
35 Uplifting Things to Say to Your Loved Ones
Here are some examples of the many ways you can let your loved ones know how and why they're so important to you.
(You don't have to use these exact words; you can use them as inspiration for a heartfelt, personal compliment that will make someone's day!)
1. "You're one of the most authentic and genuine people I know."
2. "You're so kind and caring. Thanks for putting your heart into everything you do."
3. "The way you go after your goals really inspires me."
4. "No one makes me laugh as hard as you do."
5. "You always show up and that means everything."
6. "I always appreciate your great advice."
7. "You listen without judging and I love you for doing that."
8. "Thank you for being such a great listener. I appreciate how you give your time."
9. "You have great energy and a positive vibe people love being around."
10. "I admire how strong you are inside and out."
11. "Your creativity makes life more interesting."
12. "Keep making the boss moves! I love sharing your wins."
13. "I have the best memories with you. Thank you for being there in good times and bad."
14. "You never give up and always go after your dreams."
15. "Thank you for bringing the fun."
16. "You're fearless and amazing when it comes to taking on a challenge."
17. "Anyone who knows you feels lucky to have you in their lives."
18. "You are the change you want to see in this world."
19. "You notice the details most people miss. Thank you for sharing them."
20. "I appreciate your honesty and loyalty."
21. "Thank you for always encouraging me."
22. "I love the way you lead your life."
23. "You go above and beyond as a friend."
24. "You're a great puppy parent in every way."
25. "You spark kindness in me and others."
26. "You make the heavy lifts look easy."
27. "I see the world differently after talking to you. You've made me more open-minded."
28. "Your great taste in music has totally improved my playlist."
29. "You're seriously the best cook and host ever."
30. "You keep me accountable even when I want to quit."
31. "I'm so impressed with your dedication."
32. "It makes me happy to see you so happy."
33. "You do so much good without ever waiting around for a thank you — so, thank you!"
34. "If I didn't have you in my life, it would be really boring."
35. "You've worked so hard and you deserve this success."