Military Wife and Mother of Four Lost 26 Pounds and Won $500!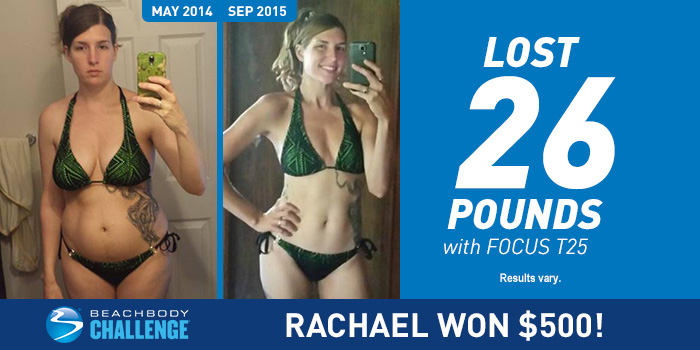 Rachael Miller lost 26 lbs. with FOCUS T25. She entered her results into the Beachbody Challenge, and won the $500 Daily Prize for November 6th!
Rachael is an Independent Beachbody Coach.
Tell us about your life before you started the program. How did you feel about yourself and your body?
Before I committed to a new, healthy life, I felt sluggish all the time. I was never happy with my body. I would walk by the mirror and kind of avoid myself. I knew I needed to take initiative and get things started, but I really had no motivation, and the sweets were just so darn good!
What inspired you to change your life and begin your transformation journey?
After I had my last child, my son, I decided I wanted to really commit and get myself healthier. I wanted my children to see what I was doing, and learn how to eat properly and take care of their bodies. I've seen so many, especially in my family, just let themselves go after a certain age, and suffer from diabetes and other issues. I told myself, "That's not going to be me."
What is the greatest challenge you faced before beginning the program? How did the program and Beachbody help you overcome that challenge?
Getting started was hard, because I had just had a C-section, moved from PA to IN with my four kids, and my husband went to Korea for a year. So I struggled to keep at it, but once I really dedicated myself to it, I loved it. Shakeology made me feel great, and gave me so much energy in the mornings. It was delicious, so it was easy to drink it every morning. I still do! I loved doing FOCUS T25. Shaun T is very good at breaking down the exercises, so you can really get them done correctly. I still go back and do the program from time to time, because it's fun, but now I'm on to CIZE!
What in particular did you like about the program you chose?
It was really upbeat and fun. The exercises were easy to follow, or broken down so you can understand them. You can tell Shaun T really cares about your fitness and progress.
Describe the results you achieved with your Beachbody program. Which achievements are you proud of?
When I started FOCUS T25, I could barely do the modified exercises. I couldn't finish the whole 25 minutes. Really, I didn't push myself like I should have in the beginning. Now I beast my way through the workouts with a smile on my face, because I know the progress I've made. It makes me feel awesome! I have lots of people tell me, "Wow! You look great!" Taking my measurements just now really got me in a good mood. I didn't realize I had melted away!
How has your life changed since completing your Beachbody program?
This whole experience has given me such a great, positive attitude. I feel amazing. I used to be in pain every day from my rheumatoid arthritis and fibromyalgia, but drinking Shakeology and using FOCUS T25 has really turned that around. I became a Beachbody Coach, so I can support others the way I was throughout my entire journey. It was difficult, but I would not change a thing! I feel amazing, look great, and I'm helping others do the same!
How did participating in a Challenge Group help you reach your goals? How did your group support you and keep you accountable?
It gave me the information I needed to get a real grip on healthy eating, and not slip back to where I came from. The support. The support in a Challenge Group is astounding. Everyone supports each other, and reminds you why you came there in the first place if you start to struggle.
How did your Team Beachbody Coach support you on your journey?
Casey kept in contact with me throughout my entire journey. If I ever had questions, I knew I could call, text, message her, whatever. She was sincerely involved in the things I was doing, and truly wanted me to succeed. Just knowing you have someone like that — charismatic, loving, and supportive — makes all the difference.
How did a Beachbody supplement, nutritional product, or program (such as Shakeology or Beachbody Ultimate Reset) support your transformation? What are the greatest benefits you gained? Did you see benefits to your energy, sleep, mood/mental clarity, or digestion/regularity?
I drink Shakeology every morning. It gives me the energy I need to get started, take care of my kids, and puts me in a great mood. It definitely keeps you regular (haha). You can tell when you haven't had your Shakeology. Your body just feels "bleh." I wouldn't want to go through my day without it. I tell everyone about it. It's easy to talk about a product you really believe in.
How did a Beachbody supplement, nutritional product, or program affect any existing health conditions you have?
I have rheumatoid arthritis and fibromyalgia. I had constant daily pain. It has reduced that pain, helped with the inflammation, and helped me to be able to do so much more than I could before.
You can change your life, too. Take the Beachbody Challenge for the tools you need to Decide, Commit, and Succeed! Complete any Beachbody program, and enter your results for a free gift and a chance to win cash and prizes.

*Results vary depending on starting point, goals, and effort.