Mes de Más: Beachbody's First-Ever Spanish-Language Program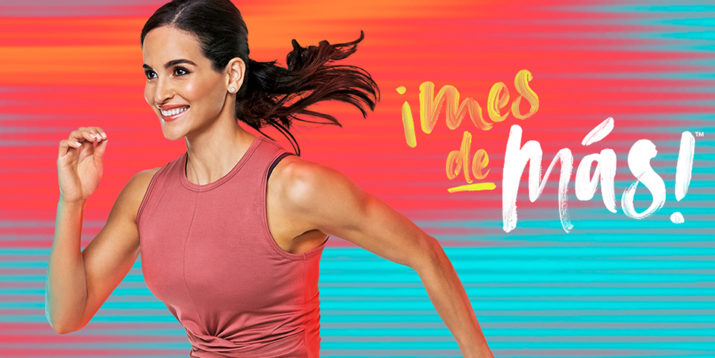 If you're not a Beachbody On Demand member yet, you can try a sample Mes de Más workout! In a web browser, access the Mes de Más Program page here. Then click on "Try Workout" at the top of the page to get started!
If you are a Beachbody On Demand member, you can access the sample workout on your Beachbody On Demand iOS, Android app and OTT devices or Mes de Más Program page. Go to the Workout List, then click on the Learn More section.
When we set out to create Beachbody's first-ever Spanish-language program, we knew we had to get it right.
It had to feature an expert trainer who really understood the Latino community. Super-efficient workouts that anybody could fit into their day. And meal planning simple enough for even the most hesitant nutrition newbie.
It had to be a one-month blueprint of how you could look and feel with just a few more healthy choices a day.
Introducing Mes de Más, a month of getting more of what your body needs, so you can get more of the lifelong results you want. Watch the clip to see how Beachbody's newest program can help you do just that:
Today, Idalis Velazquez is a trusted fitness expert and lifelong athlete, but she didn't develop her balanced, healthy lifestyle overnight.
Back in Puerto Rico, the majority of her cousins — like 70 percent of Latino Americans over the age of 20 — were overweight or obese.
She lived for fast food or veggie-free plates that didn't have the most nutritious ingredients — honey buns and sugary punch was her idea of a balanced breakfast!
It took two endoscopies before she turned 20, along with a series of medical setbacks, and ultimately, becoming a mother, to realize she wanted more for her life.
"As a mom, there was a time when I lost my health, and I couldn't give my girls what I wanted to give. I had to make a decision to create changes that, little by little, would bring me results," says Idalis.
That meant drinking more water. Getting an extra hour of sleep every night. And substituting empty ingredients like lard with olive oil.
Those small shifts added up to a new way of life.
"Being healthy is being happy emotionally, mentally, physically, and enjoying your days. You have to use fitness as a tool to live your best life," she says.
As a NASM-certified personal trainer, Idalis is taking those lessons learned and bringing them to you now in ¡Mes de Más!
She wants you to use this month as THE month to imagine more for yourself: more movement, more nutrient-dense foods, more water, and, yes, even more rest, so you can enjoy everything life has to offer: more energy, more confidence, and more results!
The only equipment you'll need for the 24 cardio and resistance workouts is a yoga mat — you'll do a different workout six days a week, and then rest on the seventh day.
You won't need a lot of space to work out, and you'll be done in half an hour, at the most.
And when you take Beachbody Performance Energize before your workouts, you can help make sure you have the energy to get the most out of every minute.
Eating healthier won't take much time, either. Idalis makes the meal planning so easy, you'll know exactly what amounts and types of food to eat each day — even if you have zero experience with nutrition.
Plus, the online recipe book on Beachbody On Demand will include classic Latin American dishes, so you won't have to give up all the flavors you love!
In addition, when you add Shakeology to your daily routine, you'll have a simple way to nourish your body with a healthy blend of potent ingredients, including high-quality proteins, probiotics, and essential vitamins and minerals.
It all adds up to more days of looking good and feeling even better. So are you ready for a month of doing more for yourself?
Who is Mes de Más for?
Anyone who wants to:
Get fit and get results by adding a few more healthy habits to each day.
Look and feel good — Idalis' positive vibes and super-effective workouts will leave you feeling confident about your body.
Lose weight and keep it off using a straightforward meal plan that tells you the exact amounts and types of food to eat each day (including some familiar flavors you love!).
Tone and sculpt. Get defined in all the right places, no matter your fitness level.
Who Is Idalis Velazquez?
Idalis is a lifelong athlete and trusted fitness and lifestyle expert based in Fort Lauderdale, Florida.
Idalis grew up in Puerto Rico, where she was nationally ranked as a track and field athlete for a decade until a series of medical setbacks put a sudden end to her active lifestyle.
But after marrying and giving birth to two children, she discovered that she needed more­ energy to keep up with her young daughters and that gave her the motivation to start moving again.
She now specializes in fast and effective workouts that help busy people and working moms get the results they want in the time they have.
A NASM-certified personal trainer, Idalis is Beachbody's first Latina Super Trainer and the face of Beachbody's first Spanish-language program, Mes de Más.
What equipment and how much space will I need for the Mes de Más workouts?
All you need is a yoga mat and enough space to use it. You can use a sandbag to intensify some moves but it's not required.
Is this program only for Spanish speakers?
No — the Mes de Más workouts are in Spanish but there's a dubbing option in English, so you can join the fun no matter which language you prefer.
All printed program materials that come with a Challenge Pack, Completion Pack, or accessory bundle are in Spanish. The digital program materials on Beachbody On Demand — the Quickstart Calendar and Mes de Más Tracker — are available online in both English and Spanish.
Try Mes de Más on Beachbody On Demand today!