Easy Meal Prep for 21 Day Fix Meal Plan A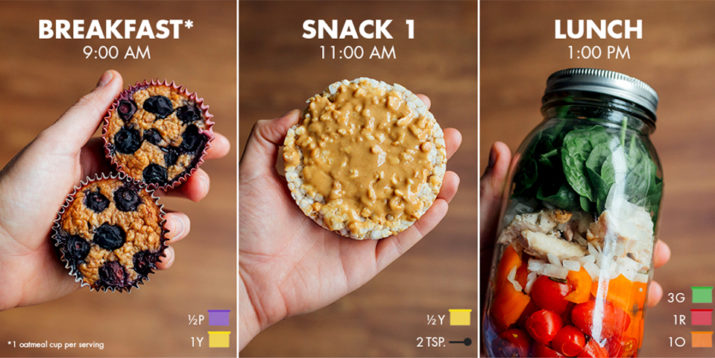 If the thought of preparing one meal, much less all your meals for the day — plus snacks! — makes you want to crawl under a table, you're not alone.
But we've got your back: We created this easy meal prep for the 21 Day Fix 1,200 – 1,499 calorie level (Plan A).
Every meal, every snack, so once you're done prepping, you're done. Then all you have to do is eat!
21 Day Fix Meal Prep
At this level, this is what your daily portion-control container count looks like:
4 Green Containers (Vegetables)
2 Purple Containers (Fruit)
4 Red Containers (Protein)
2 Yellow Containers (Carbohydrates)
1 Blue Container (Healthy Fats)
1 Orange Container (Seeds & Dressings)
3 tsp. (Oils & Nut Butters)
We divided that container count to make six meals and snacks to keep you fueled from morning until night.
In fact, this menu includes even more food than we could show you in photos: Add two hard-boiled eggs or ¾ cup of low-fat plain Greek yogurt with breakfast, and drink a Shakeology with water and a ½ cup of blueberries with Snack 2.
Pro tip: For other easy meal preps for the higher calorie levels, check out this meal prep for every calorie level.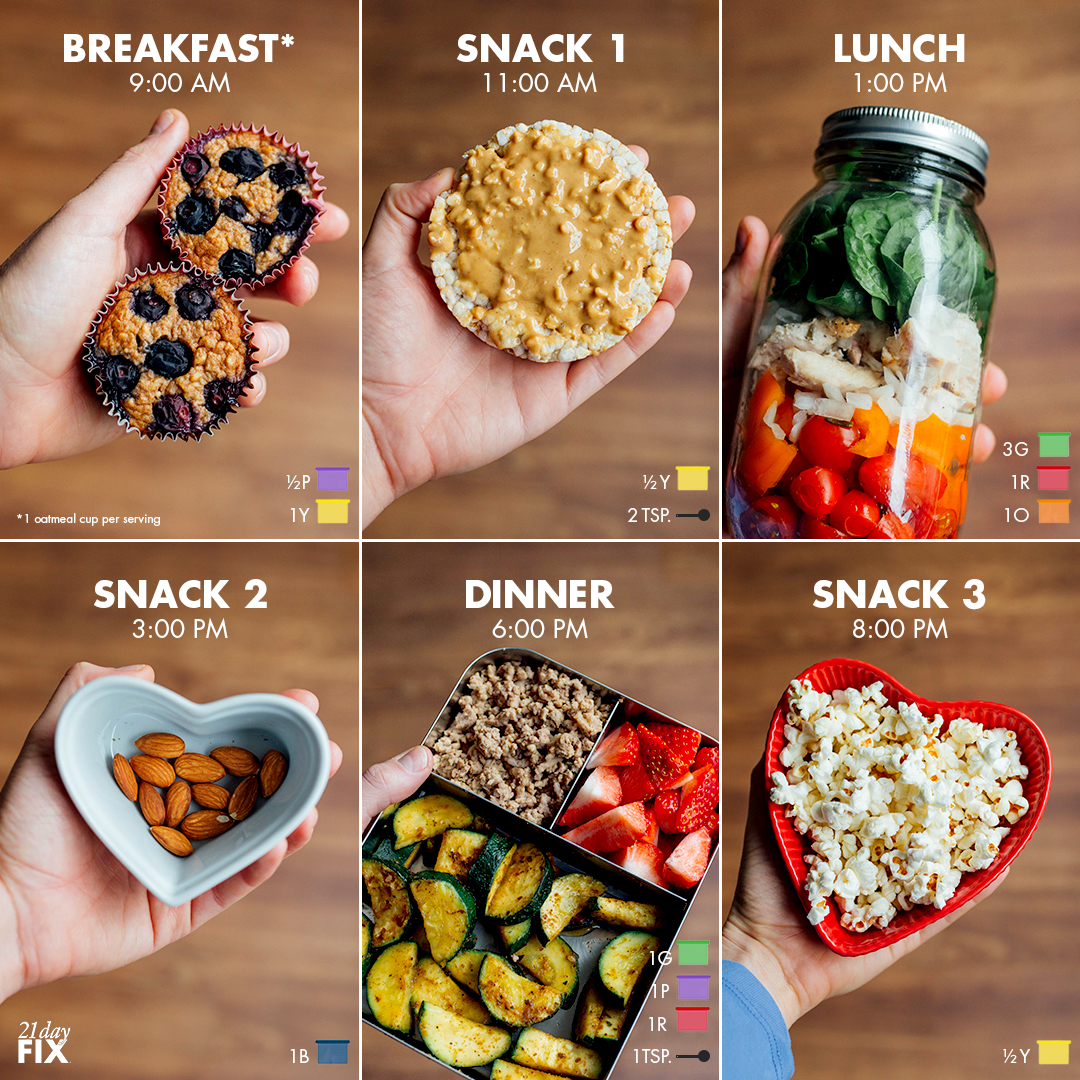 Breakfast: Baked Oatmeal Cups with Berries and Bananas with 2 hard-boiled eggs* OR ¾ cup plain low-fat Greek yogurt*
*(not shown)
Container Equivalents: ½ Purple, 1 Red,* 1 Yellow
Snack 1: Whole-grain rice cake with 2 tsp. peanut butter
Container Equivalents: ½ Yellow, 2 tsp.
Lunch: Mason jar salad with 2 Tbsp. vinegar-based dressing, 1 cup cherry tomatoes, ½ cup bell peppers, ¼ cup onion, ¾ cup cooked chicken breast (about 4 oz.), ¾ cup baby spinach
Container Equivalents: 3 Green, 1 Red, 1 Orange
Snack 2: 12 almonds and Shakeology blended with ½ cup blueberries, water, and ice* 
*(not shown)
Container Equivalents: ½ Purple,* 1 Red,* 1 Blue
Dinner: ¾ cup seasoned ground turkey with 1 cup sautéed zucchini, and 1 cup strawberries
Container Equivalents: 1 Green, 1 Purple, 1 Red, 1 Tsp.
Snack 3: 1½ cups air-popped popcorn
Container Equivalents: ½ Yellow
More Meal Prep Ideas…
No-Cook Meal Prep for 21 Day Fix | 1,200 – 1,499 Calorie Level
Vegetarian Meal Prep for 21 Day Fix | 1,200 – 1,499 Calorie Level
If you have questions about this meal prep, please click here to post a question in our forums so our experts can help.