Matzo ball soup is a hearty, uncomplicated soup that's rich in flavor and tradition and once you start cooking, takes almost no time to put together.
Traditionally, matzo ball soup is eaten during the week of Passover as during that time, eating chametz (any food product made from wheat, barley, rye, oats, or spelt) is forbidden but matzo, an unleavened flatbread is permitted, is OK.
This healthy, flavorful soup is perfect for any time of the year, so make sure you add it to your soup repertoire!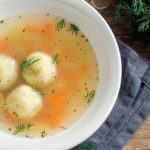 Matzo Ball Soup
Matzo Ball Soup is a healthy, flavorful soup that's perfect any time of the year.

Prep Time 15 mins
Cook Time 28 mins
Total Time 43 mins
Servings 8 bowls
Calories 250 kcal
Ingredients
3 large eggs, beaten
¾ cup matzo meal, whole-grain
3 Tbsp. olive oil, divided use
3 Tbsp. club soda
1 tsp. sea salt
2 tsp. olive oil
2 medium carrots, sliced
4 cups low-sodium organic chicken broth
1 lb. cooked chicken breast, boneless, skinless, shredded, warm
1 tsp. freshly ground black pepper
2 Tbsp. chopped fresh dill
Instructions
Combine eggs, matzo, 3 Tbsp. oil, club soda, and salt in a medium bowl; mix well. Refrigerate, covered, for 2 hours.

Heat remaining 2 tsp. oil in large saucepan over medium heat.

Add carrots; cook, stirring frequently, for 4 to 5 minutes, or until tender-crisp.

Add broth. Bring to a boil. Reduce heat to medium; gently boil.

Roll matzo mixture into 2 Tbsp. sized balls.

Add matzo balls to broth; gently boil, covered, for 20 min. Do not remove lid while cooking.

Evenly divide chicken between eight serving bowls. Top evenly with matzo balls, broth, pepper, and dill. Serve immediately.
Nutrition Facts
Matzo Ball Soup
Amount Per Serving (1 serving)
Calories 250 Calories from Fat 99
% Daily Value*
Fat 11g17%
Saturated Fat 2g13%
Cholesterol 118mg39%
Sodium 404mg18%
Carbohydrates 13g4%
Fiber 1g4%
Sugar 1g1%
Protein 24g48%
* Percent Daily Values are based on a 2000 calorie diet.
Portion Fix Containers
1 Red
½ Yellow
1 tsp.
2B Mindset Plate It!
A great protein as part of lunch.
If you have questions about the portions, please click here to post a question in our forums so our experts can help. Please include a link to the recipe.