"Lose Weight Like Crazy, Even If You Have A Crazy Life!"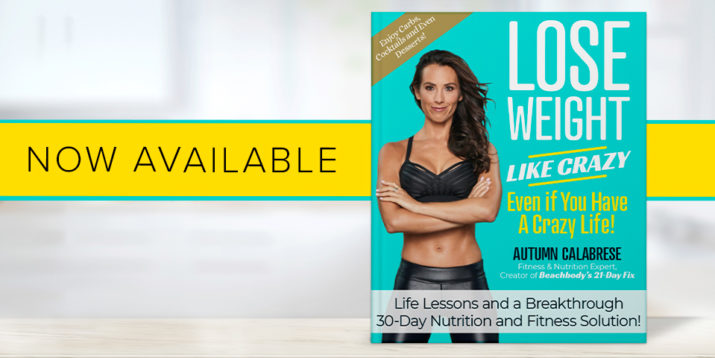 Since the launch of 21 Day Fix revolutionized healthy eating and fitness over six years ago, Autumn Calabrese has helped hundreds of thousands of people lose weight and keep it off with her simple yet crazy-effective approach to portion control.
And now Autumn has written a deeply personal book that shares even more insight into her breakthrough nutrition program — along with the "a-ha" moments that shaped her journey and philosophy.
"Lose Weight Like Crazy, Even If You Have A Crazy Life!" is an unfiltered look into Autumn's life, career, and the challenges she's had to overcome to rise to the top of the fitness industry.
What Is "Lose Weight Like Crazy, Even If You Have A Crazy Life!" About?
For the first time, Autumn shares stories of injuries, emotional trauma, and her sheer determination to find a way back to health through nutrition and fitness.
She proves that no matter where you came from, you can always be in charge of where you're going.
As a personal trainer working with all kinds of clients, Autumn has learned how to turn "failures" into "redirections" that have transformed their lives — and hers, too!
Autumn provides you with assignments that help you learn more about yourself and your eating habits (the good and the bad!).
And then she helps you reframe your experiences to make them work for YOU, in a way that's sustainable for life.
Here's a peek at what you'll learn from this book:
How to use Autumn's C.R.A.Z.Y. principles to jump-start your weight loss
Autumn's Crazy Easy, Crazy Powerful Nutrition Tips
60-second challenges to strengthen your body and energize your brain
Motivational mind/body strategies
23 new recipes
2 new 30-minute workouts to keep making progress, even when life gets crazy
How Is "Lose Weight Like Crazy, Even If You Have A Crazy Life!" Different From the Ultimate Portion Fix program on Beachbody On Demand?
"Lose Weight Like Crazy, Even If You Have A Crazy Life!" is a great complement to the Portion Fix nutrition program.
Portion Fix gives you Autumn's complete program, including videos and portion-control containers, plus the workbook, logbook, FIXATE Vol. 2 cookbook, and access to the FIXATE cooking show.
Autumn's new book takes you on a deeper dive into her personal journey while teaching you valuable life lessons and strategies for success that will help transform you, no matter what your goals are.
Where Can I Buy "Lose Weight Like Crazy, Even If You Have A Crazy Life!"?
"Lose Weight Like Crazy, Even If You Have A Crazy Life!" is now available to order on Amazon.com and on TeamBeachbody.com.
What Is Portion Fix?
Portion Fix is a nutrition program that uses color-coded portion-control containers to take the guesswork out of eating delicious, perfectly sized meals, every time.
Autumn explains everything about Portion Fix, how to use your containers, and how to plan, prep, and make healthy, delicious meals, without giving up your favorite foods!
Plus, you get to the core of your food and eating decisions and learn how Portion Fix can help you get on the path to a lifetime of weight-management success for the whole family, even kids.
Portion Fix teaches you how to feed your whole family healthy meals, eat for performance, and help beat sugar addiction, so it's easier than ever to meet your goals.
You'll be armed with delicious new recipes, useful tools, and healthy hacks to help you finally overcome your obstacles and lose the weight — for good!
Who Is Autumn Calabrese?
Nutrition expert and Beachbody Super Trainer Autumn Calabrese is the creator of the breakthrough fitness programs 21 Day Fix, 21 Day Fix EXTREME, 80 Day Obsession, and others, and the portion-control weight-loss system Portion Fix.
She's also the author of the bestselling FIXATE cookbooks, which have sold over 500,000 copies, and she is the co-host of the FIXATE healthy cooking show on Beachbody On Demand with her brother, chef Bobby Calabrese.
Autumn is a certified holistic health coach through the Institute of Integrative Nutrition and has held certifications from the National Academy of Sports Medicine (NASM), as well as the American Fitness Professionals & Associates (AFPA).