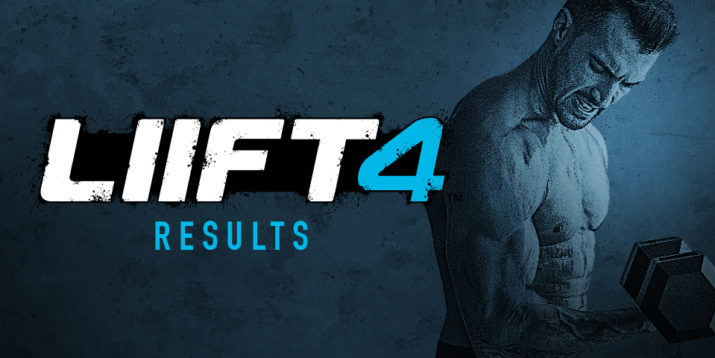 "I don't have time to work out." "I'm so busy and too tired to work out every day."
We feel your pain, people. That's why we created a new program that will help you build muscle and burn a ton of calories in about 30 minutes, 4 days a week.
(What?! Yes.)
The program is called LIIFT4 with Super Trainer Joel Freeman. It's an efficient, no-nonsense workout that combines weightlifting and calorie-burning high-intensity interval training (HIIT).
How Does LIIFT4 Work?
Since you're only working out 4 days a week, Joel makes every second count during each workout; they're structured to keep you lifting on pace and constantly moving, while timed rest periods allow you to catch your breath before attacking each set.
Three recovery days a week give muscles time to repair so you can push harder, lift heavier, and get better results faster.
There are two phases: For the first 6 weeks, you'll build, cut, and define your body, followed by 2 weeks to burn through calories and fat, revealing your ultimate physique.
Need to see some proof? Check out these amazing results: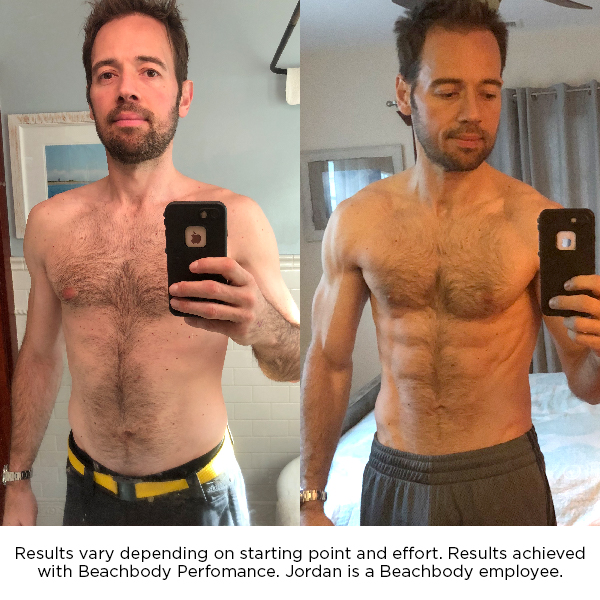 Jordan B. Gained 8.8 Pounds of Muscle
And lost 6.5 pounds of body fat!
"I'd never focused so intently on my core before, so I can feel muscular development — especially in my abs — that I've never had before. I can also see budding teardrops developing where my quads meet my knees that also never previously existed.
Joel is a super personable dude, yet he's clearly serious about the program and its objectives, so he manages to cajole effort out of you with encouragement and playful positivity.
You're simply not going to get me working out five or six days a week, so the four-day split was essential. The workout schedule is among the best things about the whole program for me.
I felt like I was getting a lot out of Beachbody Performance Creatine, especially during the midpoint of the program, so I would definitely make that a part of my regimen going forward."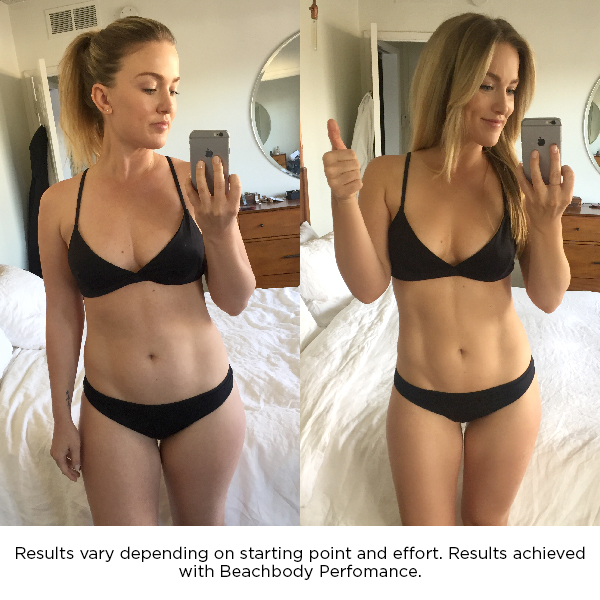 Alicia R. Lost 10.4 Pounds
"I was a little overweight for my build, had inconsistent energy levels, and was feeling stressed from work. Now I'm feeling strong and stable, my energy is consistently up, and I feel calm and a new sense of wellness from self-care.
Overall, I've slimmed down and I'm more toned. My shoulders and arms have definition again and my abs are starting to pop!
Joel was instructional, motivating, and funny. He pushed us through the last few reps or seconds of hard work and kept us going. Don't know what I'm going to do without him!
I am really happy with the results. Like the cheat day, the program timing is super sustainable. The workouts are short enough to fit into a regular day and the rest days don't make it feel like you're constantly pushing yourself."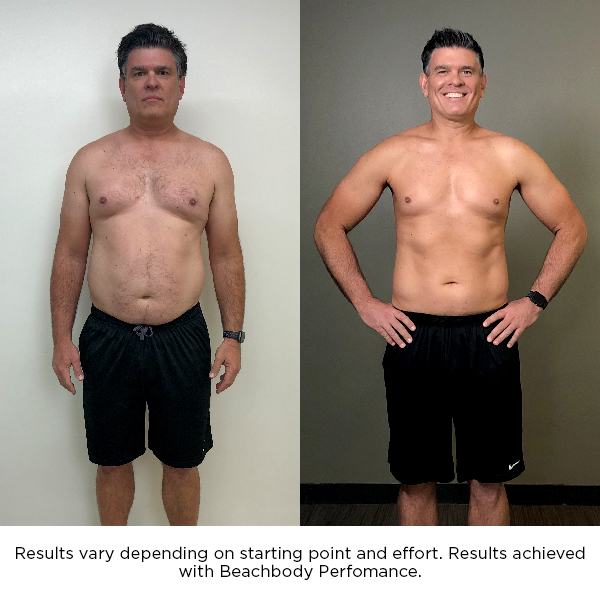 Dan K. Lost 27.6 Pounds
"Before LIIFT4, I felt tired, sluggish, and just heavy. I wasn't very happy with the way I looked and tried to hide from photos, videos, etc.
I feel much stronger and am no longer hiding my gut! My stomach has gone down and I've lost over 20 pounds. But the most important change is that my face has become a lot leaner and I feel 20 years younger.
I really enjoyed working out with Joel. He's entertaining and keeps it light. He's also pushing you until the end so that you give everything you have.
I really liked doing two days on, one day off, and then two days on again. That middle break during the week made a huge difference with the intensity of the workouts.
I liked having Shakeology with my breakfast. It rounded out my meal and was a boost of flavor that got me through the day.
My favorite supplement was Chocolate Recover. Not only did it taste great and feel like dessert, it also helped immensely after the workout. I also liked Energize, too. I may have been a little tired and lagging through the day, but it picked me up and got me through the workout."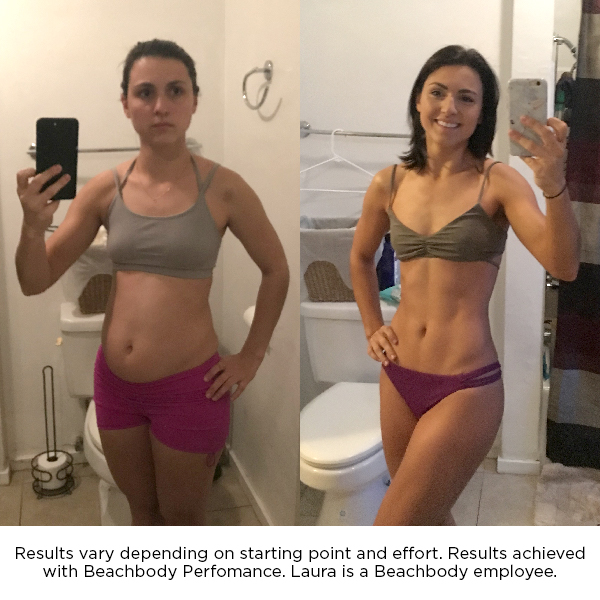 Laura C. Lost 10 Pounds
"Before LIIFT4, I felt depressed, sluggish, and uncomfortable in my own skin. I was negative all the time and didn't want to do anything social because I had gained weight and didn't want anyone to see me.
After completing LIIFT4, I feel like I finally created the body I have been dreaming about since I was a teenager.
I never expected to get anywhere near as fit or happy as I am now with exercising just 30 minutes a day, four days a week. Within just two weeks of LIIFT4 (8 workouts), my body composition was dramatically changing. I had lost weight and gained these sexy, lean muscles.
My whole body has gained definition and I've just chiseled away fat. My arms and abs are sculpted, lean, and defined, and I've never loved my legs SO much!
Joel is such a genuine person and a fierce motivator. There would be days when I was exhausted and didn't think I could lift 10-pound weights, and he would say, "You can do double that, I promise you."
And with that confidence and faith, I grabbed a heavier weight and crushed it because I knew he supported me all the way and saw this bad-ass chick within me I couldn't see yet. With Joel and LIIFT4, that chick is here to stay. 🙂
The relaxed eating day in LIIFT4 gives you the freedom to make this program into a lifestyle that fits just right for you. Shakeology is my favorite treat of the day. I love the variety of flavors and recipes, and you can't beat the taste. It's grab-and-go nutrition that tastes like a cheat meal.
Recover is my favorite Beachbody Performance supplement. It really helped my muscles feel rested and ready to attack the next workout, and it tastes a milkshake — what's not to love?"
Janene D. Lost 6 Pounds of Body Fat
"I felt sluggish and completely unmotivated before the program. The holidays and a terrible cold just got me into this cycle of bad behavior, and working out and eating right seemed so hard to accomplish.
Now I feel AMAZING! The mental clarity of eating clean but plenty of food and the incredible workouts have boosted my energy.
My arms look incredible — they look so slim and toned and my shoulders look amazing! I never thought I could have arms like this! My midsection just sucked RIGHT in and feels so slim and lean.
The cheat day was amazing! Sometimes a girl just needs a latte, you know? I loved being able to be super clean six days a week and allowing myself to indulge a little in the cravings I was having. I kept it within reason, but allowing myself to have those things made this program seem so much more livable!
The results I received are insane — I never thought I would lose this much fat and gain this much muscle in just four workouts a week for eight weeks."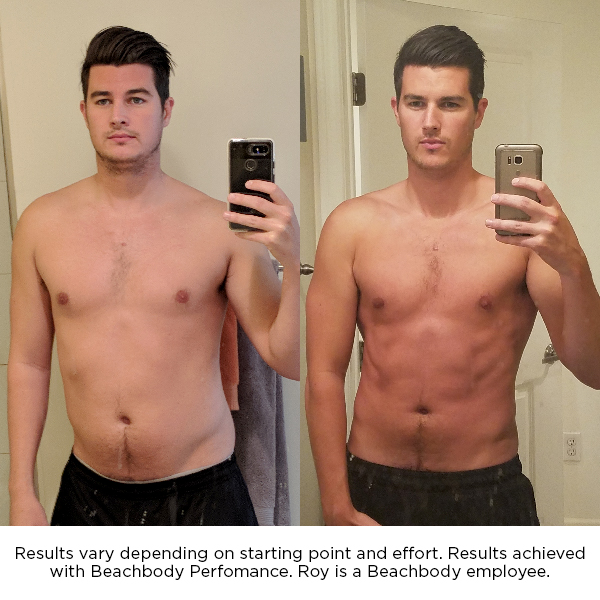 Roy H. Lost 16 Pounds
"I was feeling slow, had low energy, and was a bit down on myself physically. I was motivated to start this because I had enough and wanted to get back to the active fit person I knew I can be.
I feel great now! I feel strong, focused, accomplished, and proud of myself. I love LIIFT4, and the feeling it has given me is one of happiness and strength.
I have noticed an entire body change. Not only have I slimmed down in my waist but I've built up my shoulders and arms, my abs are defined, and my legs are tight and strong. I have noticed improvements all over in terms of getting rid of fat stores and building lean muscle.
Joel is great! He is funny, gives great tips, keeps you on track with clear instructions, and he really helps you push through the hard parts with great motivation and encouragement. You can really tell he cares about everyone's success with the program and is going to do his best to get you where you want to be.
I am blown away by the results I got in only four days a week. I was able to do all of this and still have a life. LIIFT4 is a game-changer for me.
Beachbody Performance Energize is awesome. I enjoy it every single time. I get tons of energy and truly have a better workout when I take it."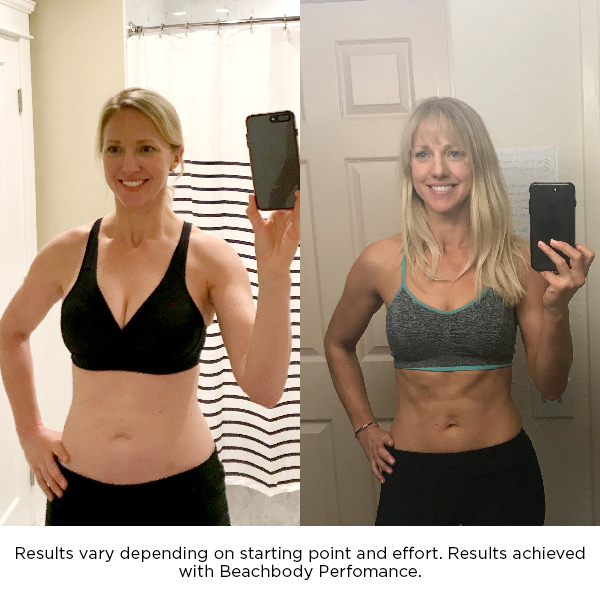 Sarah P. Lost 26 Inches
"I wanted to see if the Beachbody program mix of fitness, supplements, and nutrition would get me the results I was looking for.
My arms are chiseled and firm — great muscle mass has developed here. My hips and legs feel smaller in size. My abs are leaner-looking and a two- to four-pack is appearing now.
Workouts with Joel are great. He makes it easy to show up and do the work for best results! I also enjoyed the constant reminders of proper form so you could evaluate yourself and make adjustments as needed.
I feel great, figure-wise. LIIFT4 has created a new inner strength and fierce determination to accomplish goals despite happenings in other parts of life."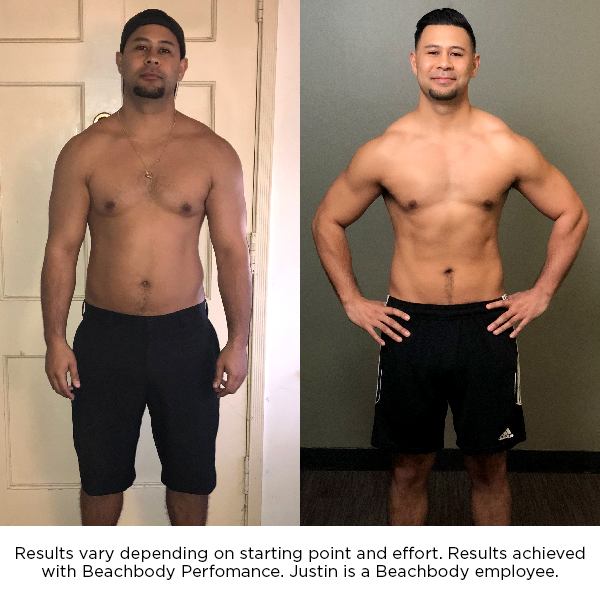 Justin R. Lost 13.4 Pounds
"My motivation was to get in shape to become the best version of myself for confidence and performance, and to live a healthier lifestyle.
Physically, my cardio and endurance were at a lifetime low. My weight was at a lifetime high. I was sluggish and didn't have the proper tools to get back into shape.
Working out with Joel is great. He's a great motivator and always keeps things fun and energetic. The best thing about the workout schedule is that Wednesday rest day; mentally it allows me to push harder on Tuesday and on Friday when we have the weekend off.
I noticed more muscle in my core, arms, shoulders, chest, back, and legs. I can lift more weight and my endurance and cardio have improved significantly. I look more toned and cut — I can see my abs.
It's great having a cheat day — it's less stressful and I get to enjoy normal social gatherings.
Now I feel great mentally and physically. I'm in the best shape that I can remember and it just fuels me to continue my fitness journey and set new goals."
Try LIIFT4 today on Beachbody On Demand!