Lemon Dijon Salad Dressing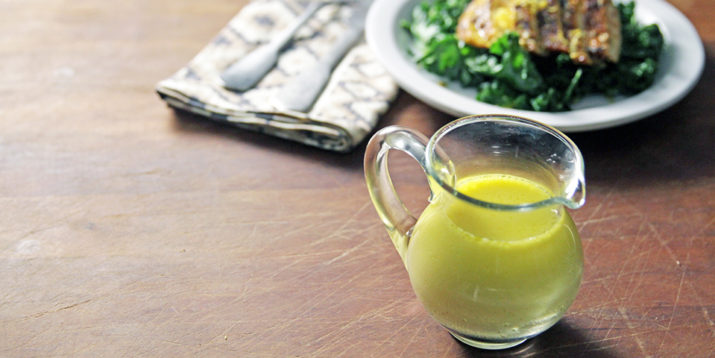 Store-bought salad dressings are often loaded with inexplicable ingredients: sugar, salt, and unpronounceable preservatives.
But they also contain things like soy, wheat, and chemical emulsifiers, which we could all do without.
Enter Ultimate Portion Fix creator Autumn Calabrese and her brother, chef Bobby Calabrese. This team of culinary masterminds has taken on the task of making the foods we know and love healthier and easy to make right in your kitchen.
Keeping a few handy ingredients like Dijon mustard and some pasteurized eggs in the fridge means you can make just enough of this creamy Lemon Dijon Salad Dressing on hand to last you the week.
Autumn and Bobby hand-mix their version to better illustrate the technique used to get a properly emulsified dressing.
The suggested serving size is 2 Tbsp. for a single salad, so if you want to make a large batch (especially if you're food prepping) you'll probably want to use a blender or food processor.
You can use this Lemon Dijon Salad Dressing for meal preps and or with any of our Mason Jar Salads.
It's also the recommended dressing for Autumn and Bobbie's Toasted Kale Salad.
But feel free to get creative and try this dressing on any salad! Since lemon and Dijon pair perfectly with grilled chicken breast, use a drizzle to liven up a simple protein or do as Autumn and Bobby do and make a clever dip to pair with veggies.
As with most homemade dressings, this 21 Day Fix dressing will keep in the fridge for about a week.
To get the recipe and find out the Container Equivalents and nutritional information, watch the FIXATE episode on BODi!