Beachbody Results: Jim Lost 22 Pounds and Won $500!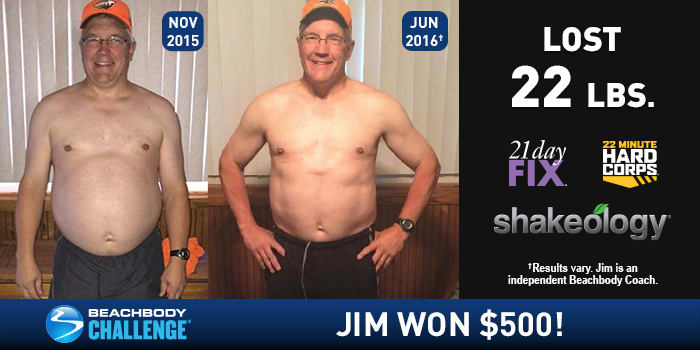 Jim Fisher lost 22 lbs. with 21 Day Fix and 22 Minute Hard Corps. He entered his results into the Beachbody Challenge, and won the $500 Daily Prize for September 11th!
Tell us about your life before you started the program. How did you feel about yourself and your body?
I was tired, winded, and easily embarrassed. After seeing wedding pictures from my daughter's wedding in 2014, not wanting to resort to larger-sized clothing, and restless sleep, I knew it was time to make a change.
What inspired you to change your life and begin your transformation journey?
My daughter, Becky Scholl, became involved with Beachbody. I decided to purchase 21 Day Fix, along with Shakeology, and take up the clean lifestyle challenge.
What is the greatest challenge you faced before beginning the program? How did the program and Beachbody help you overcome that challenge?
Thinking, "would I be able to finish the entire program without quitting, and would there be results?"
What in particular did you like about the program you chose?
Length of time per day for each workout, and the workout instructors were great.
Describe the results you achieved with your Beachbody program. Which achievements are you proud of?
The "before" and "after" pictures speak for themselves. People are noticing.
How has your life changed since completing your Beachbody program?
Sleeping better, no snoring, more energy, fitting into clothes I haven't worn in years, and compliments on the results. This program is a lifestyle change, not a diet. I'm amazed at the fact that it has not cost additional money to stay on track.
How did participating in a Challenge Group help you reach your goals? How did your group support you and keep you accountable?
Reading the Success Stories is very motivational. Posting every day seems to make you more accountable.
How did your Team Beachbody Coach support you on your journey?
She's my daughter and that in itself is a great reason to get in better shape with better eating habits.
How did a Beachbody supplement, nutritional product, or program (such as Shakeology or Beachbody Ultimate Reset) support your transformation? What are the greatest benefits you gained? Did you see benefits to your energy, sleep, mood/mental clarity, or digestion/regularity?
Shakeology helped with my sleeping and was great after workouts. It took the edge off the want for sweets and energized me for the rest of the day.2
How did a Beachbody supplement, nutritional product, or program affect any existing health conditions you have?
I've been blessed so far not to have any health conditions requiring medications. Losing weight was great for staying away from any complications. In the six-month transformation process, I have completed 21 Day Fix twice and 22 Minute Hard Corps. I love Shakeology and am looking into the idea of being an active Coach.
You can change your life, too. Take the Beachbody Challenge for the tools you need to Decide, Commit, and Succeed! Complete any Beachbody program, and enter your results for a free gift and a chance to win cash and prizes. What program are you committing to next?

†Results vary depending on starting point and effort.
2These statements have not been evaluated by the Food and Drug Administration. This product is not intended to diagnose, treat, cure, or prevent any disease.