19 Cosas Que no Sabías Acerca de Jennifer Jacobs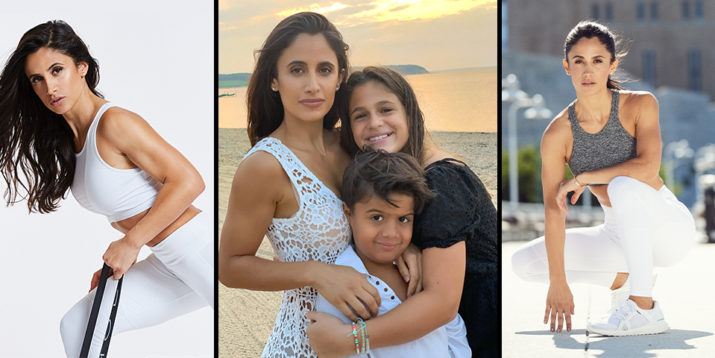 Que redoblen los tambores… presentamos a la nueva superentrenadora de Beachbody: Jennifer Jacobs.
Jennifer es entrenadora personal, coach de nutrición y especialista en nutrición para fitness certificada por la Academia Nacional de Medicina del Deporte (National Academy of Sports Medicine, NASM), y también es instructora certificada de cycling en interiores por la Asociación de Deportes y Fitness de los EE. UU. (Athletics and Fitness Association of America, AFAA).
Dicho de otra forma, Jennifer Jacobs sabe algo (o muchísimo) sobre salud y fitness.
Es hora de conocer otra faceta de Jennifer: su idea de cómo debe ser la comida perfecta, lo que la motiva a ejercitarse, su mayor logro ¡y mucho más!
Lo que no sabes de mí, por Jennifer Jacobs
1. Mi comida favorita: ¡LOS TACOS!
2. La comida que menos me gusta: la verdad es que no hay ninguna comida que no me guste. Dicho esto, extrañamente no soy muy fanática de las alcaparras.
3. Mi idea de la comida perfecta: una que pueda compartir con mi familia, amigos o seres queridos. En especial si se trata de una comida que podemos preparar o cocinar todos juntos mientras disfrutamos de la compañía mutua. Como suele decirse: ¡cocinar es el amor hecho visible!
4. Lo que me motiva cuando no tengo ánimo para ejercitarme o comer saludable: depende, si realmente "necesito" hacer ejercicio ese día, suelo poner música que me ayude a motivarme.
Pero cuando no tengo ganas de hacer ejercicio, suele ser por alguna razón. Por lo general, mi cuerpo me pide un descanso, y siempre escucho lo que mi cuerpo necesita. Cuando se trata de la comida, es lo mismo: no creo en las dietas ni en privarme. Pienso que todo debe ser con moderación.
5. Mi placer culposo: subir el volumen de la música, ponerme unos calentadores y bailar como si nadie me viera.
6. Algo que hago muy bien: patinar sobre ruedas.
7. Algo que hago muy mal: cantar, ¡a menos que sea música country!
8. Cómo despejo mi mente tras un mal día: dependiendo de mi estado de ánimo, hago una rutina de HIIT, tal vez un poco de boxeo, o doy un largo paseo en bicicleta.
9. La canción (o el tipo de música) que siempre me pone de buen humor: ¡me encanta la música de los 80!
10. El talento que más me gustaría tener: tocar un instrumento musical. Siempre he querido aprender a tocar la guitarra.
11.0A quién admiro y por qué: Muhammad Ali. Fue un pionero, siempre hizo lo inesperado, sin pedir disculpas, y siempre se mantuvo fiel a sí mismo.
12. Las cualidades que más admiro de una persona: integridad, valor, pasión y bondad.
13. Lo que más valoro de mis amigos: su capacidad de escuchar y de estar ahí para mí, de reírse conmigo, y de ser las personas a quienes les puedo confiar cualquier cosa.
14. Tres cualidades que me ayudaron a llegar a donde estoy: confianza, perseverancia y las ganas de aprender siempre de quienes me rodean.
15. El cambio que me gustaría ver en la industria del fitness: ver un mayor énfasis en educar a la gente sobre el significado de estar completamente "saludable"; se trata de un estado integral de bienestar físico, mental y social.
Las rutinas de fitness, además de ser una forma de mantener el bienestar físico, también aportan importantes beneficios al bienestar mental y social general.
Hoy en día, cada vez más gente lo entiende (especialmente desde la llegada de la pandemia), pero creo que entre más pueda nuestra industria enfocarse en educar a los demás sobre la contribución del fitness al bienestar general, a más gente podremos ayudar a llevar vidas más felices y saludables.
¿Acaso no se trata de eso?
16. El mejor consejo que he recibido: si quieres que algo se vuelva realidad, tienes que hacer que ocurra. Cree en ti mismo, ten valor y podrás hacer cualquier cosa. Una de mis citas favoritas es de Van Gogh y sirve como un importante recordatorio: "¿Qué sería de la vida si no tuviéramos el valor de intentar algo nuevo?"
17. El mejor consejo que puedo darle a alguien: sueña en grande y cuando alcances ese sueño, sueña aún más en grande.
18. Mi mejor logro es: haber tenido a mis dos maravillosos hijos, así como haber ayudado a las personas con las que me he topado a creer en sí mismas, a superar sus límites y a conseguir metas que consideraban inalcanzables.
19. Mi idea de un día perfecto: un día con mis hijos al aire libre haciendo algo activo, seguido de una gran comida que prepararíamos juntos, ¡preferiblemente mis crujientes tacos caseros!