Low-Carb Japanese Noodle Bowl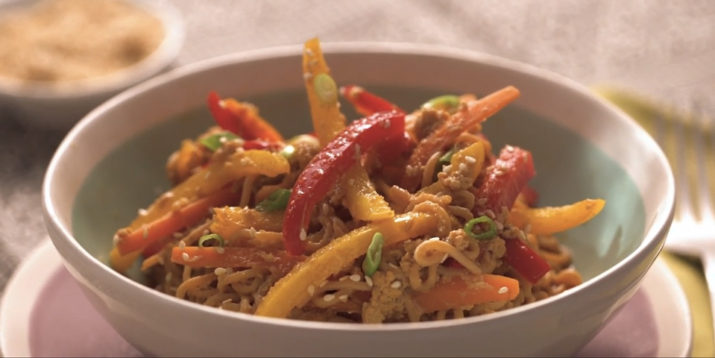 To create a Fix-approved Japanese noodle bowl, Portion Fix creator Autumn Calabrese and her chef brother, Bobby, had a tough task ahead of them.
A low-carb Japanese noodle bowl can seem impossible to make since most egg-based noodles are loaded with calories and carbs.
Enter the shirataki noodle.
While this traditional Japanese ingredient isn't commonly used in the West, it's a staple in Japanese cuisine. Shirataki noodles are made from the fibrous konjac yam, creating an extremely low-cal noodle suitable for any noodle dish.
From angel hair to linguine, shirataki noodle replacements are available in many of the pasta styles you know and love. You can find them in the Asian refrigerated section of your grocery store, and most brands will keep in the fridge for a full year.
Since cooking with shirataki noodles is probably new to most people, Bobby has a host of the helpful tips and tricks, to ensure your Japanese noodle bowl isn't too dry and is bursting with flavor.
Pro tip: Bobby highly recommends rinsing the noodles first and drying them in the pan as you would if you were stir-frying them. This step ensures your noodles are primed to absorb lots of broth and take on tons of flavor.
Bobby uses gluten-free tamari soy sauce as the base of the umami-rich broth. He then builds the flavor profile with coconut sugar, garlic, ginger, and onion powders, with a touch of sesame oil to finish.
To get the recipe and find out the Container Equivalents and nutritional information, watch the FIXATE episode on BODi!