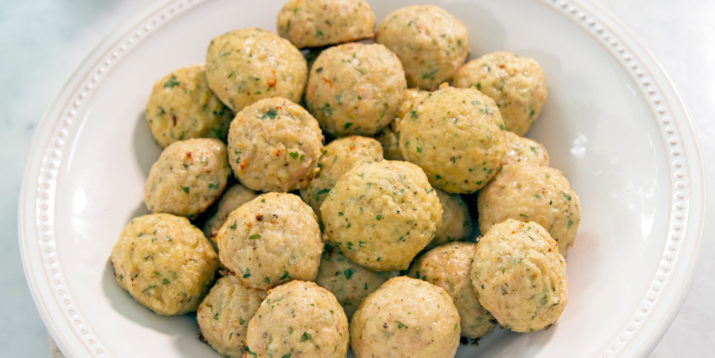 When it comes to family recipes, nostalgia often takes precedence over logic and reason.
For a long time, I cooked the recipes my grandmother passed down, verbatim, and didn't think twice about the dietary consequences.
When you think about it, the generation gap can, and often does, create glaring contradictions for those of us trying to maintain a healthy lifestyle.
My grandmother's recipes often called for, of all things lard — OMG, lard! — so we naturally struggled to find a suitable replacement and used butter instead (still far from healthy.)
In the spirit of family recipes and cozy meals, this Italian Meatball recipe originates from the family recipe book of Portion Fix creator Autumn Calabrese and her brother, chef Bobby Calabrese.
Their Italian heritage provides the foundation for a truly authentic and healthier Italian meatball.
Since the very thought of manipulating the family meatball recipe is a contentious issue, Autumn and Bobby have made every effort to make as few adjustments as necessary.
Less Fat, More Flavor
The primary adjustment to this recipe was to reduce the fat content significantly without sacrificing flavor.
By using ground turkey in place of the beef or pork in the traditional recipe, this dish stays lean and flavorful. In addition, baking your meatballs eliminates all the oil contained in the fried variety and imparts slightly smoky notes.
These Italian Meatballs are ideal meal-prep foods that can be made in 30 minutes or less.
Featured in the FIX-approved Italian Wedding Soup recipe, they're also is an ideal topping other Italian-inspired dishes like zoodles (zucchini noodles) or pasta.
If you're looking for a traditional Italian favorite that you can feel good about eating, try this recipe now!
To get the recipe and find out the Container Equivalents and nutritional information, watch the FIXATE episode on BODi!