Meet Idalis Velazquez, Creator of Beachbody's First Spanish-Language Program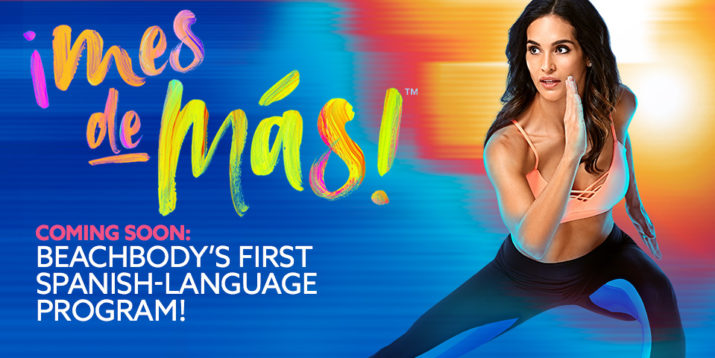 You asked for it and Beachbody delivered. For the first time in Beachbody history, a Latina Super Trainer is leading a Spanish-language program, Mes de Más. Try Mes de Más on Beachbody On Demand today!
Beachbody spent months scouring the country for just the right fitness expert and found the perfect fit in Idalis Velazquez — a lifelong athlete and NASM-certified trainer with a powerful connection to the Latino community.
Idalis' positive attitude and ability to create short, effective workouts will motivate you to take on a one-month jumpstart to a healthier lifestyle. Idalis' formula for healthy living is simple: more movement, more nutritious foods, more water, and more sleep equals more results.
But developing those small, daily habits didn't happen overnight for Idalis. It took becoming a mother and overcoming some serious health issues for her start thinking about a change.
She shares what she had to do to stay fit and healthy, and gain the energy she needed to keep up with her two young daughters:
A Natural Athlete in Puerto Rico
Growing up in Puerto Rico, Idalis was always active as a child and a natural-born talent when it came to sports.
From tennis and taekwondo to basketball, volleyball, and the sport she calls her first love — track and field — she didn't have a problem making fitness an everyday thing.
But that didn't mean she was healthy.
Idalis had zero experience with nutrition and her family wasn't much help. She lived for Burger King sandwiches and sugary, processed foods — even in her teens and early 20s when she was fueling her body to compete at the national level.
At home, her parents prepared special plates — free of vegetables and nutrients — to please her picky palate.
Most of her cousins — like 70 percent of Latino Americans over the age of 20 — were overweight or obese. And even though she didn't stockpile her plate at family gatherings, the calories she did consume were empty.
"I never wanted to eat healthy and had the mentality that if I stayed active, everything would be fine," she says.
But soon she realized athletes with less talent were outperforming her in every track-and-field event. She felt bloated all the time and had ongoing burning pains in her chest.
It took two endoscopies before she turned 20 — and taking antacids for almost two years — before she realized something had to change.
"It's not only about exercise. It's all about changing your mentality and seeing nutrition as something that gives you health, keeps you balanced, and contributes to a better quality of life."
In college, Idalis finally made the connection between food and overall well-being. She began eating to fuel her body, sleeping to help her body recover, and drinking more water to stay hydrated.
More Medical Setbacks
Idalis eventually moved to the U.S. and became even more motivated to keep her health on track when she married and started a family.
But during her daily jogs, she started noticing new sensations — numbness in her arms, repeated injuries, and intense headaches. After a particularly awful migraine, Idalis went in for a CAT scan. The doctors discovered bleeding in her brain.
"I spent a few weeks in the ICU and the bleeding continued for months. I was afraid to sleep at night because I didn't know if I'd wake up. I went from doctor to doctor trying to find answers until they finally told me I couldn't run anymore. I lost everything I had worked so hard for."
Idalis' pain was more than physical. Emotionally, she was tapped out and most days she felt she wasn't doing enough to be a great mom. "I didn't have the energy to play with my daughters and I was living in fear," she says. "I thought that was it for me."
One day, she saw a specialist who told her to return to her first love: running.
"Little by little, I tried to add movement. I connected with my body and I remembered how good it felt to be strong," she says.
Stronger Than Ever
Idalis now had a new priority: getting her life back. She found a way to move more each day and add nutrient-dense foods to her meals.
She rested when she needed to. Soon, she started to feel good about her body. Her confidence came back. And she had more energy to give to the people who mattered most: her husband and two daughters.
Now with Mes de Más, Idalis feels like she's exactly where she's meant to be; as if every life situation has prepared her to become Beachbody's first Latina Super Trainer.
"Being an athlete for so long led me to create a program that shows you how to use your body in a functional way so you can add more movement, more nutrition, more water, and more sleep to your day.
My health problems — which I thought I'd never have to go through — help me connect to people and relate to anyone dealing with medical issues. And being a mother has shown me how to take time to create balance. To take care of myself — not only for me but for my kids," says Idalis.
Try Mes de Más on Beachbody On Demand today!