"I Finally Have My Beachbody!"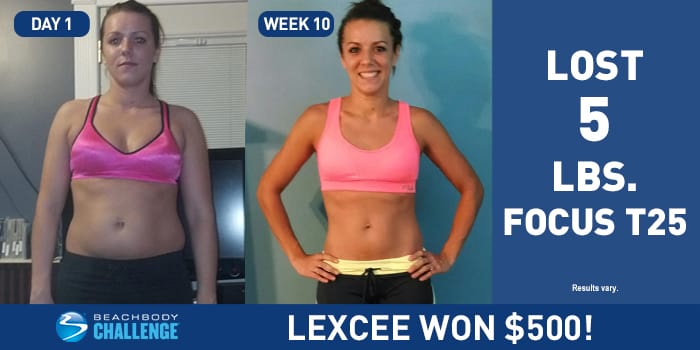 †Results vary depending on starting point and effort. Lexcee is an independent Beachbody Coach.
Meet Lexcee R. She lost 5 lbs in 10 weeks with FOCUS T25. She entered her results into The Beachbody Challenge , and won the $500 Daily Prize for June 11th!
Tell us about your life before you started the program. How did you feel about yourself and your body?
Ever since I was a younger girl, I have always been very petite and slim. I could eat whatever I wanted without any exercise needed. I always felt confident and very satisfied with the way I looked. I had my first child, and throughout the pregnancy, I had only gained about 18 lbs. So with the help of breastfeeding, I lost the baby weight in about 2 months. I got pregnant with my second child 1 year later and gained 35 lbs. Again, with the help of breastfeeding, I lost all the baby weight, but this time it took about 3-4 months. Then another year and half later, I got pregnant with my third child and really didn't gain much weight other than about 10 lbs. This time I did not breastfeed, and my body was so out of shape and looked horrible to me! I did not want to wear tight clothes, I didn't want to eat a lot, I  didn't feel good about the way I looked, and I just did not feel sexy.
What inspired you to change your life and begin your transformation journey?
I have been trying new programs offered through Beachbody, but I could honestly never stick to them! It was hard to find the motivation to work out in the mornings and let alone find time at all! Having 3 small children is a full-time job! I knew I had to change my life and do something! Then I found FOCUS T25, and it all clicked!
What is the greatest challenge you faced before beginning the program? How did the program and Beachbody® help you overcome that challenge?
I tried lots of diets and different workouts but nothing seemed to work. Having motivation and time was my biggest challenge through it all. I was making excuses for not working out or eating the way I should!
What in particular did you like about the program you chose?
I absolutely love how it's basic, but I always break a sweat! I also really love that I get such a great workout in so little time! Time is a big issue for me so this is a wonderful program to do with limited time!
Describe the results you achieved with your Beachbody program. Which achievements are you proud of?
I am small already, but I have stuck to this diet 100% and have lost 5 lbs and crazy inches all around my body! I have energy, I can find the time to workout, and I can do it! I am so proud of myself and want to share this amazing journey with others!
How has your life changed since completing your Beachbody program?
My life is changed forever! I became a Beachbody Coach because I wanted to help others feel the way that I do! I have motivation and am determined to keep going! I finally have my beach body!
How did participating in a Challenge Group help you reach your goals? How did your group support you and keep you accountable?
Everyone was so supportive and helped me answer any questions I had! They were true friends, and [my Coach] is a angel from heaven! She inspires me everyday, and no matter what she never gave up on me! She truly cares for her Coaches and customers and doesn't look at it as a paycheck! She motivates me more than ever, and I am so proud she is my Coach!
You can change your life, too. Take the Beachbody Challenge for the tools you need to Decide, Commit, and Succeed! Complete any Beachbody program, and enter your results for a free gift and a chance to win cash and prizes.