How to Plan, Prep, and Store Food for Healthy Meals All Week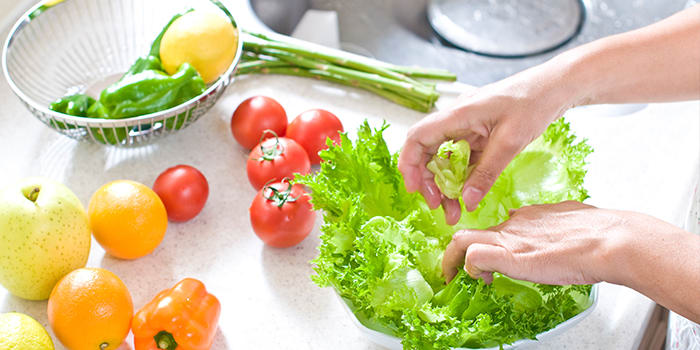 When hunger strikes, if there's not something healthy within reach, or ingredients that I can turn into a meal in minutes, I'm far more likely to devour peanut butter with a spoon or order a pepperoni pizza. On the flip side, when I've stocked and prepped a good supply of healthy foods and — this is crucial — made a menu plan for the week, I can walk right past those temptations and warm up a hearty bowl of chili or grab a (pre-washed) apple from the bowl on the counter.
Planning what to what to eat and making simple preparations ahead of time allows me and my family to eat healthy all week and enjoy a home-cooked meal even on the busiest of nights. Here are my tips to help you learn how to meal prep like a pro.
PLANNING
A lot of fitness fans these days are cooking all of their meals for the week at once. But you can eat healthy every day without the cooking marathon. I plan a week of meals at a time, checking out the family calendar to figure out which days will allow enough time to actually cook, and which days are going to be rushed. I make a menu for sit-down meals, and come up with several quick and/or portable dishes. To this, I add healthy snacks, including seasonal fruits. I then use this menu to create a shopping list.
Others prefer to stock the fridge and freezer with healthy options and let the menu work itself out during the week. This is fine as long as you think about tomorrow's meals the night before, pulling stuff out of the freezer, soaking beans, or firing up the slow-cooker.
SHOPPING AND PREPPING
Once you have your meal plan, and have returned from the store, it's time to begin washing, chopping, cooking some ingredients, and properly storing foods to keep them fresh until you're ready to eat them.
PROTEINS
Chicken, beef, pork, and fish all freeze well, and can be divided into individual portions and frozen for future use. If you can, splurge for organic meat and poultry
I keep individually wrapped uncooked, boneless chicken breasts — the mother of all healthy convenience foods — in the freezer so they're ready to go when I want them. They can be diced and tossed in a stir-fry; wrapped in foil with fresh herbs, lemon, and olive oil and baked; or poached and shredded for chicken salad, to name just a few options. Whole chicken is best roasted for a fabulous Sunday night dinner, but if it's frozen, remember to pop it in the fridge at least 2 days before you cook to allow time to thaw. Once it's eaten, bag the bones and throw them in the freezer along with vegetable scraps for soup.
Ground beef or turkey can be made into your favorite meatloaf recipe or formed into patties, and frozen raw.
Fish is a natural for the freezer. Choose firm fish, like wild-caught salmon, tuna, herring, or mackerel. The good news is, these can go straight from the freezer to the oven or the grill (just add a few minutes to the cooking time in your recipe).
Eggs are an excellent source of protein and can be quickly cooked in many recipes, so it's always good to have some in the fridge, where they stay fresh for 3-5 weeks. Beat a few eggs, pour over a skillet of veggies, shave a little Parmesan over the top, and there's dinner. Hard-boiled eggs add protein to salads and are a quick, easy snack.
WHOLE GRAINS AND PASTAS
Whole grain pasta, brown rice, barley, quinoa, and farro are all pantry staples that can help you pull disparate ingredients into a cohesive dish, with no prior planning. Cook a large batch of rice or quinoa up and keep it in the fridge for future meals. When it's time for dinner, chop and toss meats, vegetables, nuts, and seeds into a skillet for a quick salad or stir-fry.
FRUITS AND VEGETABLES
It's important to keep your kitchen stocked with fruits and vegetables. When you get your groceries home, thoroughly clean your sink, then fill it with water and drop the vegetables in. Scrub sturdy vegetables with a soft brush, then set them to dry on clean towels. Pre-chop veggies like carrots, bell peppers, onions, and store them in the fridge so they're ready to sauté or add to salads.
Leaf lettuce is a versatile ingredient in salads and wraps. Separate lettuce into individual leaves and wash to remove all traces of grit, then dry thoroughly in a salad spinner. You can store it right in the spinner. Just wipe the spinner's bowl dry, and lay a paper towel on top of the leaves to absorb excess moisture.
Keep a variety of fruits on hand for healthy snacks and to use in breakfasts and salads. I eat more fruit if I keep it in plain sight, washed and ready to eat in a bowl on the table. If you don't eat fruit quickly, then wash it and store it loose in the crisper drawer. Wait to wash berries until just before eating.
DRESSINGS AND MARINADES
Don't bring bottled dressings into your kitchen. They're full of sugar, unhealthy oil, and preservatives. You can make your own in minutes. A creamy dill dressing can top a salmon steak on Monday, a chef's salad on Wednesday, and create a tasty swirl on soup on Friday. Lemon Tarragon Vinaigrette can serve as a chicken marinade as well as a tangy drizzle over steamed vegetables.
SOUPS AND SAUCES
If you're going to make soup or sauce, why just make a little? Make a double batch, then freeze single portions. Tomato sauces, broth-based soups, bean soups, and soups with rice thaw well. Add fresh herbs just before serving. Dairy-based soups should be frozen before the milk is added. Just write a little note on your freezer label so you remember to add it back in when you reheat. Avoid freezing dairy-based sauces as the dairy can become grainy when thawed.
Planning and pre-prepping may feel like a lot of work at first, but with practice it gets more intuitive and even fun to figure out combinations that can mix and match for a week of good eating. Besides, there is nothing quite so satisfying as a well-considered home-cooked meal in the rush of a mid-week evening. Get inspiration, recipes, and full meal prep menus with grocery lists here.