How to Make Homemade Pumpkin Puree From Scratch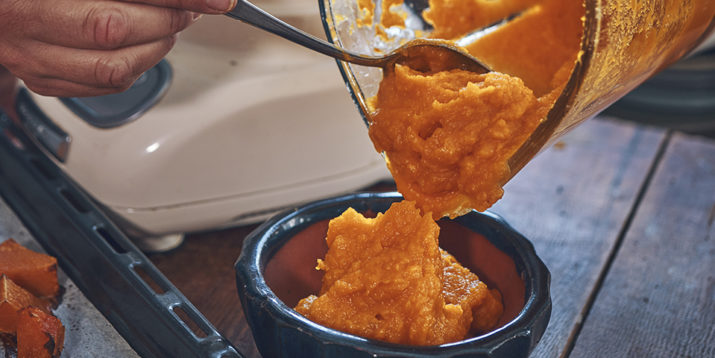 While you can find pumpkin puree in grocery stores year-round, fall is the time when cans of it start to fly off the shelves, as we look to make delicious autumn-inspired recipes like a pumpkin spice shake or pumpkin spice energy balls.
But this year, try something new and make homemade pumpkin puree for your recipes.
Why?
It comes down to flavor.
"[There's] nothing like home-grown pumpkins and making your own puree," says Mary Competti, co-owner of Old World Garden Farms in rural Ohio. "The taste simply can't be beat."
Even better?
Pumpkin contains vitamins A and C, folate, potassium, phosphorus, and fiber, says Leslie Beck, a registered dietitian in Toronto, Canada.
Here's how to make fresh pumpkin puree from scratch, four different ways.
How to Make Pumpkin Puree
Before we get into how to make homemade pumpkin puree, it's important to start with the right pumpkin and prep it properly.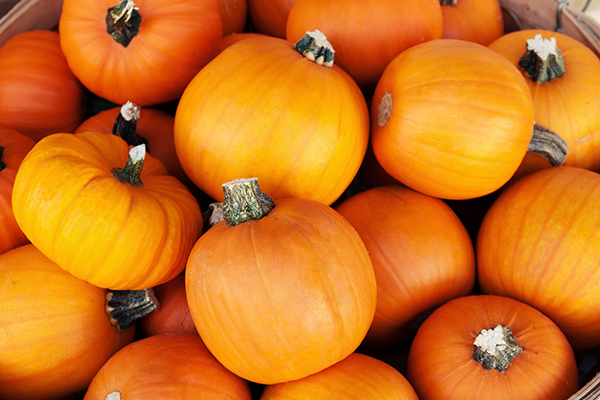 1. Choose the right pumpkin
Skip the jack-o-lantern pumpkins. The ones you want to use for making pumpkin puree are species called Cucurbita Moschata or Cucurbita Maximo, says Beck. They're frequently labeled as pie pumpkins or sugar pumpkins.
You should choose one that's heavy for its size, has firm skin, and weighs less than 2.5 pounds, Beck adds.
Since you'll be cutting into the pumpkin, you want to ensure it's clean to prevent any dirt or bacteria from getting inside. Run your pumpkin under cool water and dry well with a towel, says Competti.
Using a large, sharp knife, carefully slice your pumpkin into two halves. The stem is too hard to slice through, so first turn the pumpkin on its side and slice the top of the pumpkin off, close to the stem.
Set the pumpkin upright, then slice it in half. Then, remove the seeds and stringy fibers using a metal spoon or even an ice cream scoop and discard.
(Pro tip: Save the seeds and make roasted pumpkin seeds for a yummy snack!)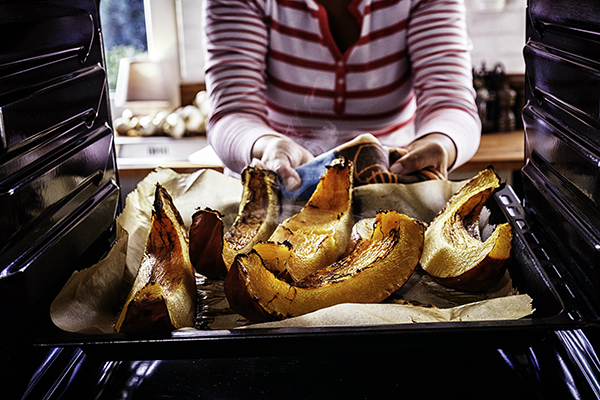 2. Cook Your Pumpkin
From here, you have four different options for cooking the pumpkin to make pumpkin puree. There are different ways you can cook your pumpkin so whether you have all day or can only boil water, there are options for everyone, no matter your culinary skills.
Roasting
Preheat your oven to 350 degrees F.
Slice each half of your pumpkin in half so you have four quarters.
Then, place each quarter, cut-side down, on a sheet pan lined with parchment paper.
Bake until the flesh is soft (you can test by piercing it with a knife), about 45 minutes to one hour.
Steaming
Add just enough water to a double boiler so that it does not touch the top pot.
Then, cut your pumpkin halves into evenly sized pieces that will fit inside the top strainer.
Cover the top pot and steam for about 20 minutes, until flesh is tender.
Boiling
Cut each half of the pumpkin into evenly sized smaller pieces.
Carefully add them to a large pot of lightly boiling water and boil for about 20 minutes, until flesh is tender.
Instant Pot
This is Competti's preferred method for making pumpkin puree because it's so simple and nearly hands-off.
Cut each half of the pumpkin in half again so you have four quarters.
Add 1 cup of water to your Instant Pot and set the trivet in the water, then place pumpkin quarters on top.
Close the lid and seal it, then set your Instant Pot to pressure cook on high for 30 minutes.
Once the cooking time expires, quickly release the pressure.
3. Peel the pumpkin skin
Once your pumpkin has cooled to the point of being able to handle (but not cold), you can peel the skin off and gently scoop out the pumpkin flesh.
Add the flesh to a food processor or blender and process until smooth.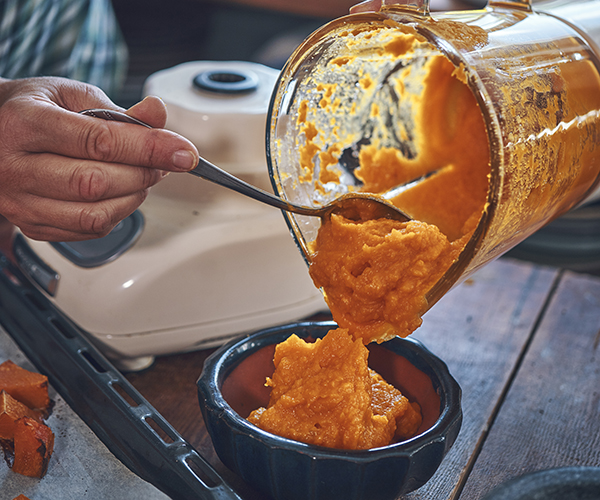 4. Strain the puree
Because fresh pumpkin holds a lot of moisture, you will need to strain the puree before using it, says Competti. Line a fine mesh colander with cheese cloth or a coffee filter and set it over a deep bowl.
Pour the puree into the cheesecloth or filter and let it sit for about two hours, stirring occasionally to release any extra moisture.
5. Storing your pumpkin puree
Once you have your pumpkin puree, you're ready to use it in all kinds of recipes. If you're not planning to use the pumpkin puree right away, you can store it in the fridge for 3 to 4 days.