Everything You Need to Know About Bullet Journals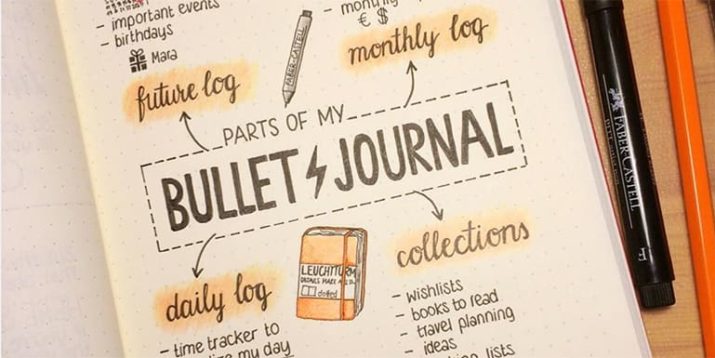 (via Instagram @maryj13)
I still remember my first diary — it was pink with a puffy plastic cover and a unicorn on the front. The lock? Heart-shaped. I spent hours writing down my dreams and ambitions in life — all of which revolved around being a famous singer and traveling around the world. Time went on, technology changed, and I switched my pen and paper for a keyboard and a blog. But now I'm back to basics (kinda), thanks to a bullet journal.
A what?
Unless you've been living under a rock, you've probably seen these elaborate creations all over social media. It even has a nickname: "bujo."
A bullet journal, often called "rapid logs" or "future logs," is a creative mash-up of a personalized planner, diary, to-do lists, and more. They're a great way to practice self-expression and self-care without making it a chore.
And the best part? You can make them look however you want because they're made for you, and only you.
Why You Should Start a Bullet Journal
Keeping a journal can be a huge task, especially if you're busy. Eventually, it becomes a burden and you stop — not a good thing, given that studies show that journaling is a positive thing. A study published in the Journal of Personality and Social Psychology found that participants who kept journals showed greater amounts of determination, attention, enthusiasm, and energy when compared to groups who didn't write things down.
"As our day-to-day lives can be extremely busy and overwhelming, bullet journaling is great for providing overall clarity and peace of mind," says Coral Arvon, PhD, a psychotherapist and Director of Behavioral Health and Wellness at Pritikin Longevity Center + Spa in Miami, Fla.
"We have so many different apps on various devices that organize our thoughts and tasks that we need to accomplish on a daily basis, it's hard to keep track of where we log each task and thought. When you journal, everything is kept in one place — it goes from your mind to pen and paper."
Bullet journaling eliminates the hassle of traditional methods but keeps the benefits since you aren't writing out personal essays, just quick notes and short sentences about whatever topics you decide to add.
How to Start a Bullet Journal
"All you need is a notebook and a pen."
That's the mantra of the official bullet journal website. And it's true — you can start your bullet journal with a simple notebook, or you can really let your personality sparkle throughout the pages by opting for a moleskin journal with grid lines and colored gel pens, markers, Washi tape, and more.
After you decorate, it's time to get down to business. Start by structuring your journal into four main areas known as "modules" in order, from big picture (yearly planning) to little picture (daily tasks).
Index: The first few pages of your journal that act as a table of contents, updated as you go.
Future Log: A year-long calendar comprised of life events, goals, and other long-term projects you're pursuing.
Monthly Log: A traditional month calendar that features what you need to do for the month, along with stuff you didn't get to last month.
Daily Log: Your to-do and already-did list, along with short notes about each.
You keep track of what's done, what's not done, and what's a priority with a bullet system — like an X for done, notes with a dash, and inspiration with an exclamation point.
Can Bullet Journals Help Me Lose Weight and Get Fit?
The short answer: yes!
Bullet journals are perfect for goal-setting, since they help you break down your goals and track progress.
"We've been recommending journaling as a weight-loss tool for some time now," says Dr. Arvon. "It's proven that you get better weight-loss results when you write down your meals, meal plan, and exercise routine."
She's right: A 2008 study from Kaiser Permanente's Center for Health Research suggests that keeping a food diary may double a person's weight loss.
Some bullet journal fans go a step further and keep track of other areas vital to good health by creating sleep and emotion records, along with vitamin and medication schedules.
And you might even sleep better, too.
"I often find that journaling also helps with mental clarity which in turn aides to a better sleep cycle," Dr. Arvon adds. "Sometimes, as a society we have trouble 'turning off our brains,' especially at night — when you journal before you go to sleep and make a special point to journal what you are grateful for, you can rest easy knowing that your thoughts and tasks have already been dealt with."
While a bullet journal won't eliminate the need for hard work, it will streamline it — and feeling organized and confident puts you at a major advantage when it comes to a healthier and happier new year.