7 Quick Moves to Help You Avoid Holiday Weight Gain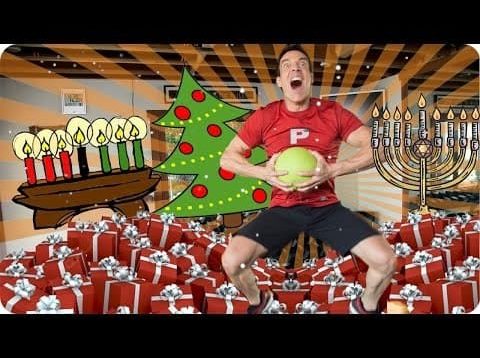 It's the holiday season, which means your schedule is probably pretty busy. And between the office parties and family gatherings, you might also be eating more than usual. This combination is a recipe for weight gain. But even if you don't think you have time to work out, we bet you can find at least seven minutes to get your blood pumping and your muscles moving. With that in mind, here's a quick holiday workout featuring six moves, each only a minute in length. They're hard, so you don't need to do them for a long time to feel like you got a great workout.
Kicking off the series are Hanukkah Hops. For these, you can use a weighted ball or just your body weight. Either way, your legs will be feeling the burn at the end of the first minute. Next up, Kwanza Kips, a variation on the pull-up. Make sure you watch how to do this move closely so you can get your form right. Do as many as you can, take a quick rest, and then move on to the Solstice Split Squats. Can you say that three times fast? Try it as you work your legs in this lunging jump. If you need to modify, that's okay!
When you get to the Festivus Flys you've made it half way through the workout. Put down the Festivus pole and pick up light to medium weights to bust through the 25 reps. Tony keeps the focus on your arms for the next move, Christmas Crab Push-Ups. It might sound fun, but this is the hardest move in the whole routine. The routine ends with New Year's Knee Tucks. Jump (or march if you need to modify) your way to the end and you'll have completed a full-body workout in just seven minutes!