Hit the Ground Cycling With HIIT Your Goals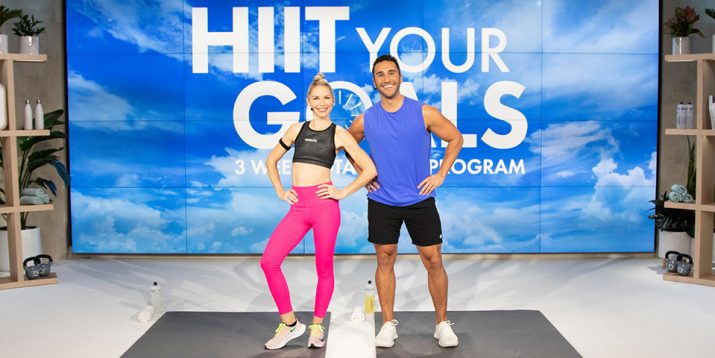 What's the key to following through on a New Year's resolution? Having a plan you can actually stick to.
That means a structured approach proven to deliver results, fast.
With HIIT Your Goals on Beachbody On Demand, you can count on hyper-effective HIIT training — on and off the MYX Fitness Bike — for a fun, challenging way to get stronger, feel better, and see total-body results.
For three weeks, Jesse Barton and Justin Flexen alternate between high-intensity bike rides and floor work to showcase the combined cross-training benefits of both.
Add dumbbells to the mix, and you've got a formula for fitness.
"When you commit to HIIT Your Goals you're making the commitment to YOURSELF to make it to the finish line," Justin says. "It will be hard. It will be challenging. But it will also be very rewarding!"
What Is HIIT Your Goals?
HIIT Your Goals is a combination bike/floor program designed to get your new year — or any time of year — started right.
For three weeks, Jesse and Justin (a.k.a., "J Squared") will push you out of your comfort zone and into your upper heart-rate zones with high-intensity bike rides, just-as-intense floor work, and body-sculpting strength-training that gets progressively challenging.
HIIT Your Goals works you from every angle for a head-to-toe overhaul in three weeks that you can continue doing all throughout the year.
Who Should Do HIIT Your Goals?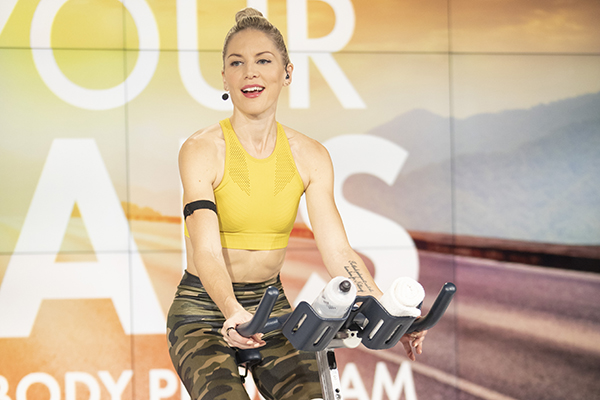 For owners of the MYX Fitness Bike who are set on making a real change this year, HIIT Your Goals is the way to do it.
It's a fun but structured way to home in on your fitness goals and see meaningful progress in just three weeks.
Pedal heads looking to push a little harder will love working out with Jesse and Justin as they alternate between high-intensity rides, HIIT floor workouts, and combined bike-and-floor workouts.
That said, there are low-impact modifications for most exercises should you need to take it down a notch.
Whatever your starting point, and no matter the time of year, HIIT Your Goals is a great way to get laser-focused, and know at the end of three weeks that you'll be leaner, stronger, and healthier.
What Are the Workouts Like?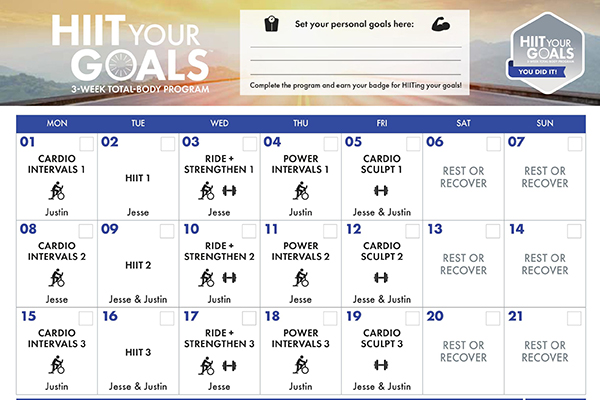 HIIT Your Goals will take you from high intensity on the bike to the mat, mixing in dumbbell days to target your upper body, lower body, and core.
Jesse and Justin take turns leading the workouts, joining forces on select days to bring you the "J Squared" experience.
Workouts last between 20 and 45 minutes and get harder each week (starting with Level 2 and building to Level 3), but there are plenty of options to modify so you can keep progressing at your pace.
For each of the three weeks, you'll start with a HIIT ride, followed the next day by a HIIT floor workout, then a combo bike-and-floor workout before closing the week with one bike ride and one floor day each:
30-minute cardio interval
Don't be afraid to turn up your resistance on this ride — that's the key to building real stamina and burning fat fast.
20-minute HIIT
Get your heart rate way up with short bursts of intense floor exercises designed to burn the most calories in the least amount of time.
45-minute ride + strengthen
Build strength and definition with this two-part workout that starts on the bike and finishes on the floor. You'll need a set of light, medium, and heavy dumbbells.
30-minute power intervals
Cycle through heart rate zones 1 through 3 while increasing endurance and building lower-body power.
20- to 30-minute cardio sculpt
Get on the floor, grab a pair of dumbbells, and get ready to zero in on your core and glutes.
Meet Your Trainers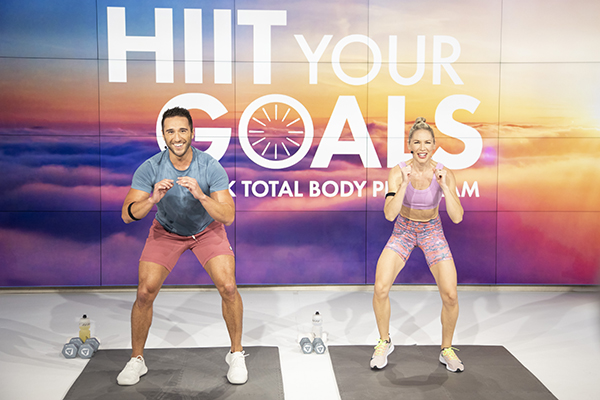 Jesse Barton's unique approach to fitness, which focuses on feeling over physical results, comes from pairing her master's in psychology with certifications in personal training and yoga.
Barton considers herself a push-up pro and is a lover of cardio — running is what got her into fitness after all — so expect some heart-pumping sequences paired with strength training moves.
Justin Flexen is all about working hard and having fun while doing it.
As an experienced personal trainer, he brings his knowledge and enthusiasm to help people commit to living longer, healthier lives through fitness.
By focusing on holistic training (and lots of dance moves and encouragement along the way), he wants people to feel good inside and out.