Herb-Crusted Beef Tenderloin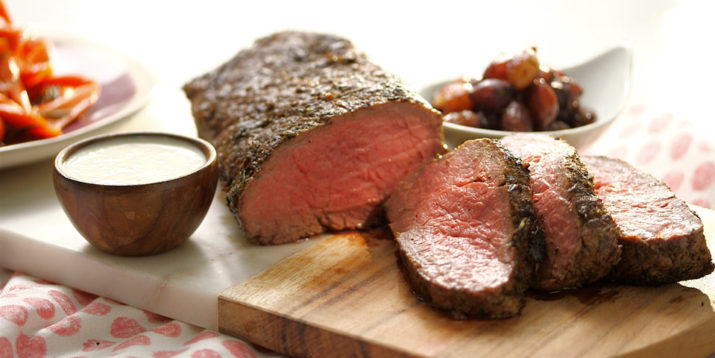 What if we told you that this Herb-Crusted Beef Tenderloin will only set you back about 45 minutes from fridge to table?
In this case, more work does not a better meal make. Whether it's for New Year's Eve or Christmas dinner or Saturday night at home, this Herb-Crusted Beef Tenderloin is likely the easiest main dish you'll ever make.
Beef tenderloin is not the kind of protein that you slather in butter. Naturally tender and juicy, not much is necessary to create a rich and flavorful main from such a choice cut of beef.
For their healthy cooking show FIXATE, Autumn Calabrese and her brother, chef Bobby Calabrese, prepare this succulent beef tenderloin with minimal effort in under an hour.
Thyme, parsley, rosemary, and garlic create a savory, 24-hour dry rub that infuses flavor and tenderizes your tenderloin while it sits.
As per usual, Bobby provides a host of handy tips and tricks to ensure this beef tenderloin is perfectly prepared. He recommends taking your beef out of the fridge two hours ahead of your planned cook time, which allows the meat to temper.
Fun fact: "Tempering" your meat, or letting it warm up slightly before cooking, will help it cook more evenly.
While we love ghee because it doesn't contain milk solids, it does double duty in this recipe, since ghee has a much higher smoke point than butter. Butter can burn quickly, which will affect the flavor of the dish.
To achieve a perfect, crispy sear, place your beef in a smoking hot, ovenproof pan. This allows for a quick, easy transition to the oven.
Finally, to top it all off, creme fraiche and a bit of prepared horseradish make a simple and flavorful dressing.
To get the recipe and find out the Container Equivalents and nutritional information, watch the FIXATE episode on BODi!