These 8 Trendy Foods Look Great…But Are They Healthy?
From rainbow bagels to bone-broth popsicles, the latest trending foods have been generating plenty of likes and double tap love thanks to their eye-catching colors and unexpected ingredients. They may be Instagram-worthy, but should you actually be eating these oddities?
We asked our in-house experts to see what they had to say. Here's a look at eight of the latest trendy food treats, and how they measure up on the nutrition spectrum.
#PinkDrink
Starbucks' off-menu "Pink Drink" has quickly become one of the trendiest drinks of the summer, amassing more than 130,000 Instagram posts under the hashtag #pinkdrink. The strawberry-topped beverage is a twist on the lightly caffeinated Strawberry Açai Refresher, substituting coconut milk for water. Is that healthy? Not according to Beachbody's Senior Director of Nutrition Content, Denis Faye, M.S. "It's just sugar water, basically. Really fancy KoolAid. No. Fail."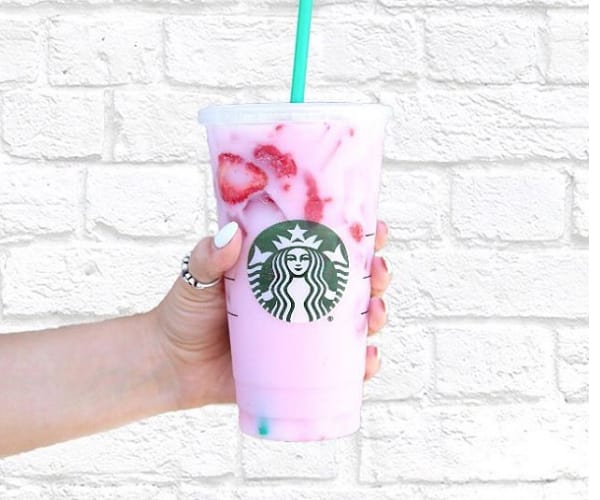 photo by Alisha
Rainbow Bagels
Imposing a rainbow palette on ordinary foods is another major social media trend, with cakes, grilled cheese sandwiches, and even lattes popping up in multicolored versions. The biggest sensation of all? The psychedelic rainbow bagel from the The Bagel Store in Brooklyn — paired with funfetti cream cheese, naturally. But though it may look like unicorn food, it doesn't have magical health benefits. Faye's advice? Skip it.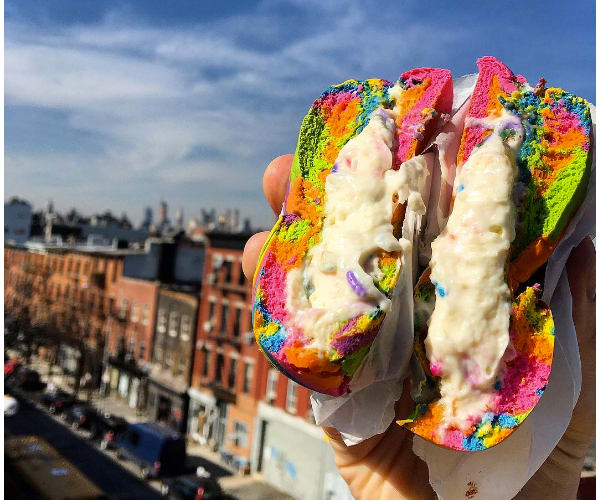 photo by jessewelle
Black Ice Cream
A darker, moodier alternative to the rainbows is the #blackicecream from Morgenstern's Finest Ice Cream in New York City made from coconut cream, coconut flakes, and activated charcoal derived from incinerating the coconut shell the cream and flakes came from. But whatever benefits you may get from a scoop of Black Coconut Ash, it's still mainly a treat. "Most ice cream tends to be high in sugar," Faye cautions. "The bad sugar trumps the (maybe) good ash — substantially."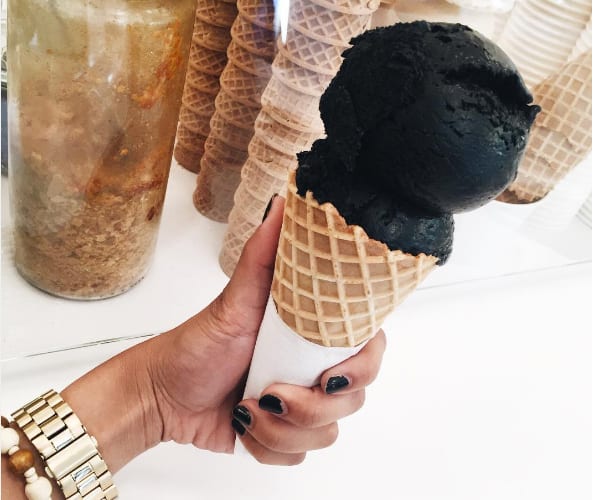 photo by jnicagarcia
Giant Smoothie Bowls
This current breakfast rage — sundae-style smoothie bowls topped with various fruits, nuts, and seeds — is practically guaranteed to elicit a chorus of oohs and ahhs on social media.
"They're frequently touted as healthy, but it all depends on the ingredients," says Faye. Sensible choices include whole fruits, vegetables like kale and spinach, and almond milk, and you can skip added sugars (a banana provides plenty of sweetness). Watch the calories, too. "When you start drinking calories, you want to be mindful of what you put in there, because it's really easy to make a drink that's 500 calories."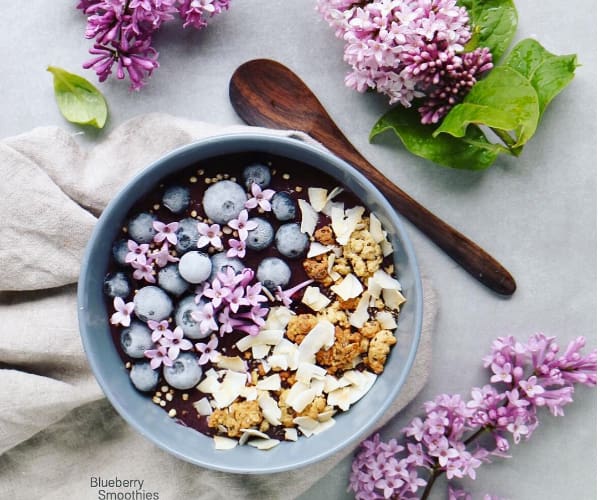 photo by blueberrysmoothies
Dessert Hummus
For hummus fans accustomed to savory flavors like garlic or roasted red pepper, the new dessert-inspired offerings from Delighted By Dessert Hummus may come as a surprise. The four flavors are Snickerdoodle, Chocolate Chip Cookie Dough, Brownie Batter, and Orange Ginger; all are vegan, gluten free, and dairy free.
A good choice? "If you look at it at the angle of making a dessert slightly healthier," says Faye, "that's OK." Otherwise, regular hummus is a perfectly healthy food. "It was fine in the Middle East for thousands of years." (Actually, 10,000, but who's counting.)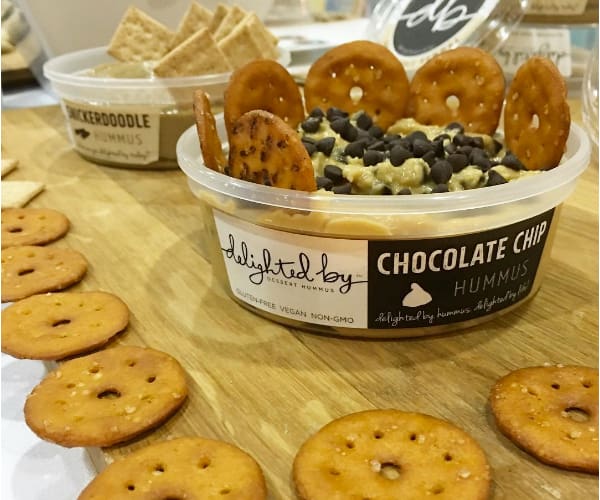 photo by delightedbydesserthummus
Bone-Broth Popsicles
Springbone Kitchen in New York City's West Village has taken the buzz about bone broth to a new level, and added bone-broth popsicles to their menu. Per their Instagram page, the summer treats are made of beef bone broth, coconut milk, pomegranate juice, raspberry puree, and a bit of maple sugar.
Should you enjoy bone broth on a stick? Faye says no. Stick with sipping your usual bone broth, and pass on the sweetened-up Mary Poppins version. "Are we as a culture becoming so dependent on the spoonful of sugar that we can't take the medicine? Eat the real food."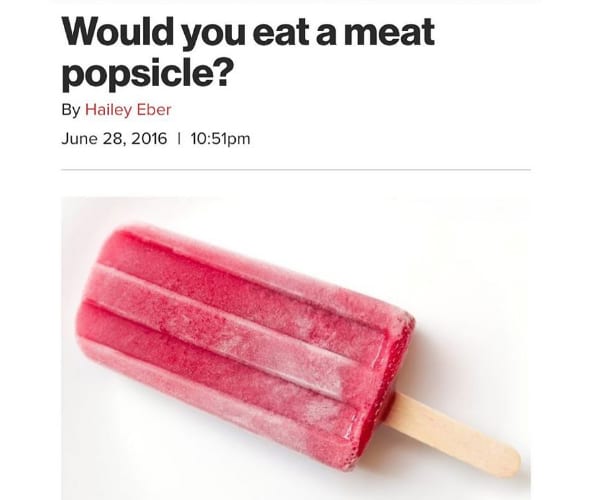 photo by springbone
Sushi Hybrids
Sushi purists, avert your eyes. This novelty trend uses sushi as inspiration for other foods, from massive "sushi burritos" sold by food trucks and restaurants to mini "sushi donuts."
"The problem is most people think sushi in general is kind of a healthier thing," says Faye. "If you go to a restaurant and there's like a little pad of rice and a nice hunk of fish, that's pretty healthy." But rolls (or donuts or burritos) are a different story. "Between all the sauces and goos and teriyaki and tempura and mayonnaise… you've added so much junk that it's just lost its way." Even with a pretty bare bones sushi burrito, he cautions, you still need to be mindful of "the massive amount of rice."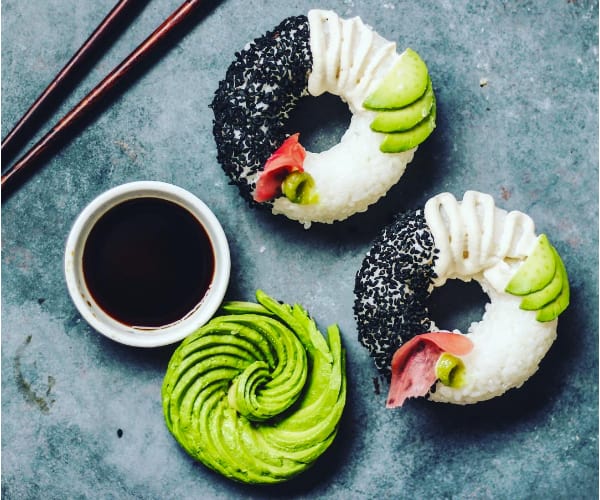 photo by sobeautifullyraw
Poke Bowls
Poke (pronounced poh-kay) isn't a novelty food at all in Hawaii, but a traditional appetizer of raw, sashimi-grade seafood that's been cubed and marinated with seasonings like soy sauce, green onions, and sesame oil. Its popularity has surged on the mainland, with entire restaurants and foodtrucks devoted to the dish and various interpretations.
It's a dish Faye can get behind. "Poke is rad. I love poke." High sodium is a potential issue, he notes, though not if you're an athlete (particularly an endurance athlete) and you sweat all the time. The calories can also quickly add up, especially with fatty fish like ahi or toppings like avocados. The final verdict? "Eat it and enjoy it, 'cause it's awesome." Just do so in moderation. Here's a salmon version you may want to try.