Hammer & Chisel Results: Cole Lost 19 Pounds in 60 Days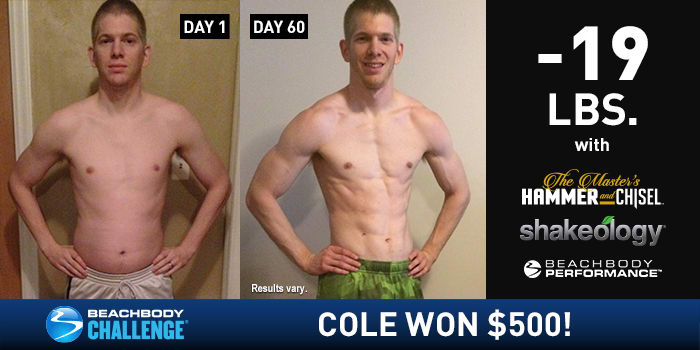 Cole Smith lost 19 lbs. in 60 days with The Master's Hammer and Chisel and the Beachbody Performance supplements. He entered his results into the Beachbody Challenge, and won the $500 Daily Prize for April 27th!
Tell us about your life before you started the program. How did you feel about yourself and your body?
I am continuing my fitness journey with Beachbody. I have always had trouble gaining muscle mass and feeling strong. The Master's Hammer and Chisel helped me build muscle and maintain good cardio, endurance, and flexibility.
What inspired you to change your life and begin your transformation journey?
I recently had a baby, and I wanted to join my wife in establishing healthy lifestyle choices for our family.
What is the greatest challenge you faced before beginning the program? How did the program and Beachbody help you overcome that challenge?
Making good diet and nutrition choices has always been difficult for me, because I felt like I was pretty naturally skinny. But by working with my Coach (my wife), I was able to notice the difference that fueling my body well made for my workouts.
What in particular did you like about the program you chose?
It was easy to track the progress that I was making from week to week.
Describe the results you achieved with your Beachbody program. Which achievements are you proud of?
I finally feel like I look muscular. That has never been the case in my life!
How has your life changed since completing your Beachbody program?
I feel better about my health, and it is easier to keep making positive lifestyle choices.
How did a Beachbody supplement, nutritional product, or program (such as Shakeology or Beachbody Ultimate Reset) support your transformation? What are the greatest benefits you gained? Did you see benefits to your energy, sleep, mood/mental clarity, or digestion/regularity?
The Performance Line made a big difference in my workouts. Energize gave me the push to make it through the long workouts, and Recover ensured that I was ready to go the next day!
You can change your life, too. Take the Beachbody Challenge for the tools you need to Decide, Commit, and Succeed! Complete any Beachbody program, and enter your results for a free gift and a chance to win cash and prizes.

Results vary depending on starting point, goals, and effort.