11 Grocery Shopping Tips to Make Healthy Eating Easier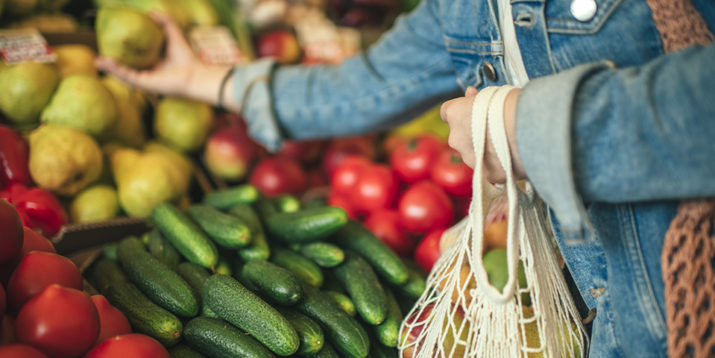 We asked dietitians for their best grocery shopping tips to help you get the most nutritional bang for your hard-earned buck.
Because when you're trying to stock your kitchen with healthy foods, grocery shopping may feel like an overwhelming task.
The shelves are overflowing with options, so how can you make sure you're choosing foods that support your nutrition goals and won't break the bank?
1. Take an Inventory of Your Kitchen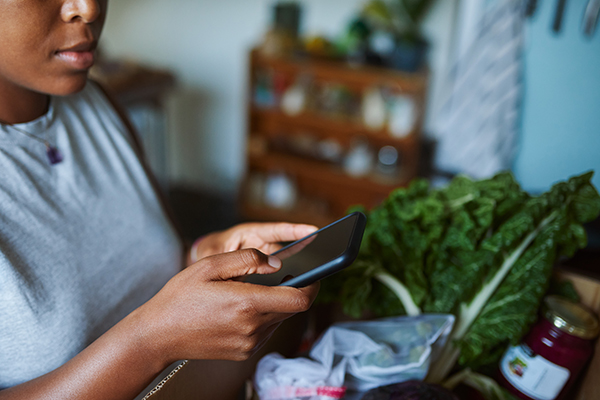 It's fine to stock up on extras of the essentials you use most often. But buying more than you need can take up precious fridge space and lead to more waste — especially if it's a perishable item.
So before you go grocery shopping, do an inventory check of your fridge, freezer, and pantry.
Then build your grocery list from the items you don't have, recommends Lydia Tegwyn Mosher, R.D., a registered dietitian based in Toronto, Canada
Apps like Pantrify, NoWaste, and KITCHENPAL can help you keep a digital tally of the foods in your pantry, fridge, and freezer.
You can even set alerts to notify you when foods are about to spoil!
2. Meal Plan Before You Go
If you're trying to save money on groceries, meal planning can help you minimize what you spend every week.
Once you've decided on a week's worth of healthy meals, make a list of the ingredients you'll need for those recipes.
Because you're only buying what you'll actually use this week, it's a smart strategy when you're on a budget.
(Need some recipe inspiration? Get healthy meal prep ideas here!)
3. Check the Weekly Circular
Don't forget to peruse the store circulars sent out every week in local newspapers, in the mail, or online.
"Stores often advertise loss leaders on the front page of their ads," says Summer Yule, M.S., R.D.N.
These are items sold at deeply discounted prices and often include in-season produce, lean meats, and dairy.
That can help you save money on items that don't typically have coupons available, Yule adds.
4. Never Shop When You're Hungry
We repeat: Don't shop on an empty stomach! This grocery shopping tip will save you money and calories.
Everything looks tasty when you're hungry, which can lead you to ditch your healthy shopping goals and fill your cart with high-calorie snacks.
"Your rational decision-making can be affected by hunger," says Megan Wong, R.D., a registered dietitian with AlgaeCal.
Not So Fun Fact: Hunger may lead you to make impulse purchases on non-food items as well, Wong adds.
Be sure to eat a balanced meal or snack before you shop, especially if you're on a budget.
5. Shop During Off-Peak Hours
It might be convenient to do your shopping on weekends, but you'll likely face empty shelves and picked-over produce.
Instead, shop during slower times, like the early morning or right before closing.
Try calling your grocery store to see what time their produce is delivered, so you can get the freshest fruits and veggies.
6. Consider Shopping Online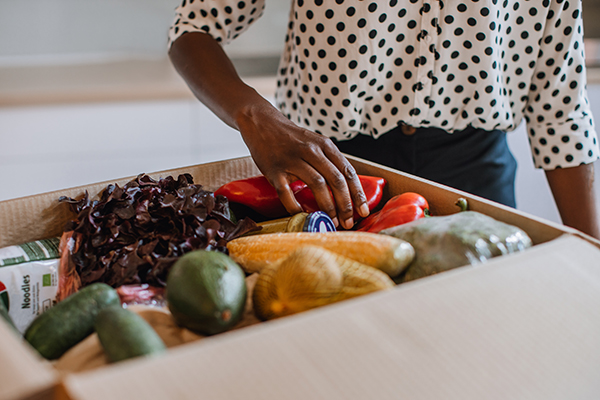 Online grocery shopping is more popular than ever, and major grocers are making it easy to do your entire weekly shop from the comfort of your home.
Online shopping makes it easier to stick to a list because it limits impulse shopping and allows you to keep a running total of your order before you check out.
7. Shop the Center Aisles Carefully
You've probably heard the advice that it's best to "stick to the perimeter" at the grocery store — a.k.a. the outer aisles where many stores keep dairy, meat, and fresh produce.
But you can also find healthy (and often inexpensive) food options in the center of the store if you know what to look for.
"The inner aisles contain many options that are shelf-stable, affordable, and convenient, — such as canned beans, canned and frozen fruits and vegetables, and whole grains such as oatmeal, rice, and lentils," says Cara Harbstreet, R.D.N., registered dietitian and creator of Street Smart Nutrition.
8. Buy Frozen or Canned Produce
Fresh is best, right? Not if it'll spoil in your fridge before you're able to eat it. Lessen waste by opting for frozen or canned fruits and veggies, recommends Jenna Appel, M.S., R.D., and owner of Appel Nutrition.
Canned and frozen produce is often more convenient — the fruits and veggies are usually pre-washed and pre-cut — so you won't have to worry about spoilage.
And because produce is typically canned or frozen shortly after picking, it typically retains its nutrient value — sometimes the nutrient value is even higher than fresh produce.
"Additionally, if you prefer organic fruits and veggies, the frozen versions are usually cheaper," Appel adds.
When buying canned produce, look for fruits in 100% juice instead of light or heavy syrup to avoid added sugars, and low-sodium canned vegetables to limit excess sodium consumption.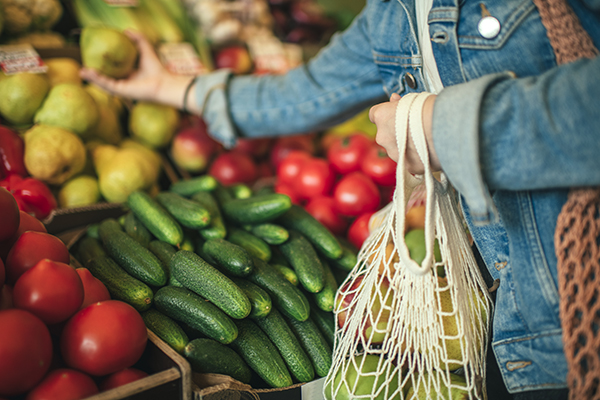 9. Grab Bulk Items When Possible
If you have the space at home, buying pantry staples like rice, oatmeal, and beans in bulk can save you money.
You'll spend more money upfront, of course, but the per-unit cost is almost always lower when you buy in larger quantities.
10. Read the Nutrition Label
Not sure if a food is healthy? Check the ingredient list before putting it in your cart. "Ingredients in foods are listed in descending order by weight," Appel says.
Shorter ingredients lists are best and watch for hidden sugars on the ingredients list. Added sugars can hide under names like "high-fructose corn syrup" and "brown rice syrup."
Always look at the nutrition facts — this can tell you a lot about a food besides how many calories it contains.
"Choose foods that contain a higher daily value percentage for nutrients like dietary fiber, vitamin D, calcium, iron, and potassium," Appel says.
11. Sign Up for Loyalty Programs
Want to save even more money in the checkout line? Sign up for your grocer's loyalty program.
These programs often give special discounts only available for members — and sometimes they even send you coupons good toward the products you buy the most.