Grilled Peaches and Cherries
There's something about a backyard barbecue that's comforting and familiar: sunny skies, the smell of a smoky grill, and a buffet table filled with favorites like burgers and grilled chicken, corn on the cob, and fruit salad.
But sometimes it's good to mix things up, and our Grilled Peaches and Cherries skewers are a great way to add some unexpected sizzle to your next grill out.
They're quick and easy to make, and there's zero cleanup required (if you use pre-soaked, disposable wooden skewers, that is).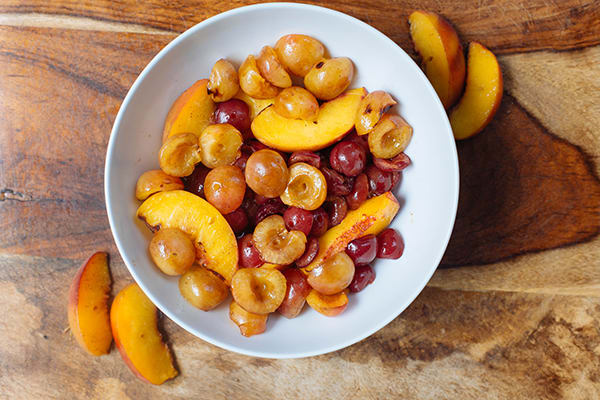 If you're thinking, "Ew, grilled fruit," here's why you need to try it:
Grilling (or broiling, if you don't have a grill) caramelizes the sugars in the fruit, creating a lovely light crust with a sweet, smoky flavor.
Don't like peaches and cherries? Not to worry. You can pretty much grill any fruit. Check out our recipe for Grilled Watermelon Wedges.
For this recipe, all you need are peaches, cherries, cinnamon, honey, and grass-fed butter, and you'll have a unique and delicious side dish that will earn you King of the Grill bragging rights.
Put these smoky stone fruits on grilled pork tenderloin, plain Greek yogurt (sprinkle some toasted nuts on top for texture), cooked wheatberry or quinoa salad, or on chicken tacos for a switch-up on the standard pico de gallo.
Even though they may taste like a decadent treat, these sweet skewers are actually very nutritious. Peaches and cherries are a good source of fiber and potassium, a key mineral that helps your body perform essential functions.
A cup of peaches has 293 grams of potassium, while a cup of cherries has 268 grams.
Cherries (sweet or tart versions) pack a powerful punch on their own: Studies show that they may help you get to sleep, and prevent temporary muscle pain from exercise.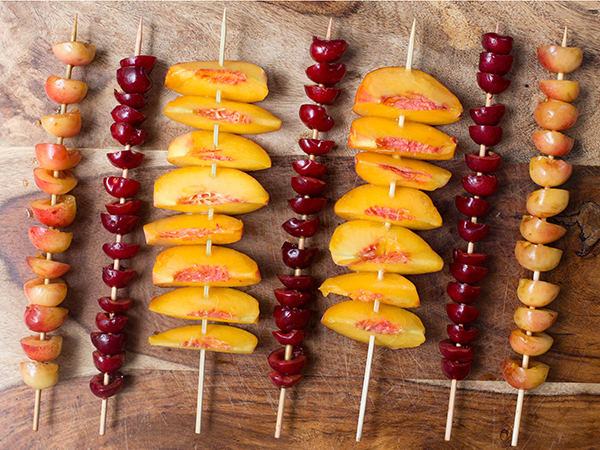 Cinnamon and honey provide a double dose of antioxidants, while grass-fed butter made from pasture-raised cows offers more healthy omega-3s than butter made from their grain-fed brethren.
Pro tip: If there are little ones at your backyard festivities, you may want to omit the honey. It's not recommended to feed raw honey to babies, due to the (rare) risk of botulism poisoning.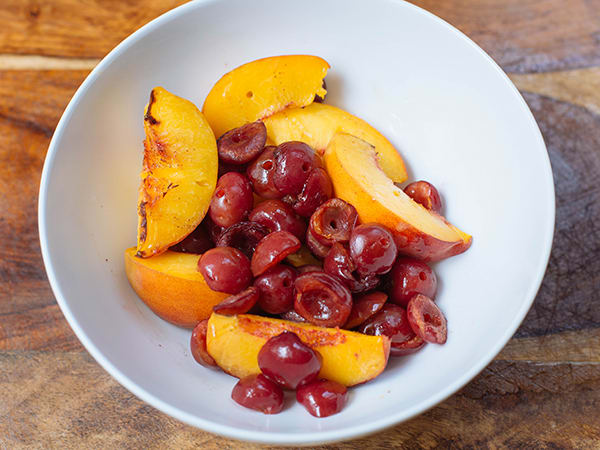 Grilled Peaches and Cherries
Grilled Peaches and Cherries skewers are a great way to add some unexpected sizzle to your next grill out.
Prep Time 15 mins
Cook Time 4 mins
Total Time 19 mins
Servings 4 servings, 2 skewers each
Calories 93 kcal
Ingredients
2 tsp. organic grass-fed butter, melted
2 tsp. raw honey
½ tsp. ground cinnamon
32 fresh cherries, cut in half, pitted
2 ripe medium peaches, cut into 1-inch pieces
Instructions
Combine butter, honey, and cinnamon in a small bowl; mix well. Set aside.

Preheat grill or broiler to high.

Place 16 cherry halves on each of four medium skewers. Set aside.

Evenly place peaches on four medium skewers.

Brush skewers evenly with half of butter mixture. Grill for about 3 to 4 minutes, turning every minute, until just charred but still firm. Remove from heat.

Brush with remaining butter mixture.

Serve immediately.
Nutrition Facts
Grilled Peaches and Cherries
Amount Per Serving (1 serving)
Calories 93 Calories from Fat 18
% Daily Value*
Fat 2g3%
Saturated Fat 1g6%
Cholesterol 5mg2%
Sodium 7mg0%
Carbohydrates 19g6%
Fiber 2g8%
Sugar 16g18%
Protein 1g2%
* Percent Daily Values are based on a 2000 calorie diet.
P90X3 Portions
1 Carb
½ Fat
Body Beast Portions
1 Fruit
½ Fat
Portion Fix Containers
1 Purple
½ Tsp.
2B Mindset Plate It!
An FFC as part of breakfast or lunch.
If you have questions about the portions, please click here to post a question in our forums so our experts can help. Please include a link to the recipe you're asking about.
Photos by Amanda Meixner and Dani Paris.