Get Inspiration for Your Next Meal Prep Day
Whether you're a meal prepping pro, or you're new to the game, it's great to get new ideas, try new recipes, and see how the very dedicated accomplish their meal prep goals. This week we found some inspiration for you. Which of these idea will you try for your next meal prep?
Want to see your meal prep ideas on The Beachbody Blog? Email photos of  your healthy meals to Editors@Beachbody.com and you could be next! Be sure to tell us what you're eating and include your Instagram or Twitter handle for linked photo credit!
@eatcleansandiego is dominating meal prep with this impressive spread of healthy lunches, dinners, and snacks. We love the colorful fruits and veggies and the array of choices throughout the week. This volume of meal prep for one person would take serious effort, but if you team up with a clean-eating friend and divide the work, you could eat like a king at every meal!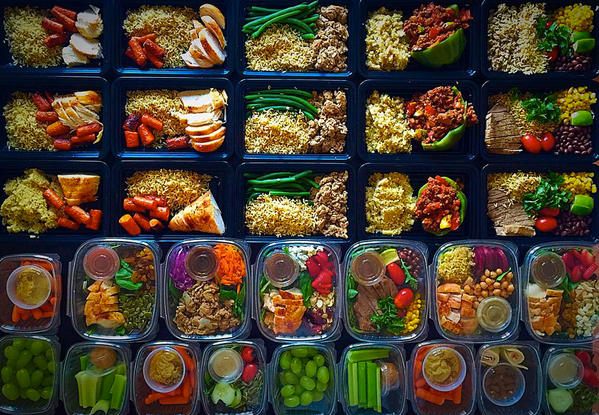 Photo by @eatcleansandiego
This fresh take on egg cups from @nourish_nutrition looks delicious. She lined muffin tins with nitrate-free ham, added tomatoes, asparagus, and scallions, then cracked an egg into each cup. Bake at 350° until eggs are set (about 15 minutes).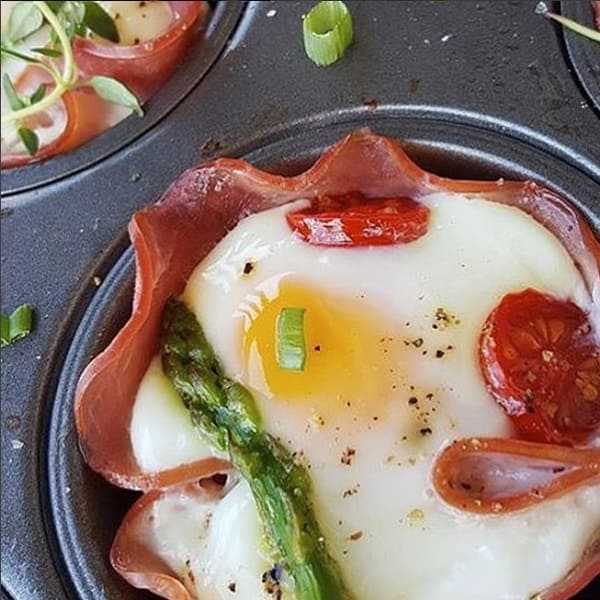 Photo by @nourish_nutrition
This 21 Day Fix meal prep by @katrinatway gets two thumbs up from us! Here's what she's eating this week:
Meal 1: Strawberry Shakeology with oatmeal
Meal 2: Chicken, brown rice, and broccoli
Meal 3: Tuna salad, romaine salad, and almond crackers
Meal 4: Greek yogurt with apple and cinnamon
Meal 5: White fish, sweet potato, and green beans (not pictured)
Meal 6: Chocolate protein shake (not pictured)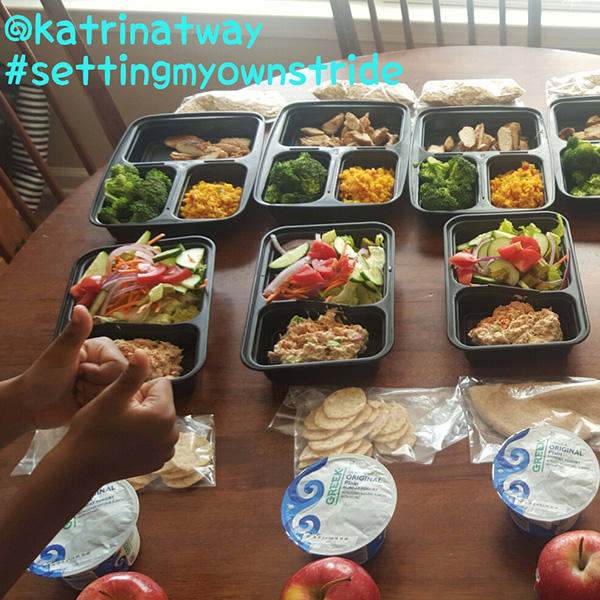 Photo by @katrinatway
Having a variety of dinners keeps meal preppers from getting bored. @welovecleanfood made slow-cooked beef with brown rice and broccoli, chicken breasts with a trio of roasted vegetables, and turkey meatballs stuffed with mozzarella cheese (yum!) served on whole grain pasta. For a snack she has plain Greek yogurt with raspberries and a portion-controlled serving of homemade granola.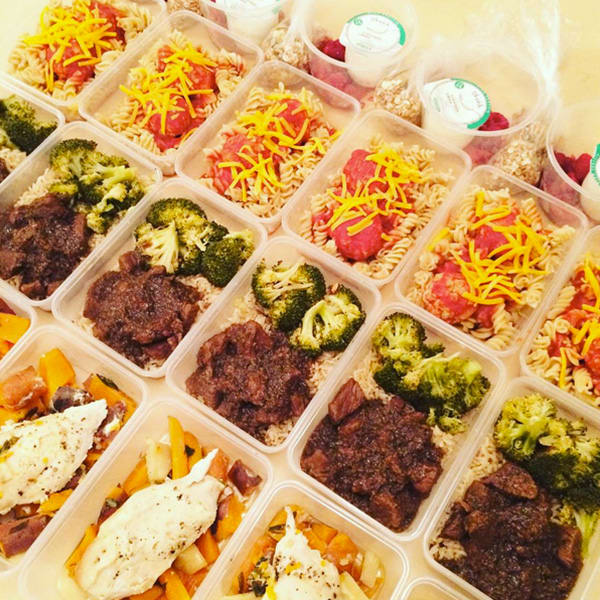 Photo by @welovecleanfood
This portable salad from @meowmeix is almost too pretty to eat. It has balsamic dressing at the bottom of the jar, zucchini noodles, bell peppers, tomatoes, chicken and salad greens. To use your favorite ingredients in a Mason jar salad, put the heaviest ingredients at the bottom, ones that won't get soggy sitting in the dressing.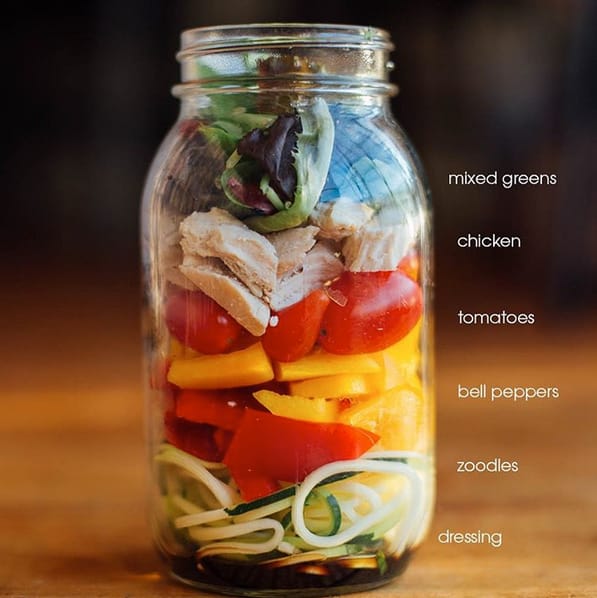 Photo by @meowmeix
@hollirob has a perfect solution for half eaten bananas. She freezes them in bags with other frozen fruits so she's ready to make a smoothie any time. We told you how smoothie bags can make your mornings a cinch here.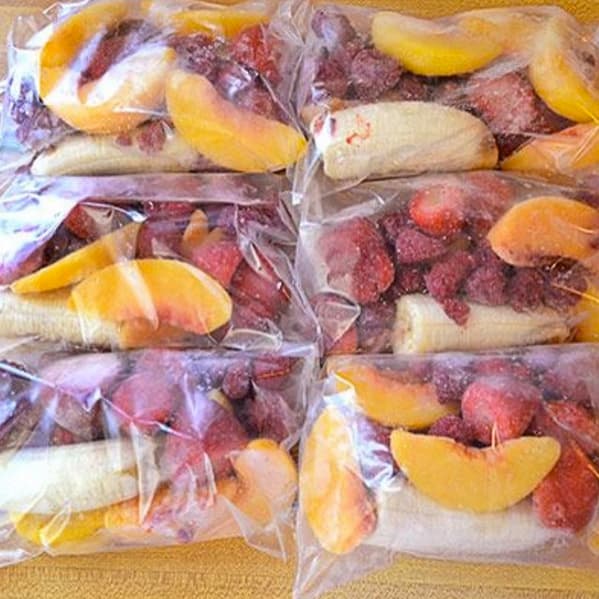 Photo by @hollirob
Sandy Sin was encouraged by her Challenge Group to share this 21 Day Fix meal prep with us, and we love it! She told us, "This is my first time meal prepping of any sort. I'm overwhelmed with excitement, nerves, and just pure joy to start kick this new healthy lifestyle." It looks like she's doing a brilliant job! Keep up the good work, Sandy. For breakfast she's having Shakeology with banana, almond butter, and lots of ice (she likes it slushy!). Her snacks are whole wheat English muffins with avocado and hard-boiled eggs, and fresh fruit with sunflower seeds. For lunches and dinners she has either grilled chicken with boiled sweet potato and veggies, or zucchini noodles with ground turkey and marinara sauce.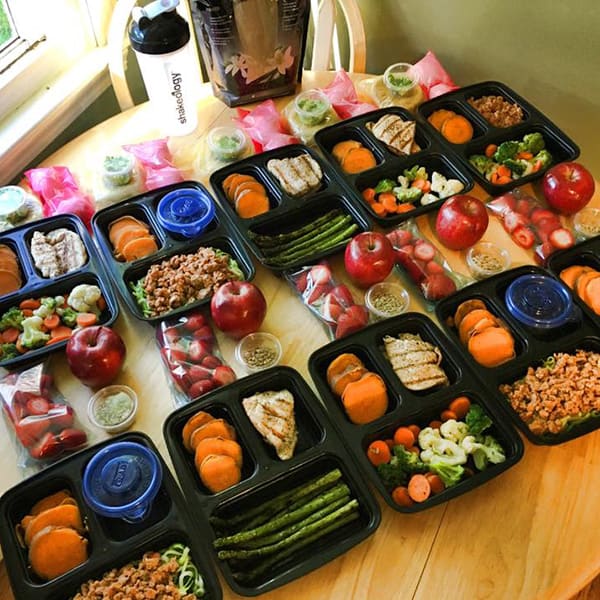 Photo by Sandy Sin
This bejeweled salad from @feedme_fitfood is a great reminder that berries belong in salad. This beautiful recipe has organic greens, fresh blueberries, raspberries, and blackberries, hemp hearts, sliced almonds, feta cheese, and a homemade dressing.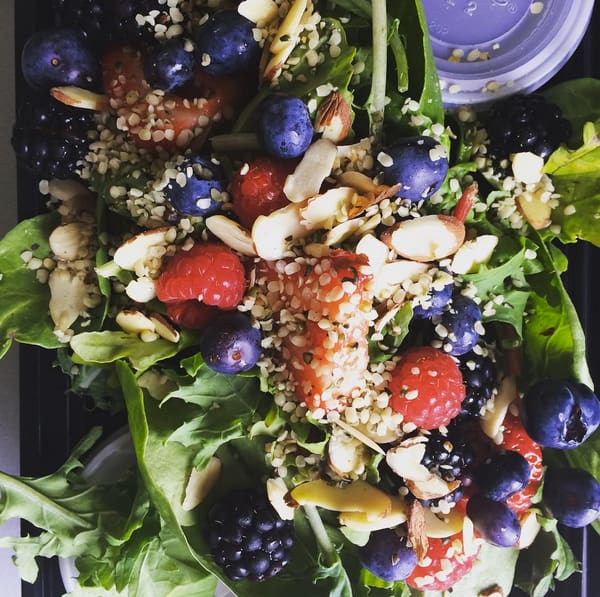 Photo by @feedme_fitfood