From Extra, Extra Large to Large and in Charge!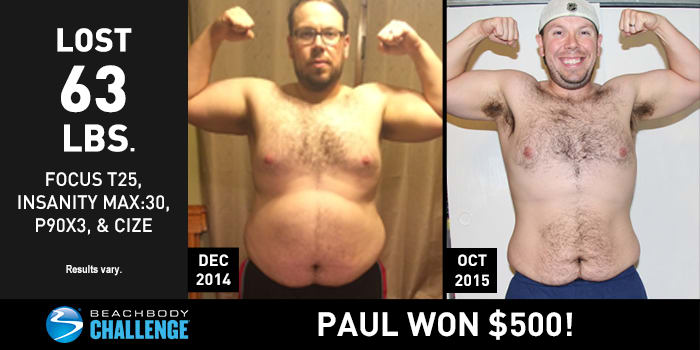 Paul White lost 63 lbs. with FOCUS T25, INSANITY MAX:30, P90X3, and CIZE. He entered his results into the Beachbody Challenge, and won the $500 Daily Prize for January 10th!
Paul is an independent Beachbody Coach.
Tell us about your life before you started the program. How did you feel about yourself and your body?
I have always had problems with weight. Both my parents are also overweight. Through college and most of my adult life, I have struggled with my weight. I have always joked about my weight, and made a point to poke fun at myself for being fat. The truth is, I was unhappy with myself and how I looked and felt. My wife, family, and friends could all see that I was unhappy, but I just kept making excuses as to why I couldn't lose weight. I was too busy, or too tired, or I would start Monday for sure. I lived a very lethargic lifestyle that kept me from enjoying my life to the fullest.
What inspired you to change your life and begin your transformation journey?
My son! I became a father in November. I realized at that point that I couldn't be the father he needed me to be at 300 pounds. I knew I needed to make changes in my life to make sure I am in his life as long as possible. It was also because of him that I stumbled upon T25. One morning, I was up early and rocking him when I turned on the TV. An infomercial for T25 was on. Usually, I would just change the channel, but something kept me on that channel. I ended up watching the entire thing and that day, I ordered T25. After I finished T25, I went right into INSANITY MAX:30. I had heard so many good things about MAX:30 from the members of the Challenge Group I was in that I decided to give it a try, and I'm glad I did! I saw great results and continued to get up every morning to work out. I now had momentum. After I finished MAX:30, I wanted a new challenge so I decided to try P90X3 on Beachbody on Demand. After P90X3, I decided to try CIZE…And I loved it!
What is the greatest challenge you faced before beginning the program? How did the program and Beachbody help you overcome that challenge?
The biggest challenge I faced was time. I knew that I did not have all the time in the world to work out with my job and new responsibilities as a father. T25 took care of that, because I knew I could make 25 minutes work in my day, every day. There were no more excuses that I didn't have enough time, or that I couldn't do the workout because I would be late for work. From the time I put in cardio and Shaun T said it was only 25 minutes, I knew I could and would make it work. With INSANITY MAX:30, I also knew it was a program I could do in the mornings before my son got up, because it was only 30 minutes. Time was no longer an excuse; I just got the workouts done! The big challenge for me before CIZE was that I was not very good with remembering dance moves.
What in particular did you like about the program you chose?
I loved that each dance move in CIZE was broken down so I could go step-by-step. The good thing was that I knew I had a few days to master it so I could really let loose.
Describe the results you achieved with your Beachbody program. Which achievements are you proud of?
With T25, I lost 38.9 pounds, 20 combined inches, and 4 percent body fat! Then came MAX:30. This fast-paced workout really pushed me to the limits. I pushed myself hard each and every workout. At the end of month two, when I took my final measurements, I couldn't believe my eyes. Weight loss: 22.1 pounds. Total inches: 8 inches. Body fat: 3.3 percent. I didn't lose any weight with CIZE, but I definitely feel I have more energy, and can actually dance!
How has your life changed since completing your Beachbody program?
I feel amazing! Each and every day, I can't wait to get out of bed and push play. I know that I am doing something that is helping me both physically and mentally. Another thing that has happened is I've moved from size XXL clothing, to XL, and now to L. I have pulled out my old clothes that I used to wear when I finished P90X five years ago. Nothing feels better than fitting into clothes that no longer need the "X"! Another great thing is that people are noticing that I am losing weight, and I am getting compliments every day!
How did participating in a Challenge Group help you reach your goals? How did your group support you and keep you accountable?
Being part of a Challenge Group is the best thing for me. Every day, I posted my workout and nutrition and shared things with my group. At first, it was tough and felt a little bit like work. But, as I kept doing it, I couldn't wait to post. I felt my day wasn't complete without doing it. The group I am in is so supportive and fun. All members were there to be healthy, but it was more than that. Everyone wanted to get better, and we did that by sharing. It was great to get ideas and support from other members when things were tough, but it was also good to share things I've learned through my fitness journey. When I am accountable to others, I feel it is my job to share with them about my workouts and nutrition.
How did your Team Beachbody Coach support you on your journey?
Coach B is amazing! I am so fortunate that Brian was my Coach. It was Coach B who first befriended me, and then told me about his Challenge Group. I decided to give it a shot, and it was the best decision I made. When I started T25, I had a Coach assigned that was not active and did not give me any feedback. Coach B graciously accepted me, and has given me advice on nutrition, working out, and how to continue to reach my goals. He is someone who is always willing to help and listen when I have questions. I couldn't ask for a better Coach. He has truly helped me reach my goals. Coach Brian has been that anchor for my fitness boat. So many times I could have drifted out to sea, but he kept me securely tied to my fitness goals. If I have questions or need advice, he helps no matter what!
How did a Beachbody supplement, nutritional product, or program (such as Shakeology or Beachbody Ultimate Reset) support your transformation? What are the greatest benefits you gained? Did you see benefits to your energy, sleep, mood/mental clarity, digestion/regularity?
I started Shakeology when I started MAX:30. At first, I was not too sure because of the price, but I quickly realized how wonderful Shakeology was. Within a week, I had more energy and I didn't have the cravings for sweets I used to have. I also didn't feel the need to take a multivitamin, because I was getting so many vitamins and nutrients from Shakeology. One of the biggest results I felt with Shakeology was my regularity.+ With my digestive health improved, I feel great!
How did a Beachbody supplement, nutritional product, or program affect any existing health conditions you have?
I have had knee pain for the longest time. Even during T25, I had knee pain from working out. Slowly that went away until it completely disappeared when I started losing the weight. Now I can work out without fear of pain! Shakeology has also helped reduce my blood pressure.+
Did you achieve any other measurable improvements with a Beachbody supplement, nutritional product, or program (e.g. blood pressure, blood sugar, triglycerides, etc.)?
With the help of my workouts and Shakeology, I have dropped my blood pressure from an average of 128/98 to a 107/82.
You can change your life, too. Take the Beachbody Challenge for the tools you need to Decide, Commit, and Succeed! Complete any Beachbody program, and enter your results for a free gift and a chance to win cash and prizes.

*Results vary depending on starting point, goals, and effort.
+These statements have not been evaluated by the Food and Drug Administration. Beachbody products are not intended to diagnose, treat, cure, or prevent any disease.