Step Up Your Meal Prep With the Right Freezer Containers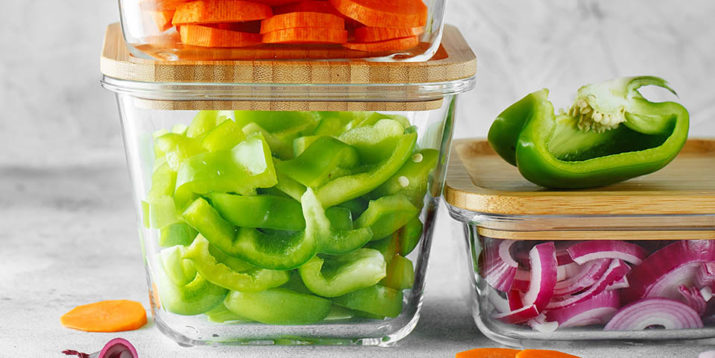 Freezer containers are a kitchen staple.
They keep your leftovers fresh-tasting, make it easy to meal prep in bulk, aid in portion control, and are easily stackable for total organization junkies.
But finding the right containers is essential to avoid continually cleaning up messes, wasting food, or using multiple dishes.
Here's everything you need to know about freezer containers!
What are the Best Freezer Containers to Use?
Stick with containers made from microwave-safe BPA-free plastic or glass.
That way, you can go from freezer to microwave without dealing with multiple dishes.
According to the USDA, your leftovers and prepped meals are safe after 3-4 days in the refrigerator and 2-3 months in the freezer.
Also, don't skimp on that leak-proof lid feature. You'll want airtight lids to keep your food extra fresh and prevent spills and messes.
"Even if you aren't freezing a liquid, leak-proof equals freezer burn-proof," says Brian Casey, Chef, hunter, and founder of Knifegeeky.
"Leak-proof containers have the best seal, meaning they will keep the contents fresh and not let in any weird freezer flavors over time," he explains.
These leak-proof containers might also save the day in an emergency.
"In case of a power outage or other situation where your freezer is unable to perform, you'll wish you used a leak-proof container!" says Caleb Chen, a Servsafe certified food safety expert.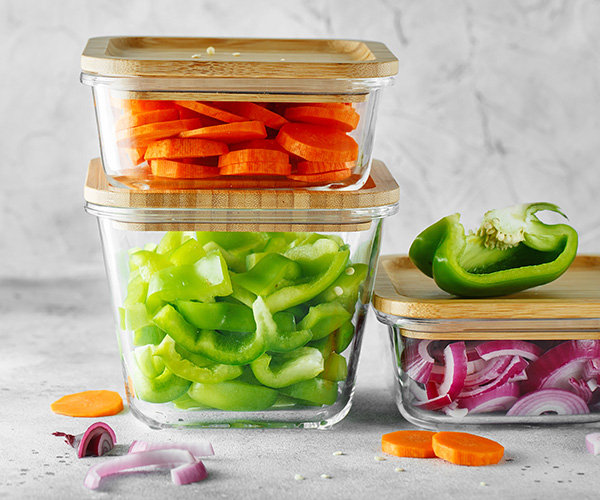 Are Plastic Freezer Containers OK?
As long as they're BPA-free, plastic containers are OK. You'll also want to make sure they're microwave and dishwasher safe.
"Don't put thin plastic (like reused takeout containers) or metal of any kind in your microwave," says Casey. "Most containers will say on the bottom or the label if they are safe for reheating," he adds.
When freezing contents for extended periods of time (like meat), vacuum-sealed plastic bags are your best bet, says Chen.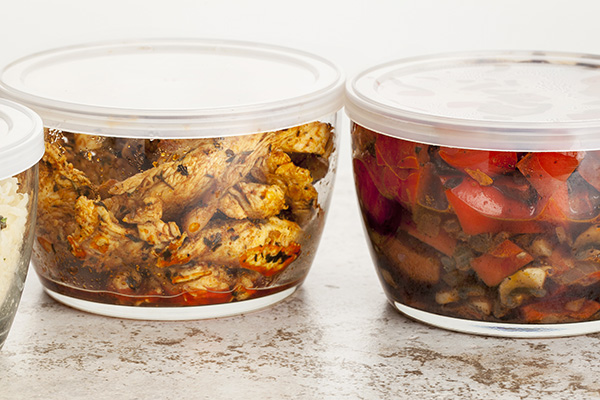 What Can I Put Inside Freezer Containers?
Anything you want to freeze! The container shape will depend on what you're putting inside them:
Opt for a round container if you're storing soups.
Choose a rectangular shape if you want to pre-portion meals.
"Remember that liquids will expand if frozen, so always leave a little extra room in the container. Leave an inch or so of space at the top to be safe," advises Casey.
Can I Freeze Take Out Boxes?
"Generally, you shouldn't freeze food that comes in a take out box because you can't be sure if the materials used are freezer safe," advises Chen.
Move your leftovers into your freezer containers so you can be sure your food is adequately protected.
Now that you know the basics, here are five of our favorite freezer containers.
1. Prep Naturals Food Storage Containers with Lids
This 50 pack of 25 oz freezer and microwave safe storage containers is affordable, leak-proof, and reusable.
They're also stain-proof and BPA-free for safe, easy, and efficient stacking.
Get them on Amazon.
2. Arrow Reusable Plastic Storage Container Set
These airtight multi-use containers can do it all — freeze, reheat in the microwave, store, repeat!
Leak-proof lids will keep your spill-ables sealed (great freezer containers for soups!), and throw them in the dishwasher when they need a good rinsing.
Get them from Amazon.
3. Rubbermaid Brilliance Food Storage Containers
With over 4,000 positive Amazon reviews, you can be sure these freezer containers are legit.
These leak-proof food storage containers are BPA-free, secured with latches to prevent spills and keep food fresh, and include built-in vents under the latches to ensure splatter-free microwaving.
Get them from Amazon.
4. PrepWorks Freezer Pod
Use these dishwasher-safe freezer pods for perfectly sized portions of sauces, chicken stocks, soups, purees, and more.
They come in 1/2 cup, 1 cup, 2 tablespoon, and 2 cup options depending on your needs.
Get them from Amazon.
5. Pyrex 18pc Glass Storage Set
These dishwasher and microwave-safe glass dishes have color-coded airtight lids to keep you organized.
Made from durable Pyrex® glass, these freezer containers are stain- and odor-resistant.
The set includes one 7-cup round container, one 6-cup rectangle, one 4-cup round, two 3-cup rectangle, two 2-cup round, and two 1-cup round containers with the lids included.
Get them from Target.