FOCUS T25 Results: Katrina Lost 80 Pounds and Won $500!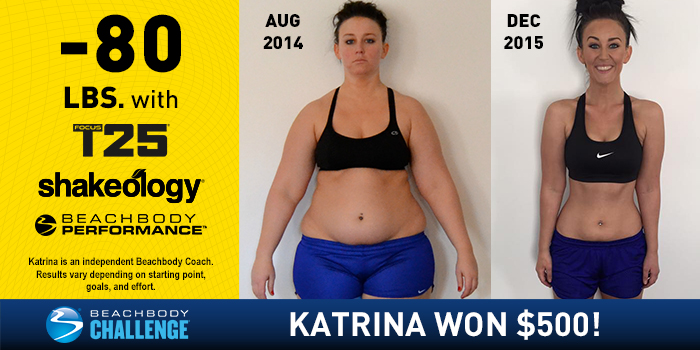 Katrina Buening lost 80 lbs. with FOCUS T25, Shakeology, and the Beachbody Performance supplements. She entered her results into the Beachbody Challenge, and won the $500 Daily Prize for March 21st!
Tell us about your life before you started the program. How did you feel about yourself and your body?
Before I started with Beachbody, I was struggling with a lot of issues, including obesity. I hated myself and my body. I was embarrassed of who I had become, and I didn't want to go out into public. I could only shop in the plus-size section and when I had to start buying 3x clothes, I knew something had to change. I didn't want to buy new clothes so I was stuck wearing yoga pants and T-shirts all the time, and tried to cover myself with large sweaters for work.
What inspired you to change your life and begin your transformation journey?
I had a friend that was doing Beachbody, and having great success financially and with weight loss. I just thought it was a scam or quick weight-loss fix, but the longer I watched, the more I felt it was real. I began to pray about joining her team. Then God gave me an answer and He has helped me every step of the way, along with the accountability and programs provided by Beachbody!
What is the greatest challenge you faced before beginning the program? How did the program and Beachbody help you overcome that challenge?
My biggest challenge was getting started with all of the issues I had. I also didn't want to buy clothes anymore, because it was so hard to find clothes that actually fit me. But, after just a week of giving it 100 percent, I started seeing results. The accountability of the Challenge Groups and my Coach kept me going strong, even when I wanted to give up. After a month, I lost 28 pounds! I went on to lose 40 pounds in three months, and now I'm down 80 pounds and wearing a size eight! It's a miracle! The workout programs helped me, because I was too embarrassed to go to the gym. So it was great to be able to work out from home. Shakeology was amazing! I now have my confidence and energy back, and I'm able to buy clothes from any store!
What in particular did you like about the program you chose?
I loved that it was only 25 minutes a day, and that I could do it from home! I also loved the modifier option, especially in the beginning and through the times in my journey that I've injured my ankle.* Through my journey over the last year, I have tried other Beachbody programs, but I was never able to stick with them for more than a week. But T25 has been something I've been able to stay consistent with, and I think it's because it's such a short amount of time. And, for me, working out is such a mental game. When I know it's only 25 minutes, it's so much easier to just push play!
Describe the results you achieved with your Beachbody program. Which achievements are you proud of?
I started my journey by losing 28 pounds in 28 days, 40 pounds in three months, and now I've lost over 80 pounds. I've gone from a size 20 to a size 8 or from a size 3x to — in some things — extra small! I can do so much more than I could before. My life has completely changed forever. I love that I can go into any store and pick out anything I want, and not have to be restricted to just plus-sized clothes! One of my favorite things about my weight loss is being able to wear tall boots again. I have a pair that I used to not even get half-way up my calves. Now they fit perfectly with room to spare! Some days, I walk by a mirror and don't even recognize myself, and have to stop and do a double-take! I can't believe this is me! Just yesterday I was told if I lose any more weight, I would blow away in the wind! Compliments like that make me so thankful that I began this journey! It's the best feeling in the world! I love the feeling of not just being skinny, but feeling strong!
How has your life changed since completing your Beachbody program?
I feel alive again and that I have a whole different outlook on life. Because I am a Coach, this has also transformed my entire life. After just six months, I was able to quit my full-time, 10-year banking career and be a full-time Coach, because I was already out-earning my banking career!** Now just over a year after starting Beachbody, I am earning almost double of what I was at the bank, I'm a Diamond Coach, and this month I'll be a Success Club 10 All Star! Beachbody has provided not only health, but freedom to do the things I've never even dreamed were possible!
How did participating in a Challenge Group help you reach your goals? How did your group support you and keep you accountable?
Just by being a part of a group of women that were going through the exact same problems I was facing kept me accountable, because I didn't want to let them down. It was exciting to post my workouts daily. The assignments were a challenge and helped motivate me to stay on track.
How did your Team Beachbody Coach support you on your journey?
We were great friends before and talked daily. Now we keep each other on track, and we have both lost over 130 pounds together!
How did a Beachbody supplement, nutritional product, or program (such as Shakeology or Beachbody Ultimate Reset) support your transformation? What are the greatest benefits you gained? Did you see benefits to your energy, sleep, mood/mental clarity, or digestion/regularity?
Before, I would sleep 10-15 hours a night and take naps daily. Now, I only sleep 7-8 hours a night and don't need an alarm to wake me up! Before, I was super constipated and now, I am very regular!† My mood has changed dramatically!
You can change your life, too. Take the Beachbody Challenge for the tools you need to Decide, Commit, and Succeed! Complete any Beachbody program, and enter your results for a free gift and a chance to win cash and prizes.

Results vary depending on starting point, goals, and effort.
*Always consult with your physician about your unique medical needs before starting any fitness program or nutrition product.
**Beachbody does not guarantee any level of success or income from the Team Beachbody Coach Opportunity. Each Coach's income depends on his or her own efforts, diligence, and skill. See our Statement of Independent Coach Earnings for the most recent information on our Coaches' actual incomes: http://tbbcoa.ch/TBB_SOICE.
†These statements have not been evaluated by the Food and Drug Administration. This product is not intended to diagnose, treat, cure, or prevent any disease.