FOCUS T25 Results: Dan Lost 52 Pounds in 21 Weeks
Dan Newman lost 52 lbs. in 21 weeks with FOCUS T25. He entered his results into the Beachbody Challenge, and won the $500 Daily Prize for November 16th!
Tell us about your life before you started the program. How did you feel about yourself and your body?
I realized I was over 250 pounds, was feeling like crap, and knew I was setting a terrible example as a role model to my family. I wanted to start making healthier eating choices and getting more active.
What inspired you to change your life and begin your transformation journey?
I decided to make a change on February 1st, knowing that I was going to be getting married on July 30th and turning 30 years old on October 22nd. In addition to those big life-changing milestones, I knew that I wanted to get more active and live a healthier lifestyle so I could be around for a lot longer with my future wife and our two boys.
What is the greatest challenge you faced before beginning the program? How did the program and Beachbody help you overcome that challenge?
The greatest challenge was just finding the time to establish the routine. Not being able to run without pain was also a big struggle. The FOCUS T25 program made it easy to find the time and not make any excuses. Shakeology gave me the boost I needed each morning to start my day.
What in particular did you like about the program you chose?
The 25 minutes each morning I have to work out makes it easier than setting aside countless hours at the gym.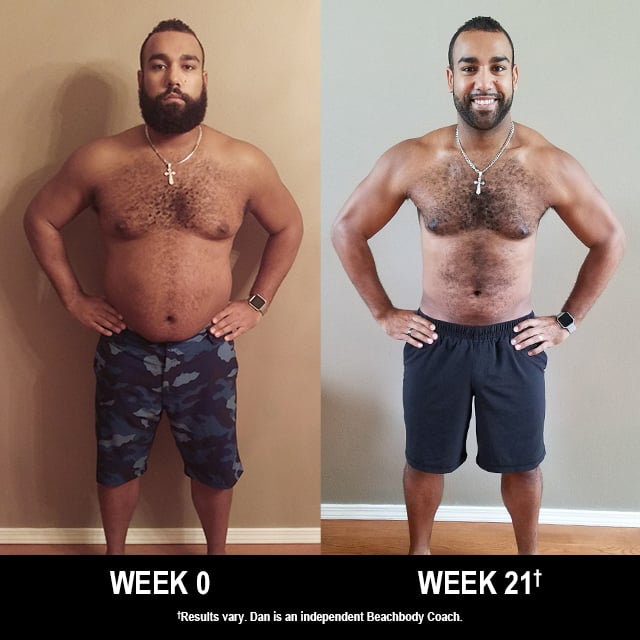 Describe the results you achieved with your Beachbody program. Which achievements are you proud of?
I've lost over 40 pounds so far and on my way to losing a total of over 50 pounds to reach my goal of going from 251 pounds all the way down to 199 pounds in less than six months. I'm also very proud of being able to run a 5k race now in under 25 minutes, when back in November it took me about 35 minutes to complete the same distance.
How has your life changed since completing your Beachbody program?
I have way more energy and endurance when it comes to my day-to-day activities, my workout routines, running races, and chasing after my two young boys.
How did your Team Beachbody Coach support you on your journey?
Aniela was persistent in getting me signed up with Team Beachbody, and helped get me started and off my butt to begin my workout journey. I am very thankful to her for that.
How did a Beachbody supplement, nutritional product, or program (such as Shakeology or Beachbody Ultimate Reset) support your transformation? What are the greatest benefits you gained? Did you see benefits to your energy, sleep, mood/mental clarity, or digestion/regularity?
Shakeology is a big part of my daily morning routine now. It is low-calorie, has a good taste, and gives me the energy to start my day off on the right foot, so I don't have to drink so much coffee anymore.2
You can change your life, too. Take the Beachbody Challenge for the tools you need to Decide, Commit, and Succeed! Complete any Beachbody program, and enter your results for a free gift and a chance to win cash and prizes. What program are you committing to next?

†Results vary depending on starting point and effort.
2These statements have not been evaluated by the Food and Drug Administration. This product is not intended to diagnose, treat, cure, or prevent any disease.