"FOCUS T25 Was the Perfect Fit for My Busy Schedule"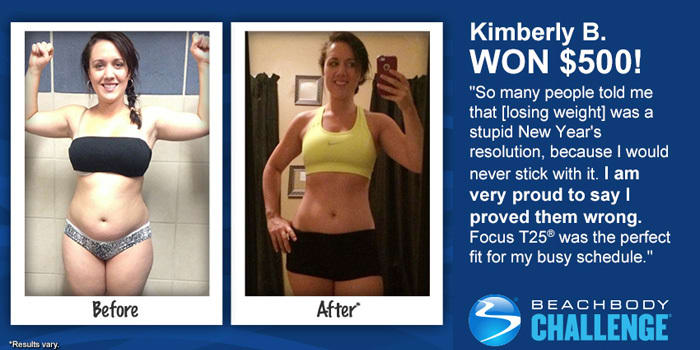 Meet Kimberly B. She participated in The Beachbody Challenge® and won the $500 Daily Prize for January 23rd!
Tell us about your life before you started the program. How did you feel about yourself and your body?
I was exhausted all the time. I was embarrassed to wear a bathing suit, and none of my pants fit me.
What inspired you to change your life and begin your transformation journey?
It was my new years resolution. I bought Focus T25 and decided to stick with it.
What is the greatest challenge you faced before beginning the program? How did the program and Beachbody® help you overcome that challenge?
It was very hard for me to find the time to work out. Focus T25 was the perfect fit for my busy schedule.
What in particular did you like about the program you chose?
I love Shaun T. He is very motivational, and I loved that I saw results quickly. Seeing results keeps me motivated.
Describe the results you achieved with your Beachbody program. Which achievements are you proud of?
I have a lot more energy. It was very exciting to go bikini shopping for the summer. I am most proud of achieving my weight loss goals and becoming healthy. So many people told me that it was a stupid New Year's resolution, because I would never stick with it. I am very proud to say I proved them wrong.
How has your life changed since completing your Beachbody program?
I have more energy, I love that all of my clothing fits, and I have a lot more self confidence.
You can change your life too. Take the Beachbody Challenge for the tools you need to Decide, Commit, and Succeed. Complete any Beachbody program, and enter your results for a free shirt and a chance to win cash & prizes.