FIRST THING and LAST THING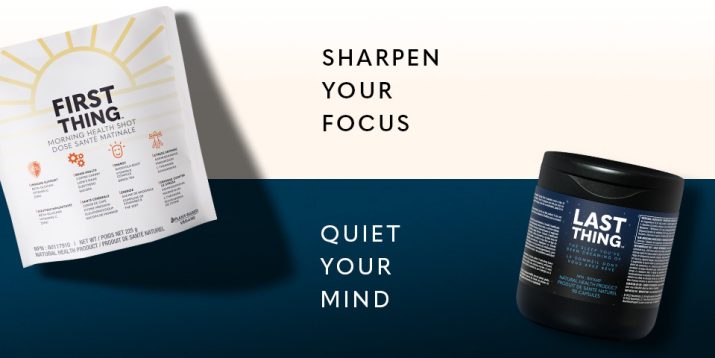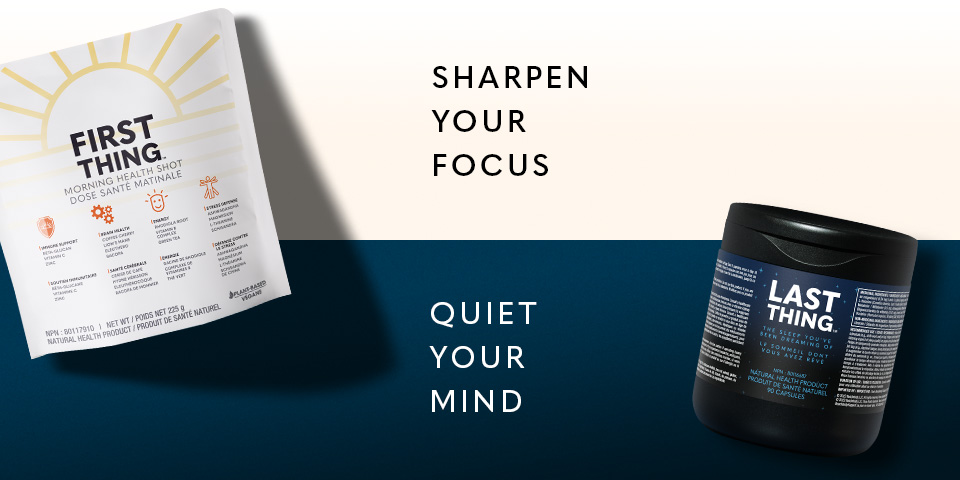 *Note: This article is intended for our Canadian customers.
---
From less sleep and more screen time to nonstop news and shifting challenges, we could all use help living in this new reality.
That's where FIRST THING and LAST THING come in: A premium supplement combination that helps take care of both your body and mind — day and night — to help you handle the physical and emotional stressors you face every day.
Because having the right tools can make all the difference as the world continues to change and challenge us in new ways.
With these advanced formulas, you'll get comprehensive support to help keep your immune system strong, fight the effects of stress, stay sharp and think clearly, and then quiet your mind so you can sleep better at night.*
The result is an overall sense of calm and balance so you can feel confident that you're helping take the absolute best care of your mind and body, first thing in the morning and last thing at night.
What are FIRST THING and LAST THING?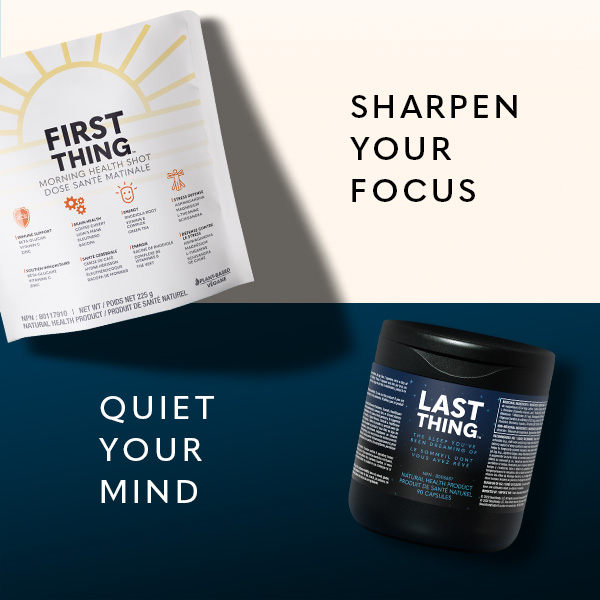 FIRST THING and LAST THING are two innovative supplements composed of key, clinically tested ingredients that work in harmony to help promote overall well-being.
Your day begins with FIRST THING, a nootropic health shot blending 17+ key ingredients to help sharpen focus, defend against stress, support your immune system, and provide the mental clarity and vitality to rise above whatever is holding you back.*
Drift off to sleep with LAST THING, a blend of 9 premium ingredients that helps give your body what it needs to release the day, quiet your mind, and guide you into a deeper, more restorative sleep, so you can wake up refreshed and ready to face a new day.*
Why Did We Develop FIRST THING and LAST THING?
Our CEO Carl Daikeler and his wife Isabelle, co-creator of Shakeology and working mom, saw the need firsthand when they started to feel vulnerable about what was happening around them.
"As we spent the entire day in front of screens, it was becoming harder to feel mentally sharp in the morning, harder to concentrate, harder to just feel well," says Carl.
"Along with all that stress, you're bombarded with media all day long and it becomes difficult to relax at the end of the day … to go to sleep and stay sound asleep," he adds.
Isabelle felt the extra pressure, too.
"I know what it feels like to have days when it seems like you're barely going to make it through," she says. "That's the basis for this innovation — to help me, my husband, and anyone who aspires to true well-being."
Isabelle got to work with Beachbody's research and development team and spent the last two years testing ingredients and refining the breakthrough formulas for FIRST THING and LAST THING.
The outcome is a first-of-its-kind solution that helps prepare you for whatever the day brings and helps your mind and body let go before bed.
"I'm helping take the absolute best care of my mind and body every single day," says Carl. "That feeling of being sharp and ready for anything, and then getting a great night's sleep, is truly invigorating. It's a priceless feeling."
What Are the Key Ingredients and Benefits?
FIRST THING is your ultimate daily defence, specially formulated with four blends to help you rise and thrive:*
 An immune support blend of elderberry, beta-glucan, vitamin C, and zinc to help maintain a healthy defence system.
A nootropic blend of coffee cherry extract, Bacopa Monnieri (Herb of Grace), Eleuthero Root, Lion's Mane, and Phosphatidylserine (Sunflower Extract) to help support brain health and cognition An energy blend of rhodiola root, vitamin B complex, and green tea for healthy vitality, with just 25 mg of caffeine.
A stress defence blend of magnesium, L-theanine, and ashwagandha and schisandra extracts to help promote feelings of calm, balance, and relaxation.
LAST THING is a breakthrough supplement that uses key clinically tested ingredients to help you drift asleep faster and stay asleep longer:*
A sleep support blend of melatonin, hops, L-tryptophan, GABA, and marigold extract.
A stress defence blend of L-theanine, ashwagandha, lemon balm, and magnesium glycinate.
When should I take FIRST THING and LAST THING?
Take your shot of FIRST THING in the morning each day with food or within 5 minutes of eating.
Take 3 capsules of LAST THING before bed as part of your nighttime routine.
Where can I get FIRST THING and LAST THING?
Both FIRST THING and LAST THING are now available in Canada!
FIRST THING is now available for $158.95 and LAST THING is available for $89.95 on TeamBeachbody.com.
For a limited time, receive a free FIRST THING ceramic jar (a $26.95 value) to store a one-month supply of FIRST THING while supplies last!
Give FIRST THING and LAST THING a try, now available for one-time purchase as well as on a monthly subscription.
For more details about FIRST THING and LAST THING, visit FAQ 3334 or read more here.