Female Beachbody Challenge Winners, Nov 2017
Women of all ages are achieving their goals and transforming their lives at home with Beachbody's fitness and nutrition programs.
In the month of November 2017 alone, more than 3,000 satisfied customers submitted their inspirational transformation stories to the Beachbody Challenge, where healthy lifestyle changes are rewarded with prizes all year long.
In addition to the free gifts that all qualifying contestants receive, these four award-winning women (below) have been selected to win $1,000 each!
Check out their mind-blowing "before" and "after" photos…
Melissa J. Lost 80 Pounds
How do you even begin to tackle a tremendous transformation journey like this? For Melissa, it all started with Shakeology.
That daily shake was the first, simple step that made a big impact on her life.
It gave her the energy to take on the challenge of change, and it seamlessly segued into other healthy habits — like workouts on Beachbody On Demand and participating in Challenge Groups — that ultimately helped her shed 80 pounds over the last two+ years.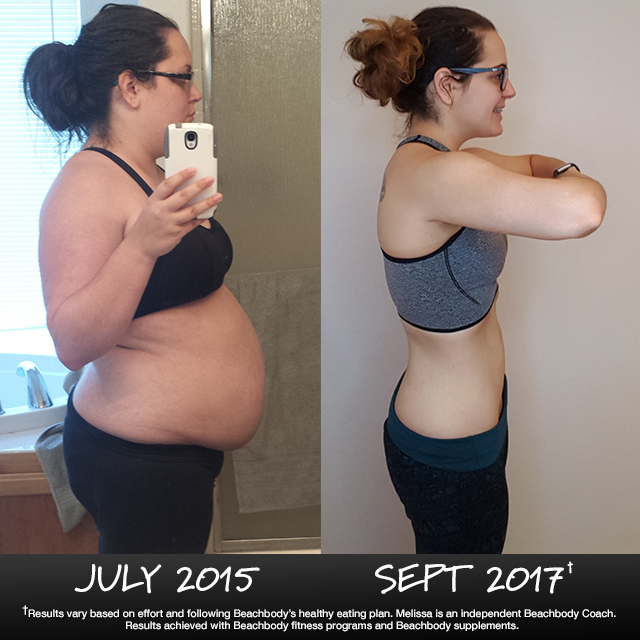 "My journey began with Shakeology. It provided me the convenience and nutrition I needed to fuel my busy work days.
After a month of drinking Shakeology, I noticed I had more energy, more regularity, less cravings for sugar and sweets, and yes, even some weight loss.*
After that, I knew Beachbody was for me and began doing their programs. They unlocked real, measurable results in my weight-loss journey. I loved how the programs incorporated both nutrition and fitness.
Everything was laid out seamlessly for me — from what workouts to perform and when, to what food to eat and how much. It really took a lot of the guesswork out of things and set me up on the path for success.
With programs such as 21 Day Fix, 21 Day Fix EXTREME, 22 Minute Hard Corps, The Master's Hammer and Chisel, CORE DE FORCE, and SHIFT SHOP, I've changed myself both physically and mentally.
I've lost 80 pounds (and counting) in two years' time. I have a renewed sense of self-confidence. I'm a completely changed woman!"
Tracey J. Lost 145 Pounds
Tracey hit rock bottom weighing 335 pounds. Fortunately, a friend threw her a lifeline and invited her into a Beachbody Challenge Group.
The system of fitness, nutrition, and support that she found there helped her shed a staggering 145 pounds in just under three years, but for Tracey, this has been so much more than just a weight-loss journey: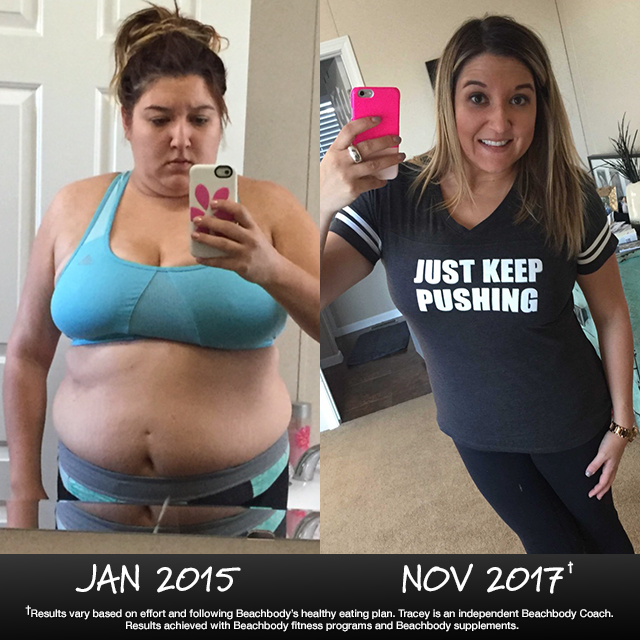 "I was at my all-time low. I hid behind scarves, sarcasm, and cardigans because I was so insecure. I happened to stumble across a friend's post on Facebook about her upcoming Challenge Group, so I reached out to her, and I'm so happy that I did.
It was exactly what I needed to get started. I found the support, love, and encouragement that I needed, and I was surrounded by people that believed in me.
I lost 17 pounds in my first month. The pictures brought me to tears, and that's when I knew I found something that would change my life forever!
I have now lost 145 pounds and countless inches. I have never felt better in my entire life.
I have completed FOCUS T25, 21 Day Fix, 21 Day Fix Extreme, INSANITY MAX:30, CORE DE FORCE, and The Master's Hammer & Chisel.
My transformation goes so far beyond my weight loss on the scale, though.
I know that is the first thing people notice when they see me, but what they don't see in the pictures is the self-love and confidence that I have finally developed for myself.
I'd never be where I am today if I hadn't worked on myself from the inside out. I feel AMAZING! My confidence is a million times better."
Stacy L. Lost 70 Pounds
This busy, working mom/teacher found the time to lose 70 pounds in 10 months — and keep it off!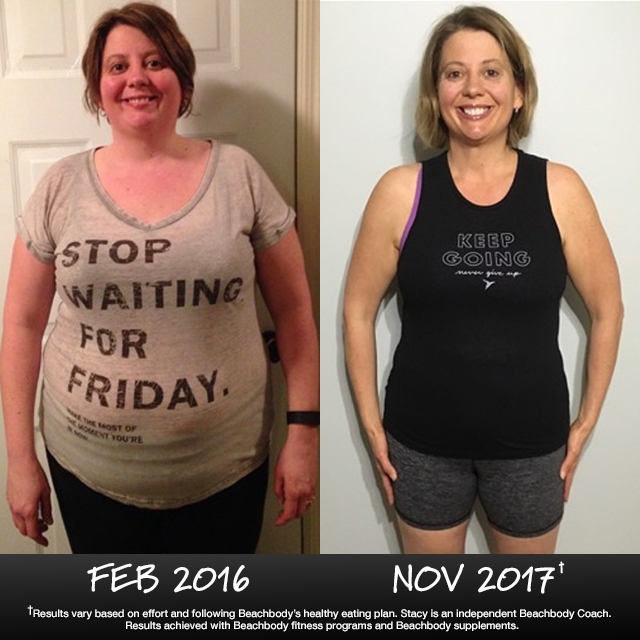 "I'm so thankful that I Googled Beachbody and sought out a Team Beachbody Coach!
Beachbody On Demand is crazy amazing. It allowed me to work out in hotel rooms, in campsites, in my bedroom, backyard, neighborhood park, and even my classroom.
Knowing that I can take my workout anywhere has eliminated so many excuses.
I completed 21 Day Fix and then repeated it several times before moving on to other Beachbody programs.
My greatest challenge was nutrition. So, learning the portion-control system was life-changing for me. I can eat almost anything as long as it fits into the containers!
Learning what fuels my body to thrive has not only resulted in me losing weight and getting stronger, it has allowed me to teach my family these lessons so that my children have the knowledge they need to be healthy as well!"
Stacy follows a few basic mantras:
Just Push Play! Work out every day and focus on how much better you feel afterward.
Be Prepared! Taking time to meal prep on Sundays sets the stage for a successful week.
Check in every day! Participating in Challenge Groups keeps you accountable to yourself and to the wonderful new friends you meet there.
Deborah C. Lost 26 Pounds at age 61
A thyroid disorder makes it extra difficult for Deborah to lose weight, and some would say her age doesn't help either.
Oh, and she has arthritis and a bad knee, too.
But this 61 year-old grandma didn't let any of that stop her from achieving her health and fitness goals.∞
By combining workouts on Beachbody On Demand with Shakeology, she lost 26 pounds and showed the world she just can't be stopped.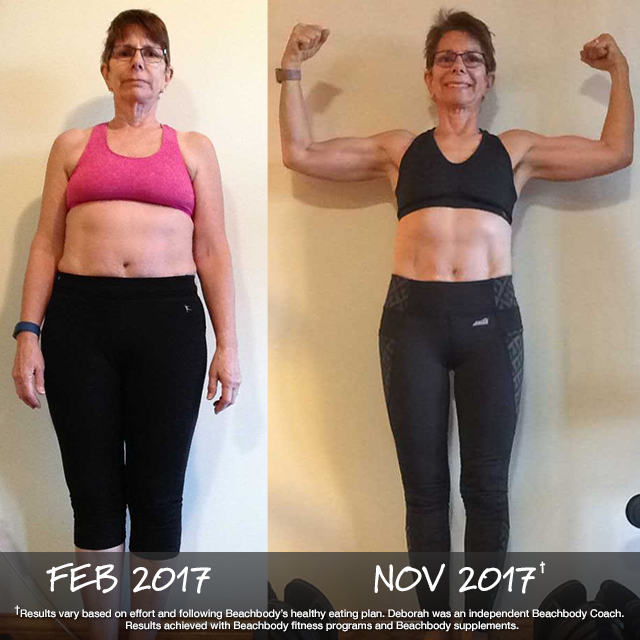 "I had given up hope of ever being able to lose weight again. I have Hashimoto's Thyroiditis, which makes it hard anyway, and I'm 61 years old.
My weight crept up every year despite all my efforts. I knew I needed to lose weight and strengthen the muscles around my knees, but I needed a little more instruction.
Beachbody programs have really helped with that. Give me a good program, and I will follow it. It's just as simple as that.
The variety of programs on BOD is amazing. After nine months, I have lost weight, which was my goal, but even more than that, I'm getting stronger, and I'm still building muscle! I did not expect to be so strong.
I'm not just strong for a 61-year-old grandma, either. I mean, I can do all the push-ups they want me to do in all the programs I've done. I did not expect that but am very proud of it.
I am more confident, I stand up straighter, and fitness has become a priority for me."
You can change your life, too. Take the Beachbody Challenge for the tools you need to Decide, Commit, and Succeed! Complete any Beachbody program, and enter your results for a free gift and a chance to win cash and prizes. Ready to pick a program and get started?

The Beachbody Challenge contest is currently open only to legal residents of the 50 United States (incl. DC), Puerto Rico, and Canada (excluding Quebec) who are at least 18 or the age of majority at time of entry. Residents of Quebec and the UK are not currently eligible to compete in the Beachbody Challenge transformation contest. However, they can earn free gifts after completing a Beachbody program by submitting this application form online.
*These statements have not been evaluated by the Food and Drug Administration. This product is not intended to diagnose, treat, cure, or prevent any disease.
∞always consult your physician about your unique medical needs before commencing any fitness program or nutrition product.