Facebook Removes "Feeling Fat" From Emoticons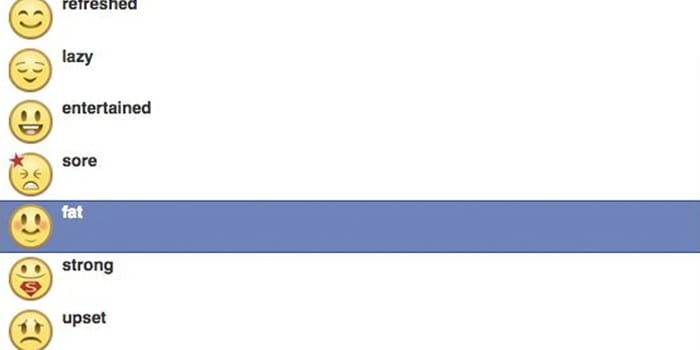 You can no longer "feel" fat on Facebook. At least not with their cute little emoticons. Now, personally, I've never used said emoticons (found under the little smiley face icon where you do a status update), but along with happy, sad, ill, excited, loved, cute, and strong (and a ton of others), there was fat. As of yesterday, it's now gone.
It's probably for the best. Because, while fat is a thing on all of our bodies (even skinny people), it's not a feeling. We've probably all had the disparaging thought – it usually  kicks across my mind after a particularly heavy meal – but it's terrible. Why punish yourself with negative self-talk? And, why share that kind of thought on Facebook? In doing so, you're encouraging others to join in the shaming or – especially if you're on the thinner side – you're (hopefully unintentionally) making a judgement against your heavier-set friends.
But, there's another good reason that it's gone. In the original petition, Catherine Weingarten, from the group Endangered Bodies explains, "As someone who has struggled with and overcome disordered eating, I know what it's like to 'feel' fat. I have spent years of my life consumed with negative thoughts about my body, and far too many days starving myself in an effort to lose weight. But even worse than the skipped meals and the hours spent obsessing in front of the mirror was the fear of what others thought about me and my body." The petition received over 16,000 signatures and Facebook responded by changing "fat" to "stuffed." I'm not sure that's all that much better, but it is at least a step in the right direction.
Weingarten continues, "Facebook is the most popular social networking site in the world right now. With 890 million users each day, it has the power to influence how we talk to each other about our bodies." I can't help but agree. Hopefully they'll remove "feeling ugly" next.
What emotion do you use most often on Facebook?