12 Easy Christmas Crafts to Ease Holiday Stress
One of the greatest joys of the holiday season is feeling like a kid again — no matter what age you are.
When you're busy adulting, it's easy to forget how much fun making stuff is.
Easy Christmas crafts are a great way to reduce holiday stress — and make some thoughtful gifts for foodies and other people you love.
"Crafting is a wonderful way to self-soothe," says licensed psychotherapist Arlene B. Englander, LCSW, MBA. It's a mindful activity that helps keep stress at bay and can prevent snacking when you're bored or emotional eating.
Not to mention, it's pretty hard to doom-scroll when you're happily working on a scarf or whittling wood. (A British study found knitters reported feeling calm and happy.)
Whether you're a serious DIYer or haven't used crayons, scissors, and glue since grade school, here are some easy Christmas crafts.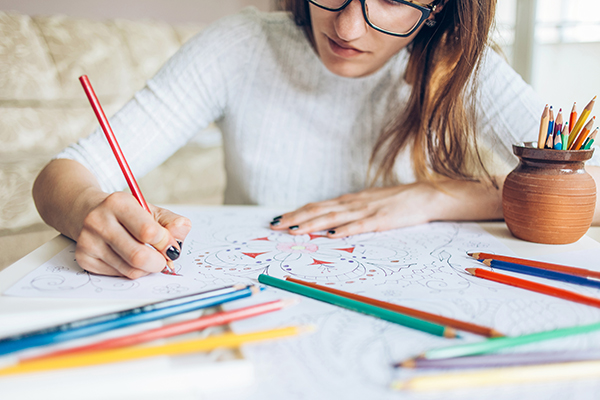 1. Color your own holiday cards
The Internet is a treasure trove of coloring book holiday cards for adults — or you can print your own.
Studies have found mindful coloring can decrease anxiety.
Hand-colored cards are easy Christmas crafts for adults who think they can't craft.
2. A cheerful fabric wreath
"An easy, no-sew fabric wrapped wreath makes a lovely Christmas decoration," says registered dietitian Alyssa Northrop, M.P.H., R.D., L.M.T. "I've decorated them with dried or fake flowers, or bells."
Even better — these are easy to customize for any winter holiday!
3. Hand-painted tree ornaments
If you don't know where to start with easy DIY Christmas crafts, you'll find lots of ready-to-go kits like simple ornaments with paints.
"I recommend simply wandering through an arts-and-craft store because you may find something that interests you," says Englander.
Or, you can wander online and browse virtually.
4. Creative holiday cookies
Combine crafting and baking, another stress-relieving activity, to make DIY cookie tins. Our vegan sugar cookies are a healthier option perfect for packaging up with pretty ribbons.
You can also make these with your kids to leave milk and cookies for Santa.
5. A DIY countdown calendar
Create your own reusable advent calendar with felt or fabric using a needle and thread or a glue gun. It's one of our favorite easy Christmas crafts for kids or give as a gift to a niece or nephew.
We recommend filling it with snack-size nuts.
6. A beaded mask lanyard
Thankfully crafting has come a long way from stringing painted macaroni necklaces.
"Beading is very easy and relaxing," says Englander. "A friend gave me a beaded mask holder, which looks like a necklace. It has clasps to hold your mask while safely eating outside."
7. A custom picture frame
"Paint a wooden picture frame and then print your favorite pic of you and your bestie to remind yourself of less stressful times," recommends registered dietitian Regina M. Gill, M.S., R.D., L.D.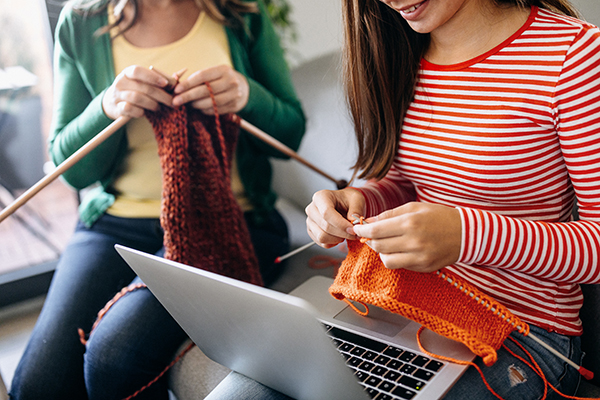 8. Cozy knit scarves
"Knitting is the ultimate cozy winter craft," says Northrup. "You really only need to know one stitch to make a scarf."
Even if you've never picked up a set of knitting needles, learning the basics of knitting, purling, and casting on is as easy as tying your shoelaces.
(OK, it might take a few tries but once you get it, you've got it!)
9. A pretty knit shawl
Knit shawls are thoughtful homemade gifts or even products you can make and sell for the holidays. Shawls are great for meditation or keeping muscles warm after yoga.
You can knit away while binge-watching a series instead of mindlessly snacking, adds Englander.
10. An accent mirror
A washi tape mirror is an easy homemade gift, recommends San Francisco-based therapist Shannon Henry, PsyD.
This decorative adhesive tape is an easy crafting tool for kids or adults.
11. A thoughtful scrapbook
Making your mom, partner, or best friend a thoughtful scrapbook is simple and rewarding. "Giving a warm, loving gift is calming," says Englander.
12. Holiday candles
Candles will spark your creativity in so many ways. You can use a kit to make your own scented candles or create jars to put candles in, such as a faux stained glass using tissue paper and Mod Podge or wrapped with ribbons and fabric.
"Crafting can put you in a state of flow because it is sufficiently challenging, but not above your level of competence," says Englander.
In other words, anyone can color — even if you go outside the lines.