Dark Chocolate Hazelnut Spread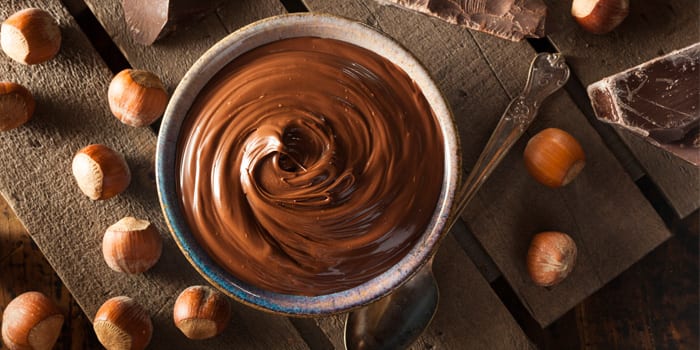 If you are in the camp of people who believe that Nutella makes everything taste better (we see you), take note: You can easily make your own lick-the-bowl-clean chocolate hazelnut spread from scratch with wholesome ingredients.
After toasting the hazelnuts in the oven, peel the skins off (they'll come right off), and a quick spin in a food processor turns them into a lusciously creamy nut butter.
All that's left is to stir in melted dark chocolate.
Did you ever dream that putting dark chocolate hazelnut spread on your pancakes would be 21 Day Fix-approved?
Or that you could spread this indulgence on fruit or whole-wheat toast? It is, and you can!
But don't go crazy — two tablespoons of this swoony spread is one serving, so don't devour it with a spoon (and probably don't lick the bowl).
This dark chocolate hazelnut spread can be stored at room temperate for up to three weeks, making it a perfect homemade gift.
Pack it in small jars tied with ribbon and for a thoughtful, memorable present.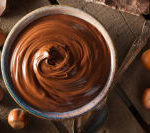 Dark Chocolate Hazelnut Spread
Nutella fanatics take note: it is easy to make your own lick-the-bowl-clean chocolate hazelnut spread from scratch with wholesome ingredients.
Prep Time 20 mins
Cook Time 18 mins
Total Time 38 mins
Servings 16 servings, 2 Tbsp. Each
Calories 197 kcal
Ingredients
3 cups raw hazelnuts
⅔ cup chopped dark chocolate, (approximately 3 to 4 oz.)
1 tsp. pure vanilla extract
½ tsp. sea salt (or Himalayan salt)
Instructions
Preheat oven to 350° F.

Line a large baking sheet with parchment paper. Place hazelnuts on baking sheet in an even layer. Bake for 12 to 15 minutes, or until light brown. Cool slightly.

If hazelnuts contain skins, place slightly cooled hazelnuts on a kitchen towel. Roll to remove as many skins as possible.

Place hazelnuts in a food processor (or blender); pulse until hazelnuts form hazelnut butter, about 5 to 8 minutes. Scrape sides as needed.

Place chocolate in a microwave-safe glass measuring cup. Microwave for 60 seconds on 50%; stir. Microwave for another 30 seconds on 50%; stir until chocolate is completely melted. If needed, microwave for additional 30 second increments on 50%. Do not overcook. Chocolate will melt as you stir it.

Add chocolate, extract, and salt to hazelnut butter; pulse until creamy and well mixed.

Store at room temperature for 2 to 3 weeks.
Recipe Notes
The higher the percentage of cacao in chocolate the better. Look for chocolate that is at least 70% cacao.
Nutrition Facts
Dark Chocolate Hazelnut Spread
Amount Per Serving (1 serving)
Calories 197 Calories from Fat 162
% Daily Value*
Fat 18g28%
Saturated Fat 3g19%
Sodium 73mg3%
Carbohydrates 7g2%
Fiber 3g13%
Sugar 3g3%
Protein 4g8%
* Percent Daily Values are based on a 2000 calorie diet.
Container Equivalents
1 Yellow
1 Blue
2B Mindset Plate It!
Enjoy as an occasional treat. Be sure to track it.